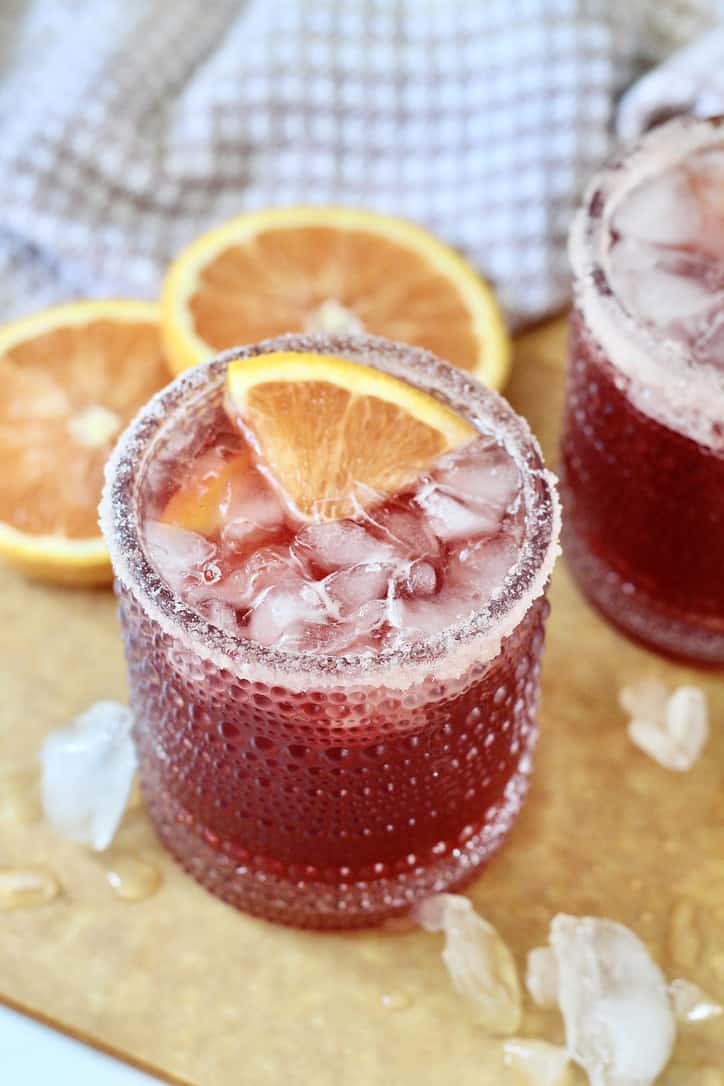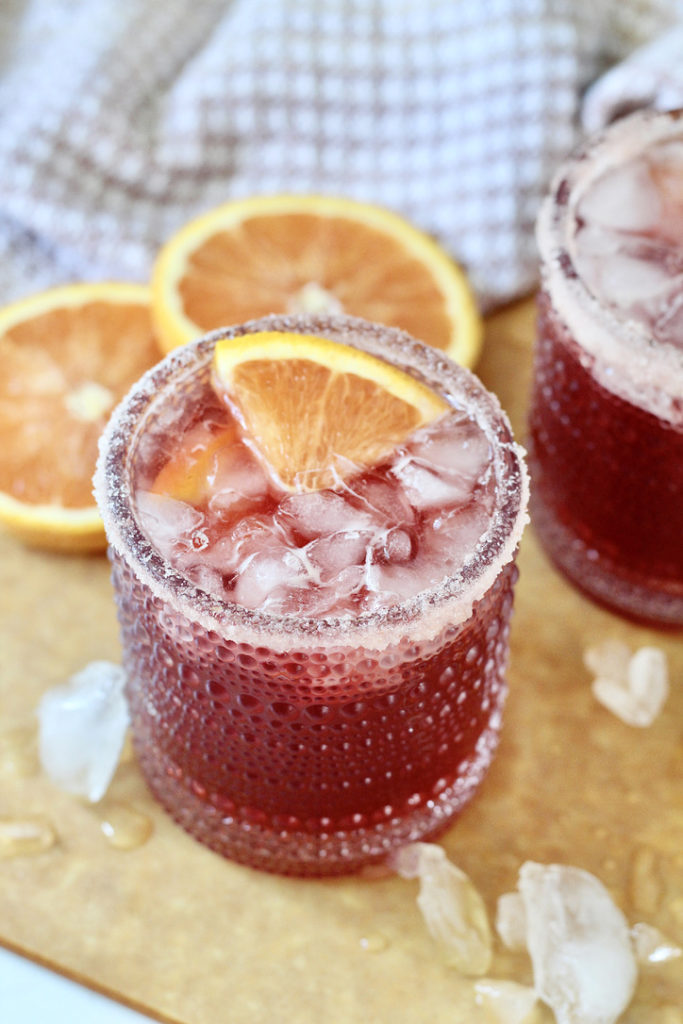 This low sugar pomegranate martini with orange liqueur is the perfect light and refreshing cocktail!
Though I typically prefer wine, orange liqueur is my favorite choice for a fun cocktail! I love the subtle sweetness it can add to a beverage, like this pomegranate martini with orange liqueur, so we don't need to worry about adding syrups or anything more than a splash of fresh juice. These flavors make the perfect pomegranate orange cocktail!
Can people with diabetes drink cocktails?
I get asked about diabetes and alcohol a lot. It's definitely not something to take lightly and is a personal choice.
Enjoy alcohol responsibly and in moderation. There a few guidelines I like to advise people with diabetes to consider before consuming alcohol.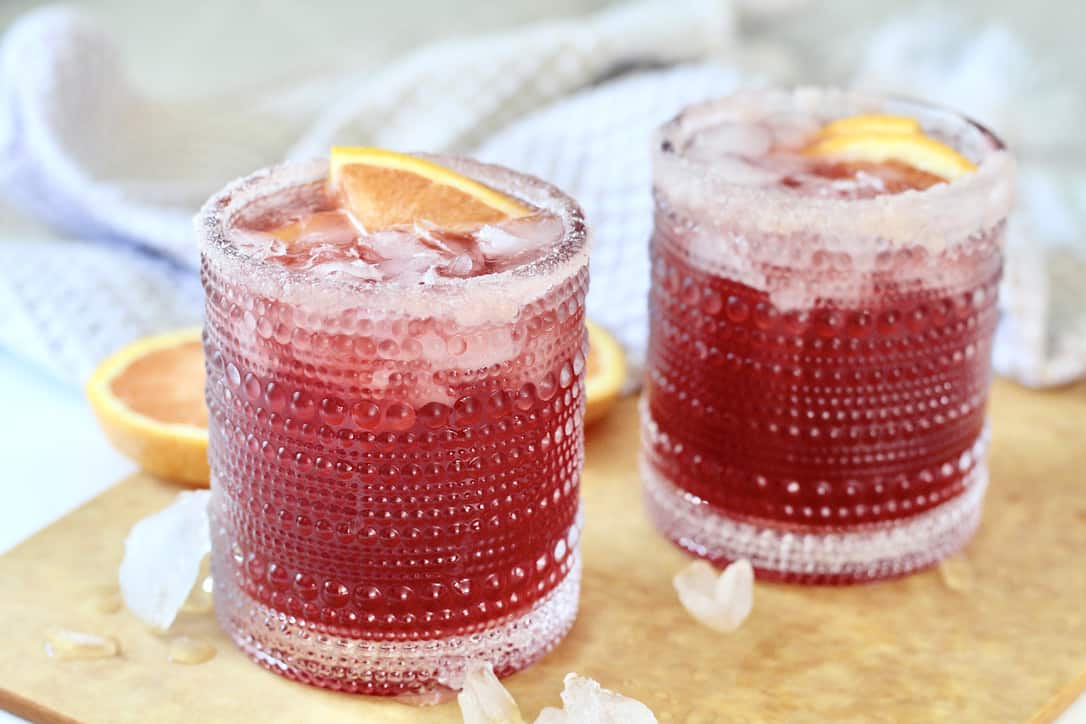 5 guidelines for alcohol and diabetes
Do not consume alcohol if your blood sugar is low or high at the time. Alcohol will impair your ability to "feel" your blood sugar changing and could result in a dangerously high or low blood sugar.
Do not take medication or insulin for the alcohol itself. Alcohol itself can actually cause your blood sugar to go down, and no this is not a good thing! (I have a great video over on instagram on this topic that explains this phenomenon further.)
Eat a quality source of carbohydrate and protein before consuming alcohol, or while you consume alcohol.
Avoid mixed drinks and cocktails with syrups or large amounts of added sugar.
Don't drink alone.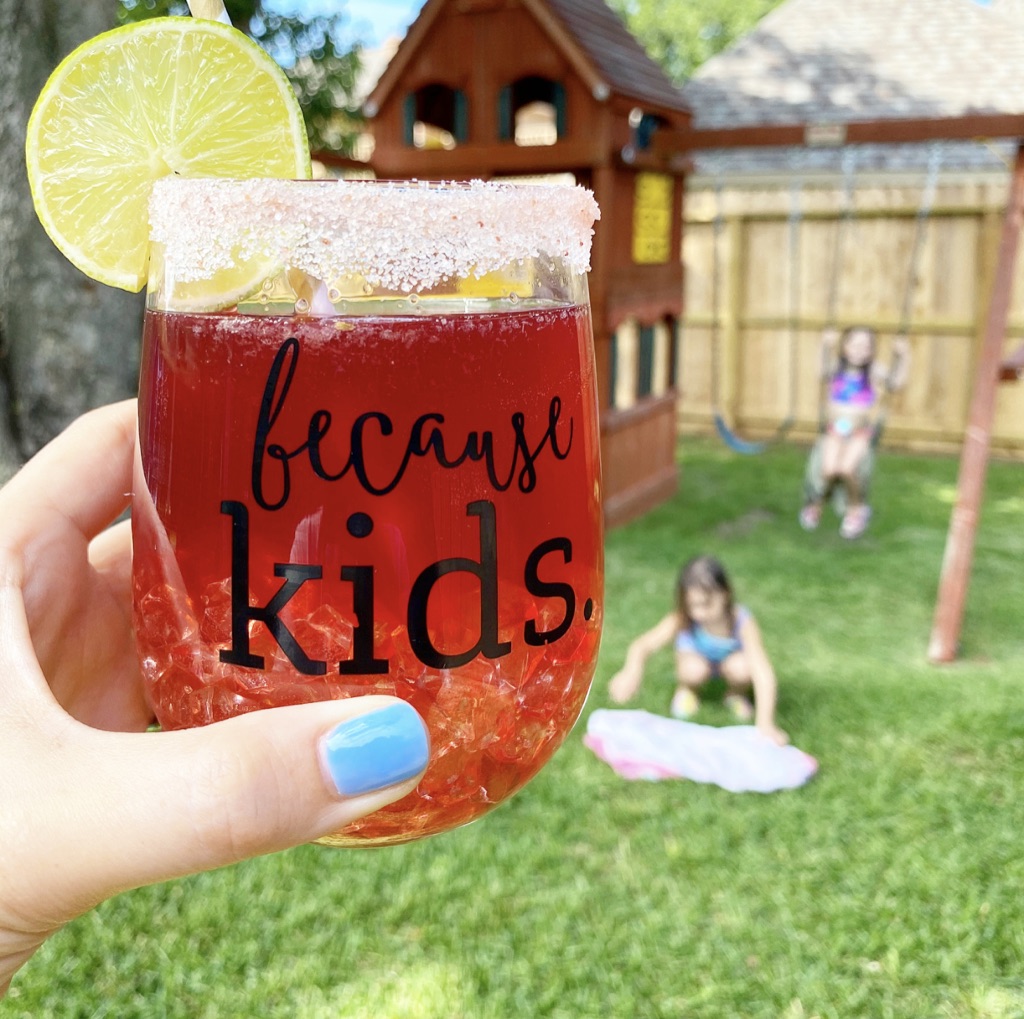 What is orange liqueur?
Orange liqueur is a great example of a subtly sweet alcohol that can be enjoyed in moderation in a tasty cocktail. Oranges sweeten and flavor orange liqueur. There are many different forms on the market. But, most you'll see at the store are made from a neutral grain spirit (similar to vodka), rum, or brandy. My favorite is Grand Marnier, which is made from cognac. I use it to make these pomegranate martinis. When enjoyed in moderation, it's a great way to sweeten a drink and not need extra syrups!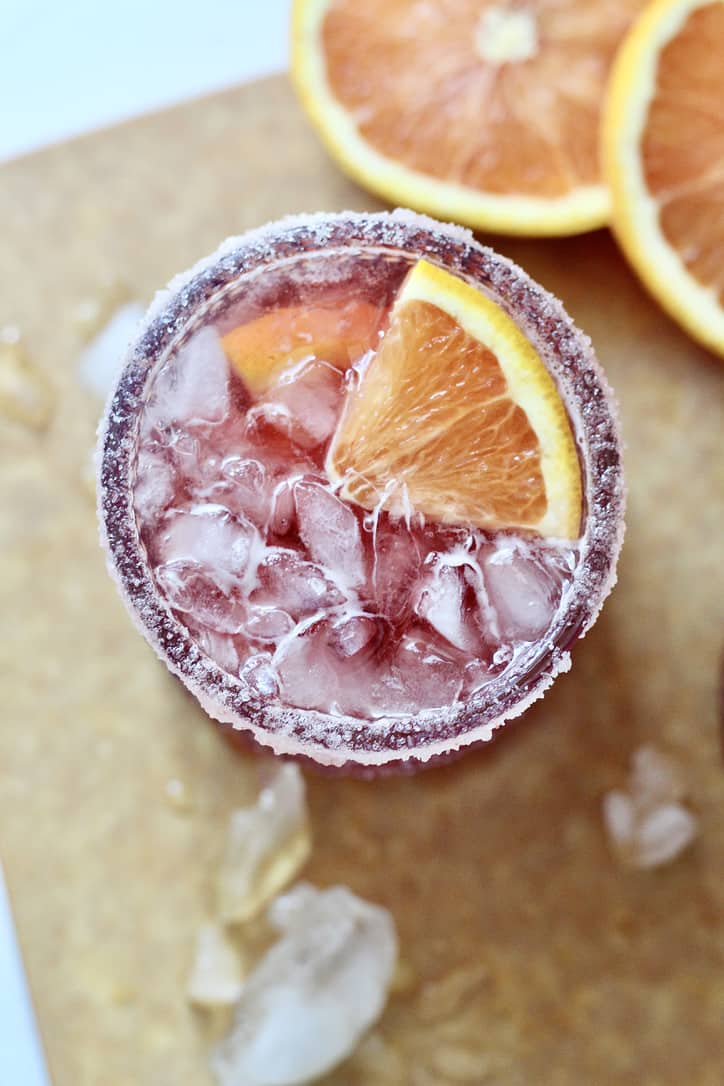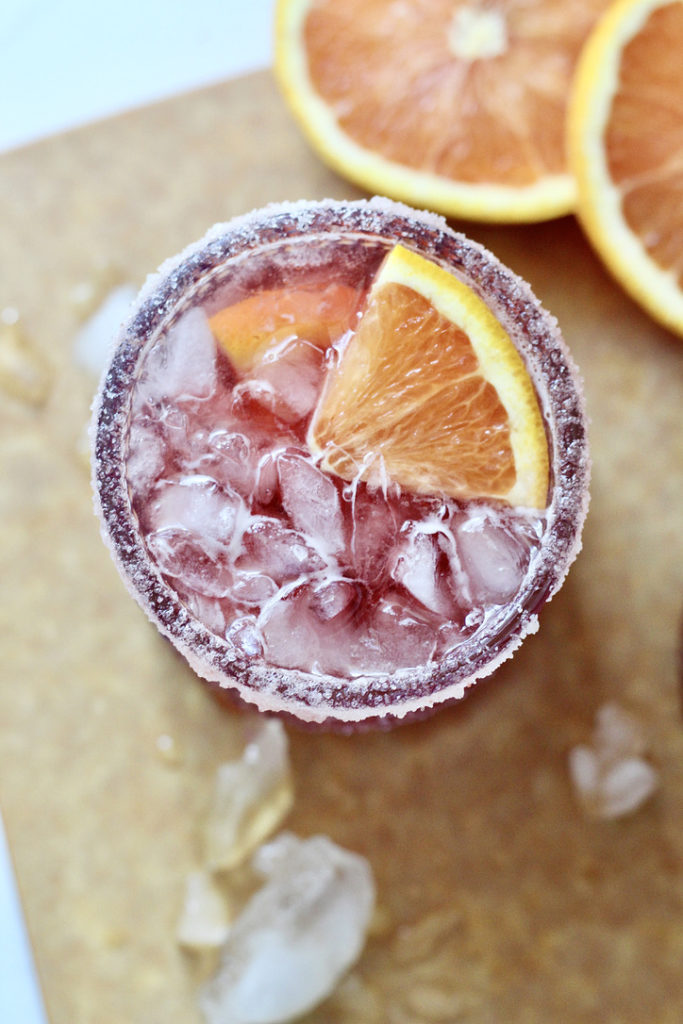 How to make a low sugar pomegranate martini
This pomegranate orange cocktail is super simple to make. Start with your orange wedge and squirt it into the bottom of your tumbler. Then, add in one shot of orange liqueur (about 2 fl oz), 1/2 shot of vodka (that's the part that technically makes this drink a martini), and one shot of pomegranate juice. Shake it up real good and pour it over ice in a new glass. Then, just top it off with water or sparkling water to the top of the glass.
Now, if you want to get fancy, you can do a fine sea salt rim on the glass… this is a great tutorial if you've never done it before. Don't worry, it's super easy! If you want to do this, make sure to do it first before adding ice to the glass and before pouring your drink in.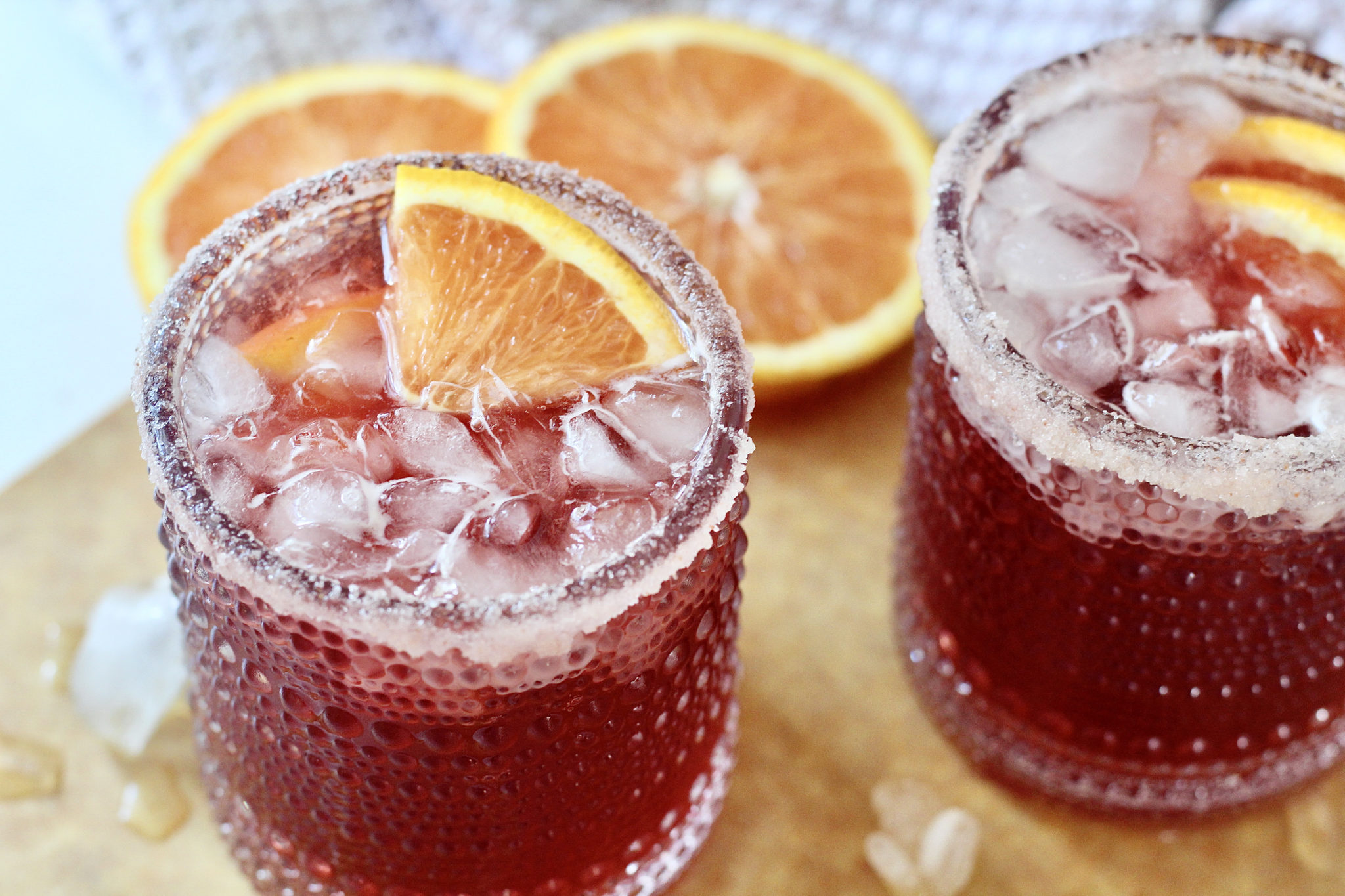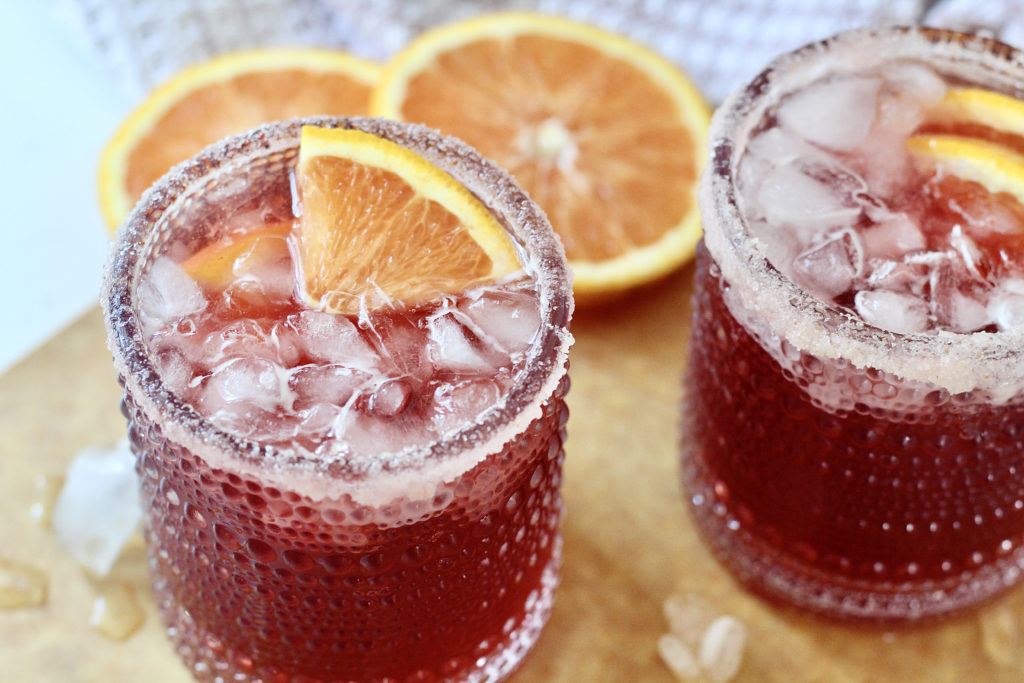 And that's it! Garnish with a lime wedge if you'd like, and then sit back and enjoy your Pomegranate Martini with Orange Liqueur!
More low sugar cocktail ideas…

Pomegranate Martini with Orange Liqueur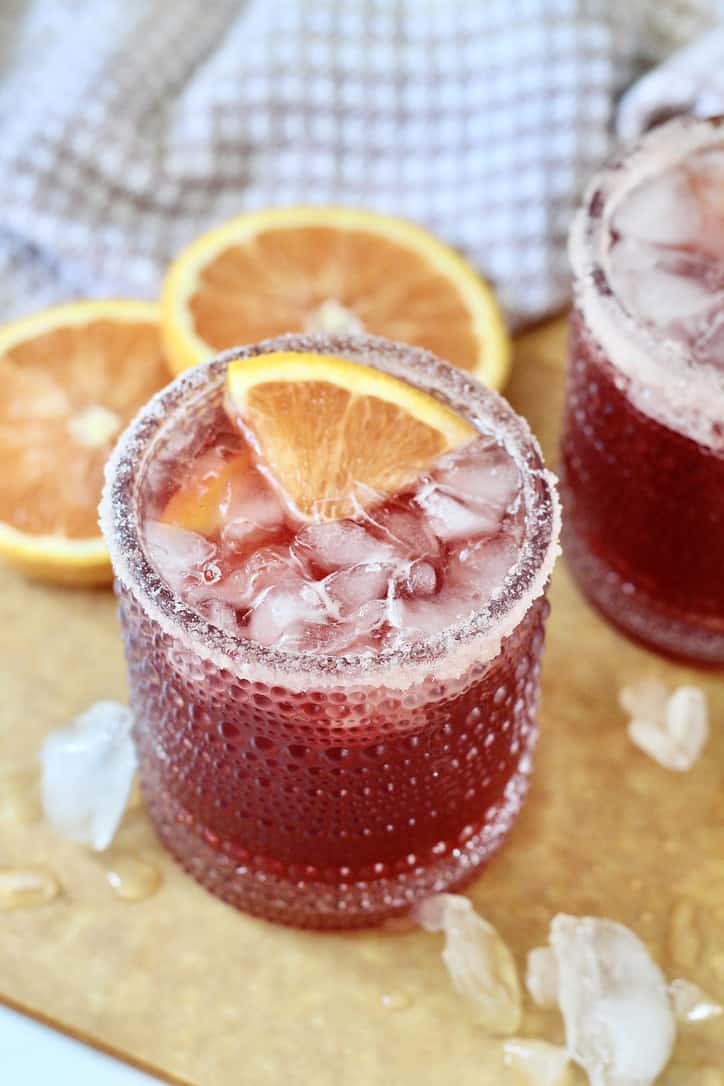 Ingredients
1

orange wedge

2

fl oz.

orange liqueur

1

fl oz.

vodka

optional

2

fl oz.

pomegranate juice

Pink salt for the rim

4-6

oz

water or unflavored sparkling water

Lime or orange wheels for garnish
Instructions
In a tumbler or large jar that has a lid combine the juice from one orange wedge, orange liqueur, vodka and pomegranate juice. Secure the container and shake thoroughly to combine. Set aside.

Carefully wet the rim of a 12floz. glass. Spread your sea salt onto a plate. Turn the glass upside down onto the plate and twist it in the sea salt to coat the rim.

Add some ice to your glass and pour the orange liqueur mixture into the glass.

Top with your water or sparkling water, garnish with a lime or orange wedge, and enjoy!
Notes
*Note: Be responsible when consuming alcohol. Alcohol is a known carcinogen and will impair judgement when consumed in excess.
Do not consume alcohol if you are pregnant or think you might be pregnant.
The nutrition facts presented here are estimates only. The brands you use and product types chosen can change the nutritional information presented. To obtain the most accurate nutritional information, you should calculate the nutritional information with the actual ingredients you use.
Nutrition
Serving:
1
g
|
Calories:
205
kcal
|
Carbohydrates:
17
g
|
Protein:
0
g
|
Fat:
0
g
|
Saturated Fat:
0
g
|
Sodium:
581
mg
|
Fiber:
0
g
|
Sugar:
6
g