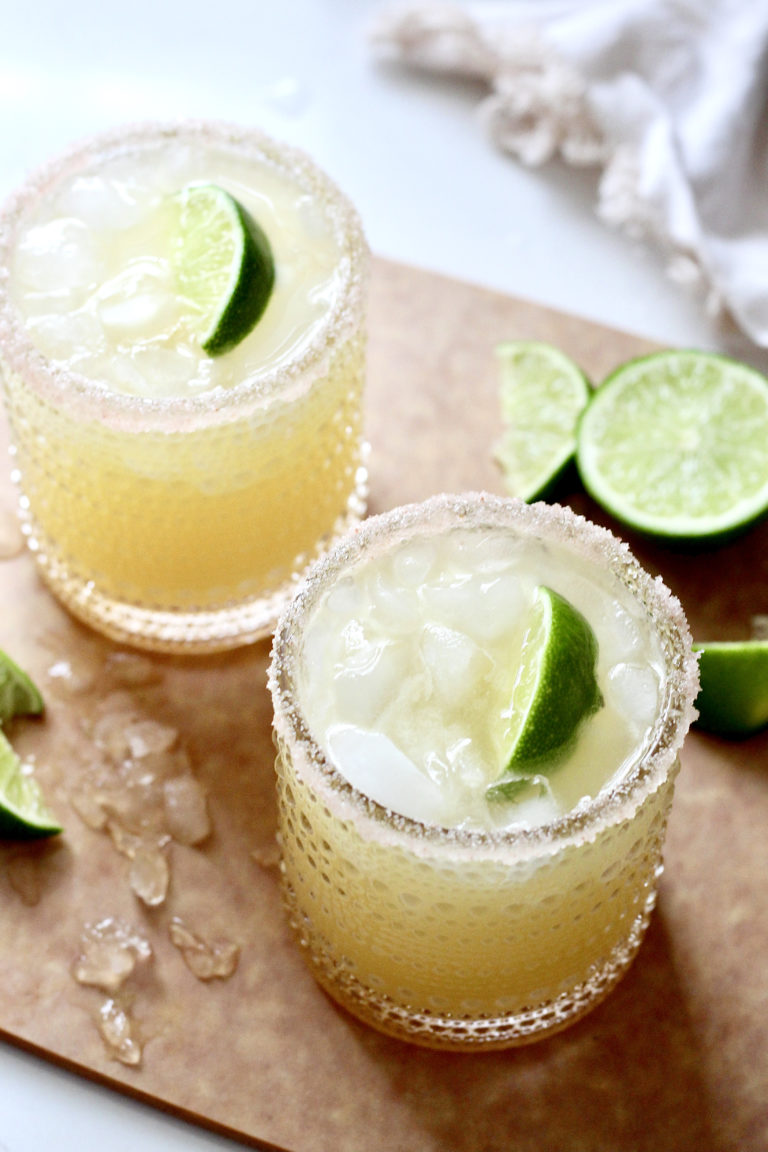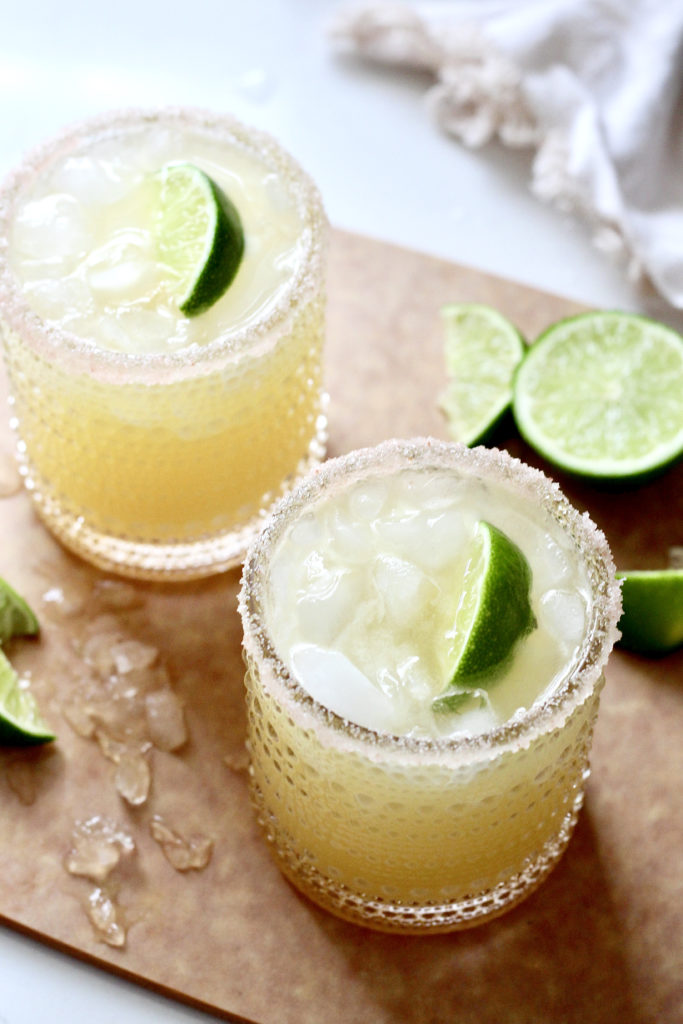 My simple 5 ingredient skinny margarita is so refreshing and delicious!
There are so many ways to order a margarita these days, but they often come packed with sugar. A skinny margarita is so easy to make at home and so refreshing and delicious!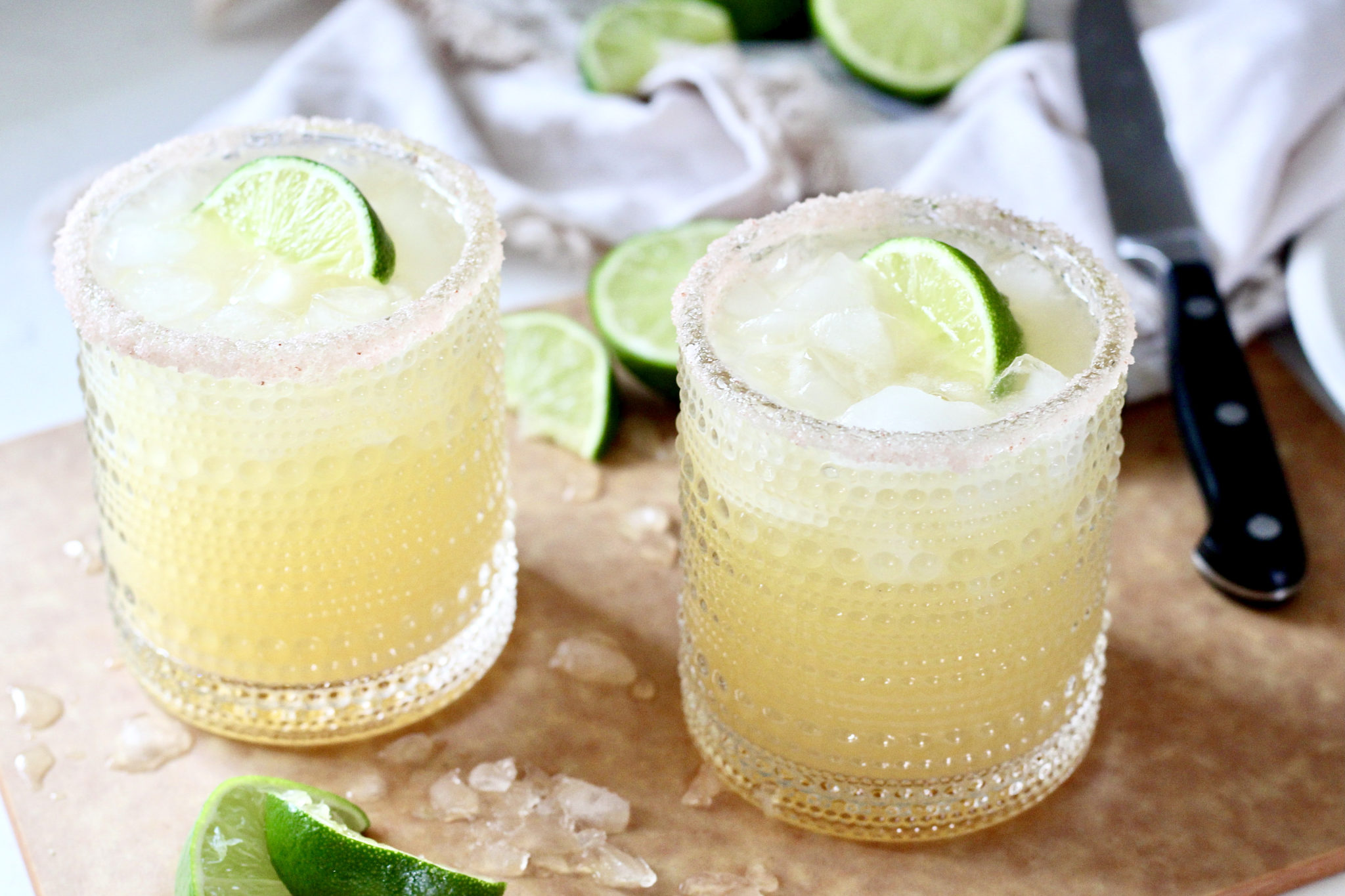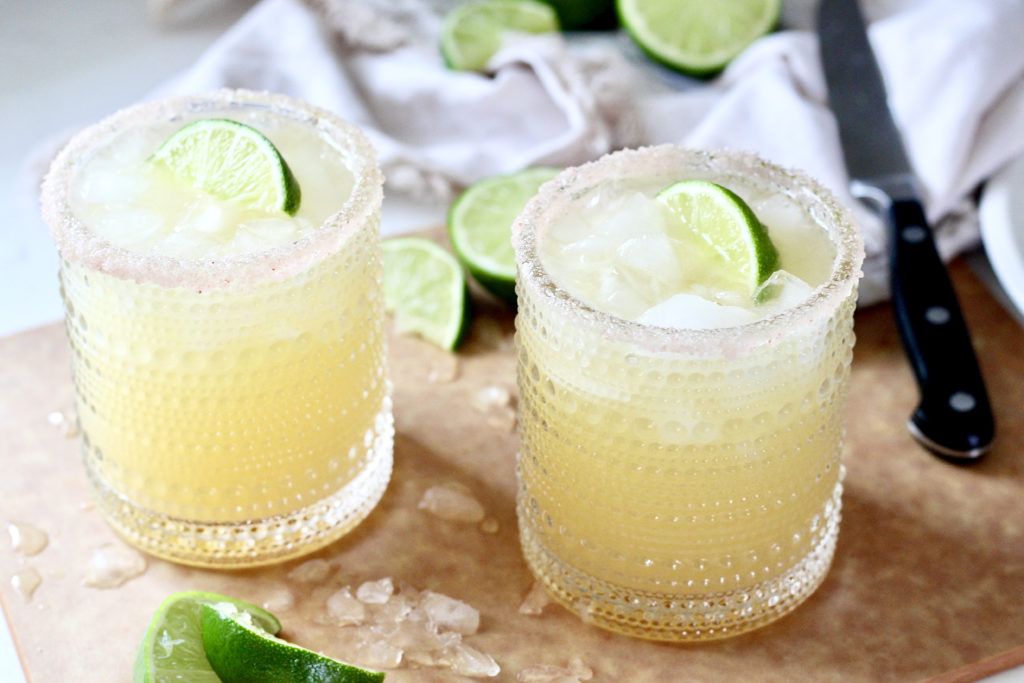 Is it possible to make a healthy margarita?
Absolutely!
But, before I go any further, we do need to state the obvious that even a skinny margarita traditionally has alcohol in it, and alcohol is a known carcinogen. So, it should be consumed in moderation.
And, if you have diabetes, you need to be even more aware of some other variables when consuming alcohol. I have 5 rules for consuming alcohol when you have diabetes that I've talked about before when I shared my Pomegranate Martini with Orange Liqueur.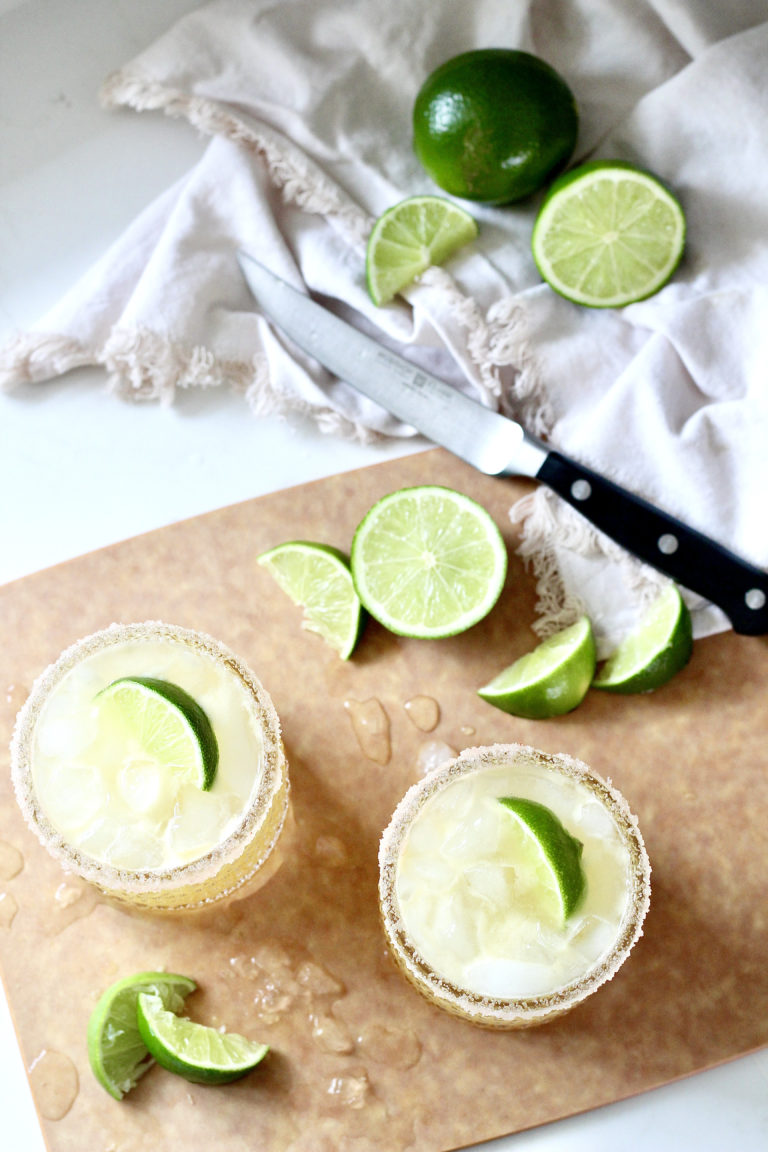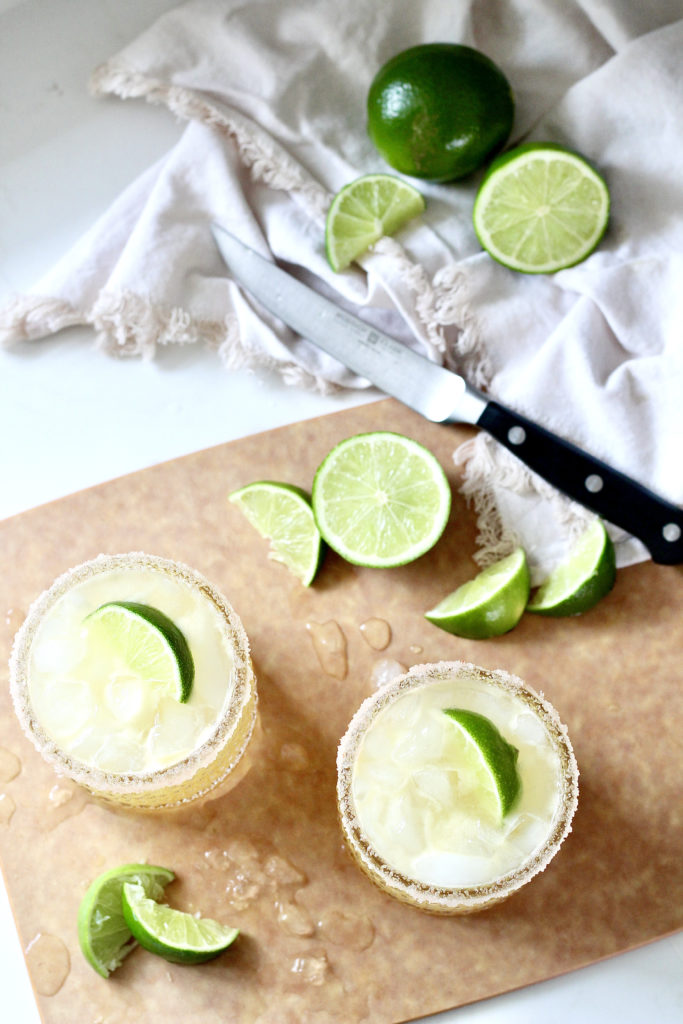 What makes a skinny margarita?
Usually, when a drink is called a "skinny" version of anything it means there is less sugar in it than a traditional version. For example, a skinny margarita has less sugar than a regular margarita. In fact, my recipe only has 3g/serving!
How much alcohol is in a skinny margarita?
While a skinny margarita may have less sugar, it doesn't always have less alcohol… but it might. If you're ordering from a restaurant just be sure to ask if this is a concern for you.
Low carb margarita tip
So, you're probably thinking how in the world did she make a margarita with only 3g of sugar and NO alternative sweeteners??
Well, it's pretty simple actually. I just swapped the typical 1-2oz of syrup for a fruit juice.
Every margarita has lime juice, but in my recipe I also add a small amount of orange juice (this is what replaces the syrup). You could also do grapefruit juice, pomegranate juice, cranberry juice and others. We're only using a small amount so it keep the whole margarita under 13g carb!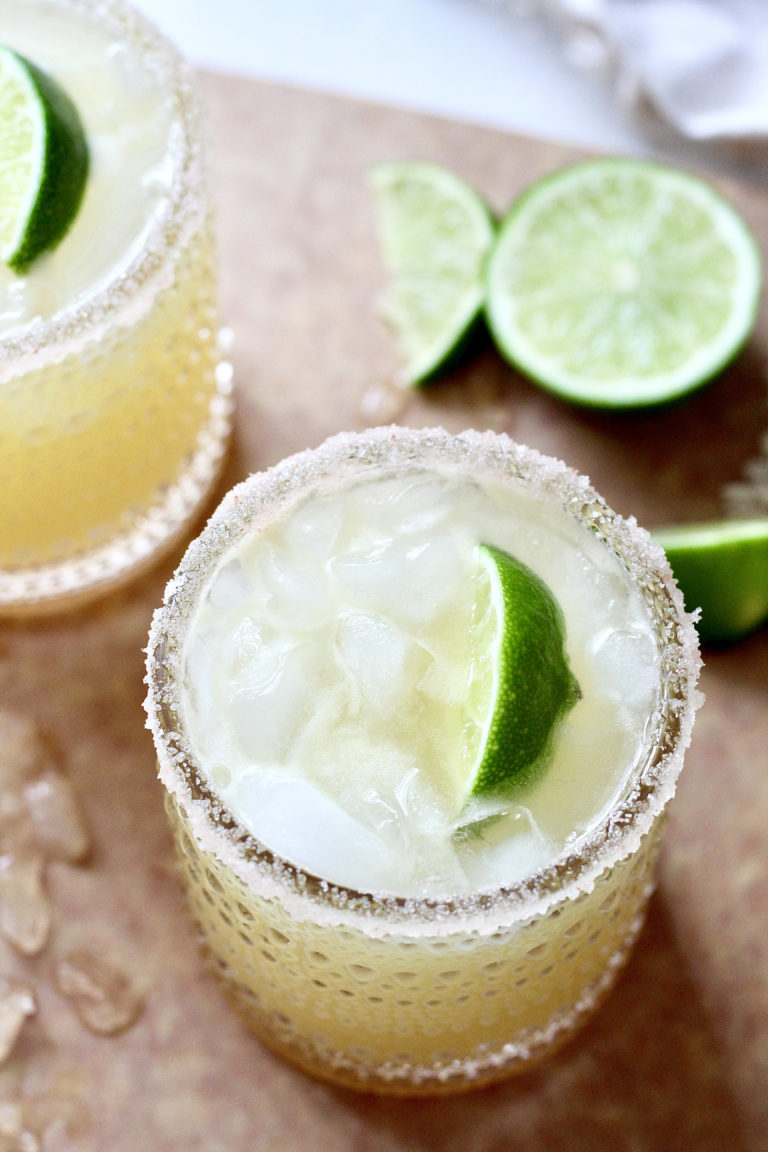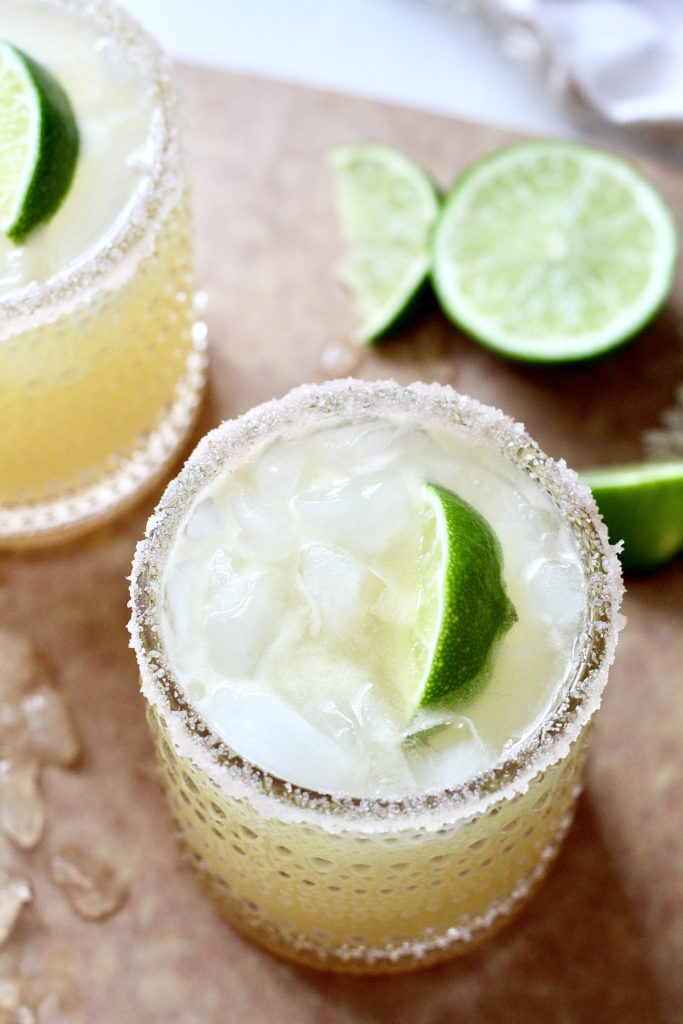 How to make a gluten free margarita
Most margaritas are already gluten free. If they aren't, it's likely a pre-made mix that has some sort of gluten-containing preservative in it, or a rim that has a non-gluten free binder in it. (If you stick to just salt or a spice, this won't be an issue). So, just make sure to ask your server at a restaurant or make them from scratch at home.
What tequilas are gluten-free?
Any pure distilled tequila made from an agave plant is naturally gluten free.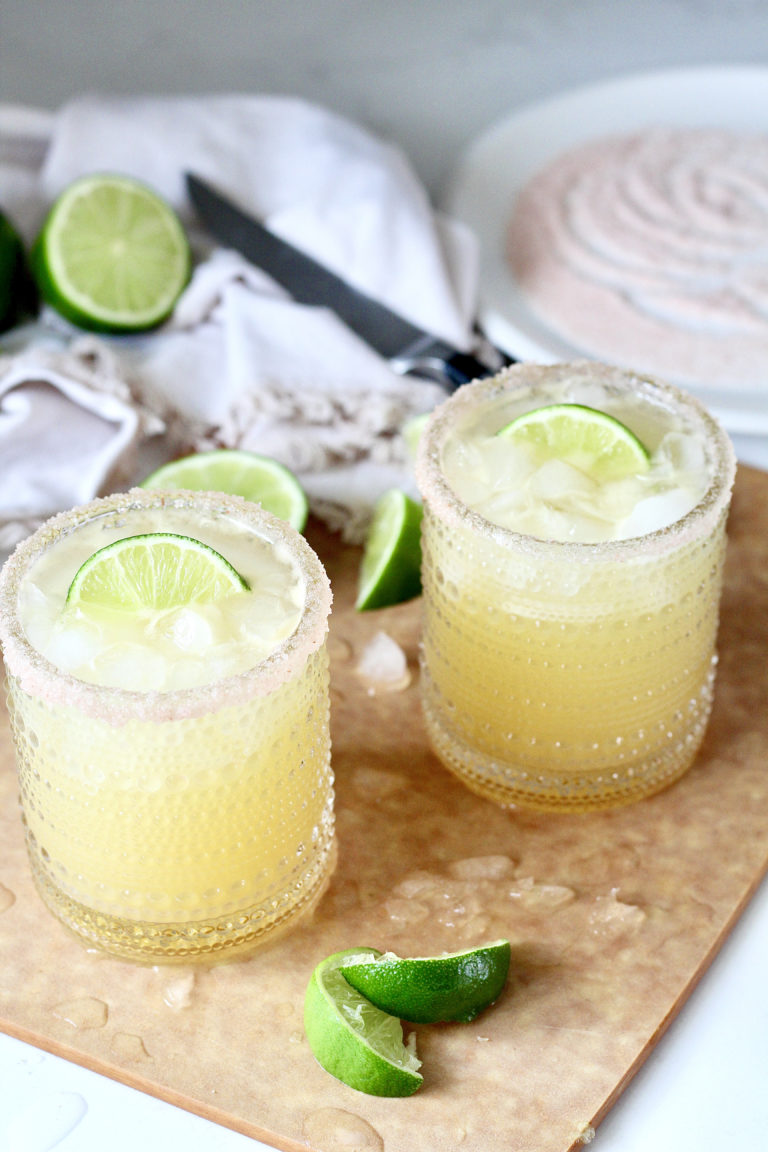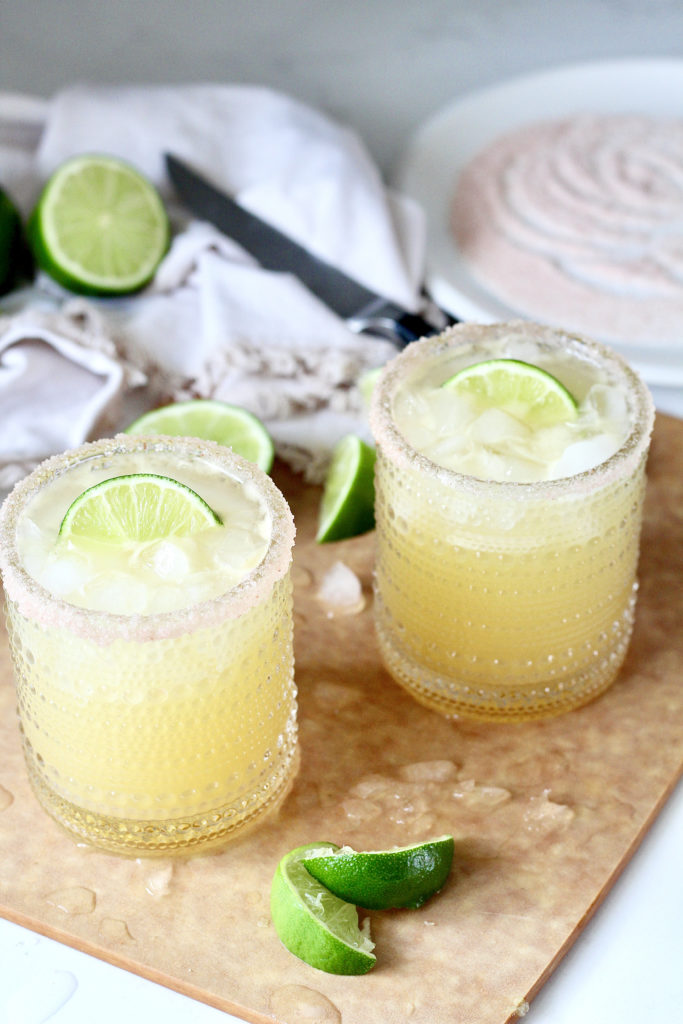 My homemade skinny margarita recipe
I've perfected this skinny margarita recipe over the years and it's so perfect! Lightly sweet with a hint of tart and incredibly simple to make. I don't recommend skipping the orange liqueur because it adds a small amount of sweetness that put it over the top!
Easy skinny margarita recipe
And what makes this recipe even easier is it's just as easy to make one as it is to make a whole pitcher. We use equal amounts of all of the ingredients, so all you need is a measuring cup to measure your ingredients. And you can do as much or as little as you want.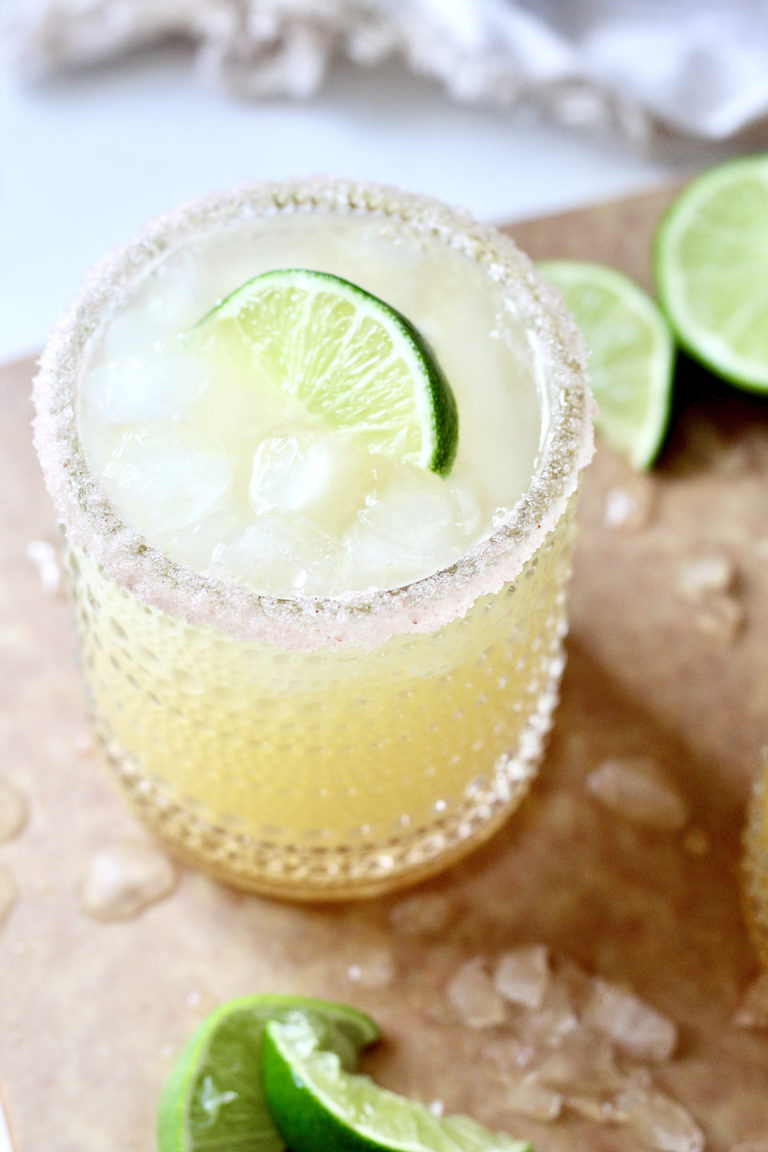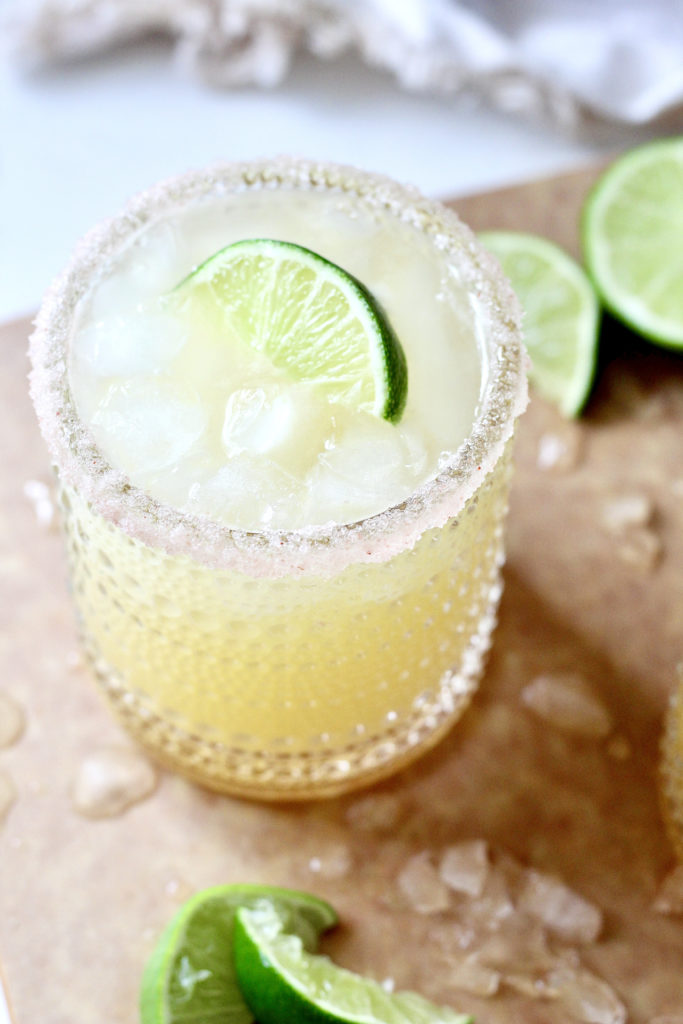 How to order a skinny margarita at a restaurant
When you're at a restaurant, ask for a traditional margarita on the rocks with a salt rim and skip the simple syrup. And add in a half shot of orange liqueur. It does add a small bit more of alcohol, but it helps balance out the tartness some.
Other low sugar cocktails
If you want to try some of my other delicious lower sugar cocktail options, check these out…

The Best 5-ingredient Skinny Margarita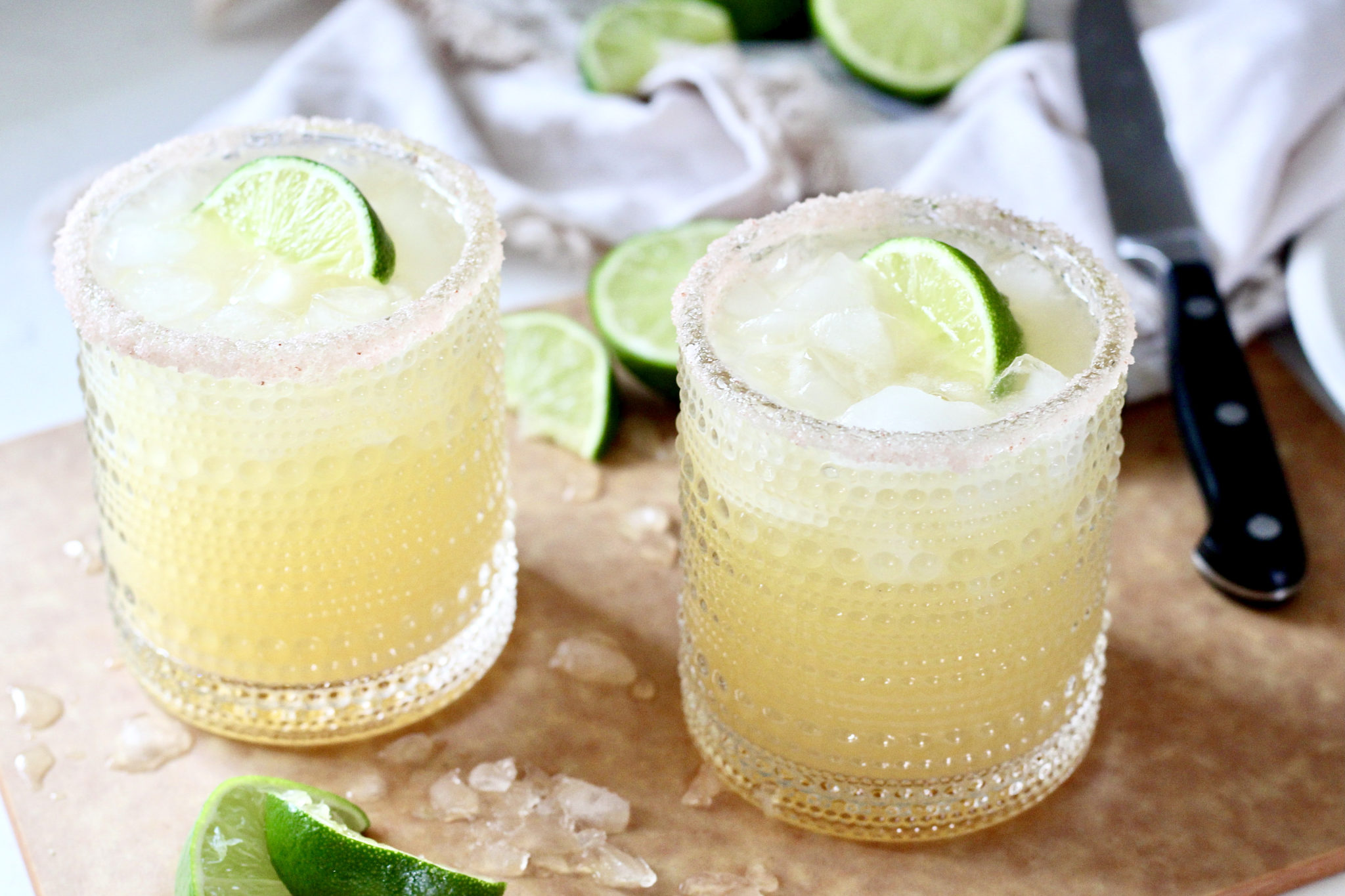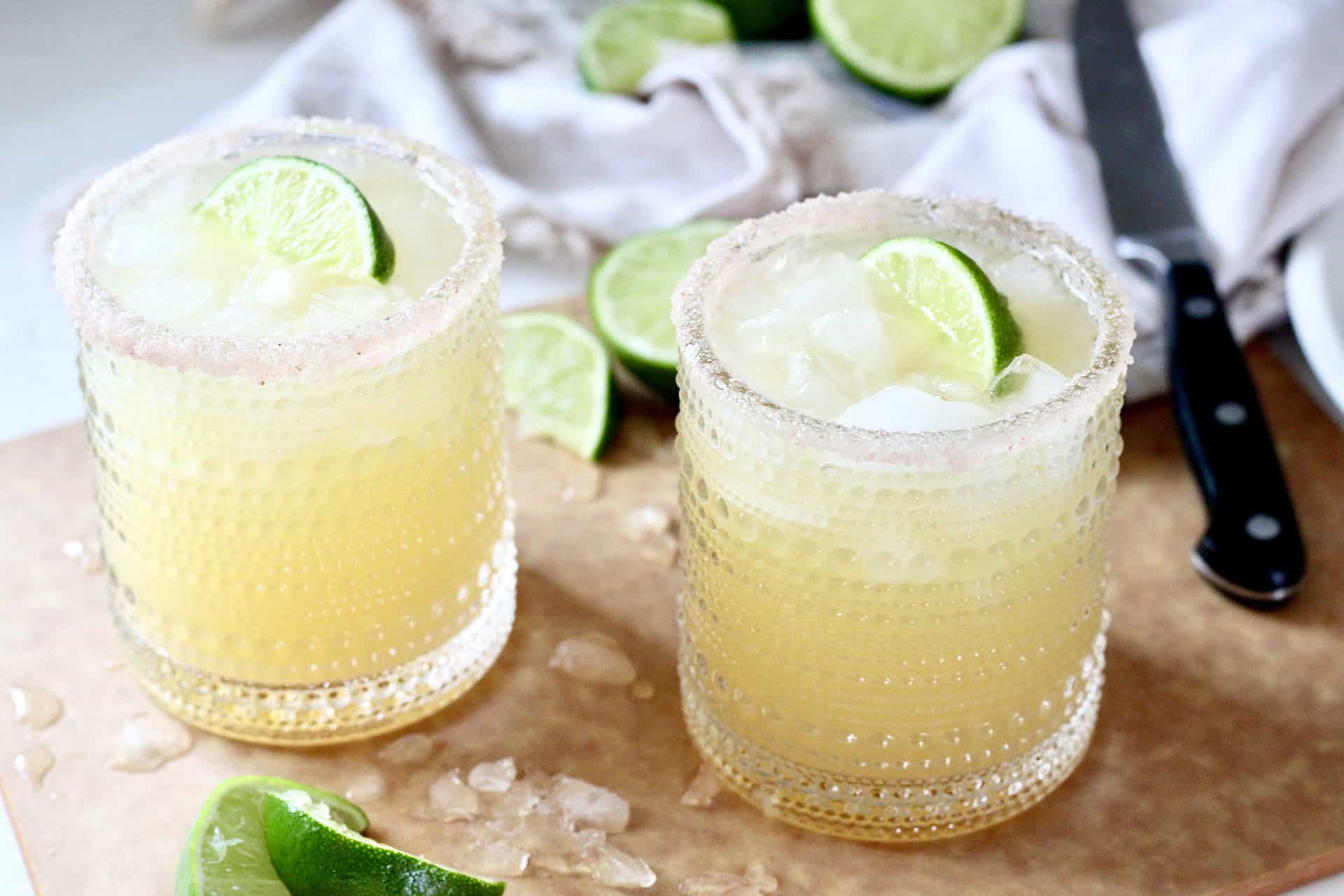 Ingredients
1

fl oz

lime juice

1

fl oz

orange juice

1

fl oz

tequila

1

fl oz

orange liqueur

sparkling water
Instructions
Fill a shaker or large glass with ice.

Add all of your ingredients, except the sparkling water, to the container. Give it a good shake or stir.

Strain out the mixture to a fresh glass of ice (leaving the old ice in the container you used to mix it up).

Top your glass off with sparkling water, garnish with lime and enjoy!
Notes
You can add a fun rim using salt, or something else!
If you want to make this into a pitcher for a larger gathering, just mix together equal parts of your lime juice, orange juice, tequila, orange liqueur and water/sparkling water.
The nutrition facts presented here are estimates only. The brands you use and product types chosen can change the nutritional information presented. To obtain the most accurate nutritional information, you should calculate the nutritional information with the actual ingredients you use. 
Nutrition
Serving:
1
marg
|
Calories:
161
kcal
|
Carbohydrates:
12
g
|
Protein:
0
g
|
Fat:
0
g
|
Saturated Fat:
0
g
|
Sodium:
1
mg
|
Fiber:
0
g
|
Sugar:
3
g