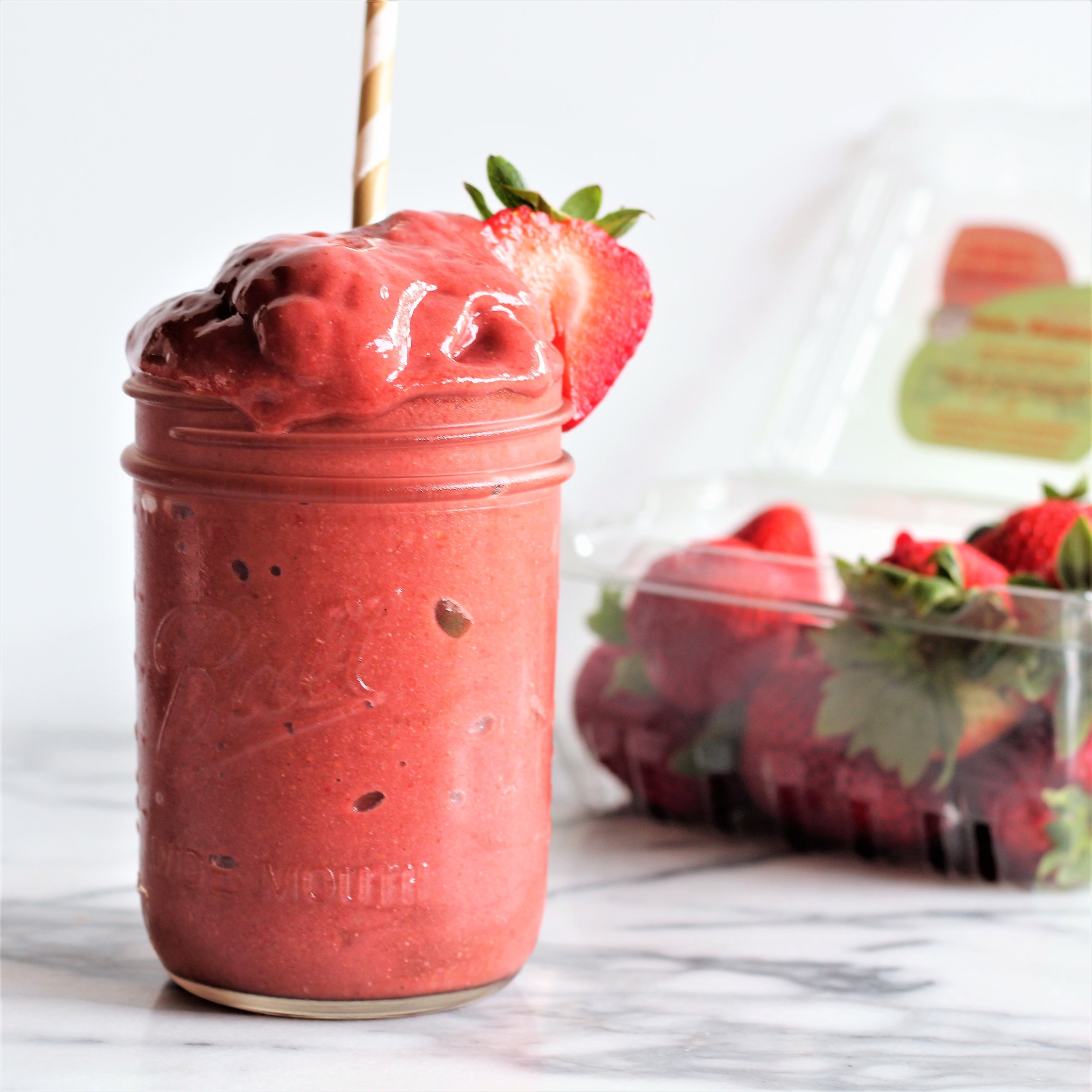 Strawberry season is in full swing around here, so what better time to revamp this Strawberry Beet Superfood Smoothie recipe than now?! The main theme in re-doing most of my smoothie recipes is to decrease the effect on blood sugars (or reduce the glycemic load), and allow the flavor of the main ingredient, in this case strawberries, to shine through. So, how do we do that?
First, we need to swap out the banana(s) for something equally as sweet, but with a less intense flavor.  Bananas can be very overwhelming in dishes, to the point that that's pretty much all you taste. This is where medjool dates come in. They have roughly the same amount of sugar (possibly more, depending on how many dates you use), but the impact on blood sugars is less intense. It takes our bodies longer to digest the sugars in medjool dates, so we don't see the same spike in blood sugar that we would with bananas. That's why I love using them in recipes, like my Chocolate Peppermint Energy Bites and Avocado Banana Cookies!
Next, we need to swap out the secondary fruit (usually pineapple in a lot of my smoothie recipes) for a vegetable or lower sugar fruit. Here, I've decided to go with beets! and if I'm being completely honest… it's totally because I wanted it to be a deep red color!
---
Strawberry Beet Superfood Smoothie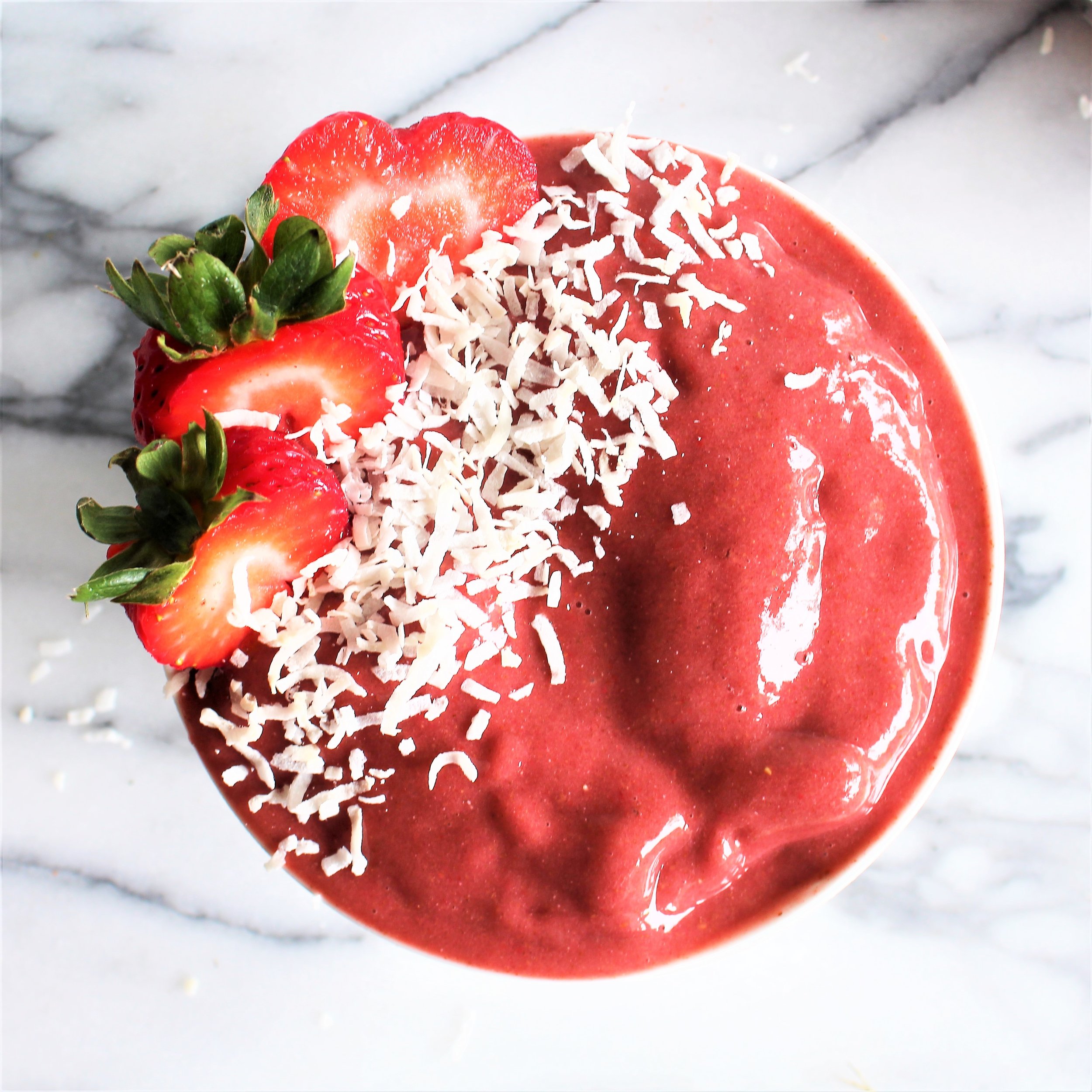 2 cups frozen strawberries
1/2 cup sliced beets (fresh or frozen)
1 cup dark greens (I use kale or collard greens)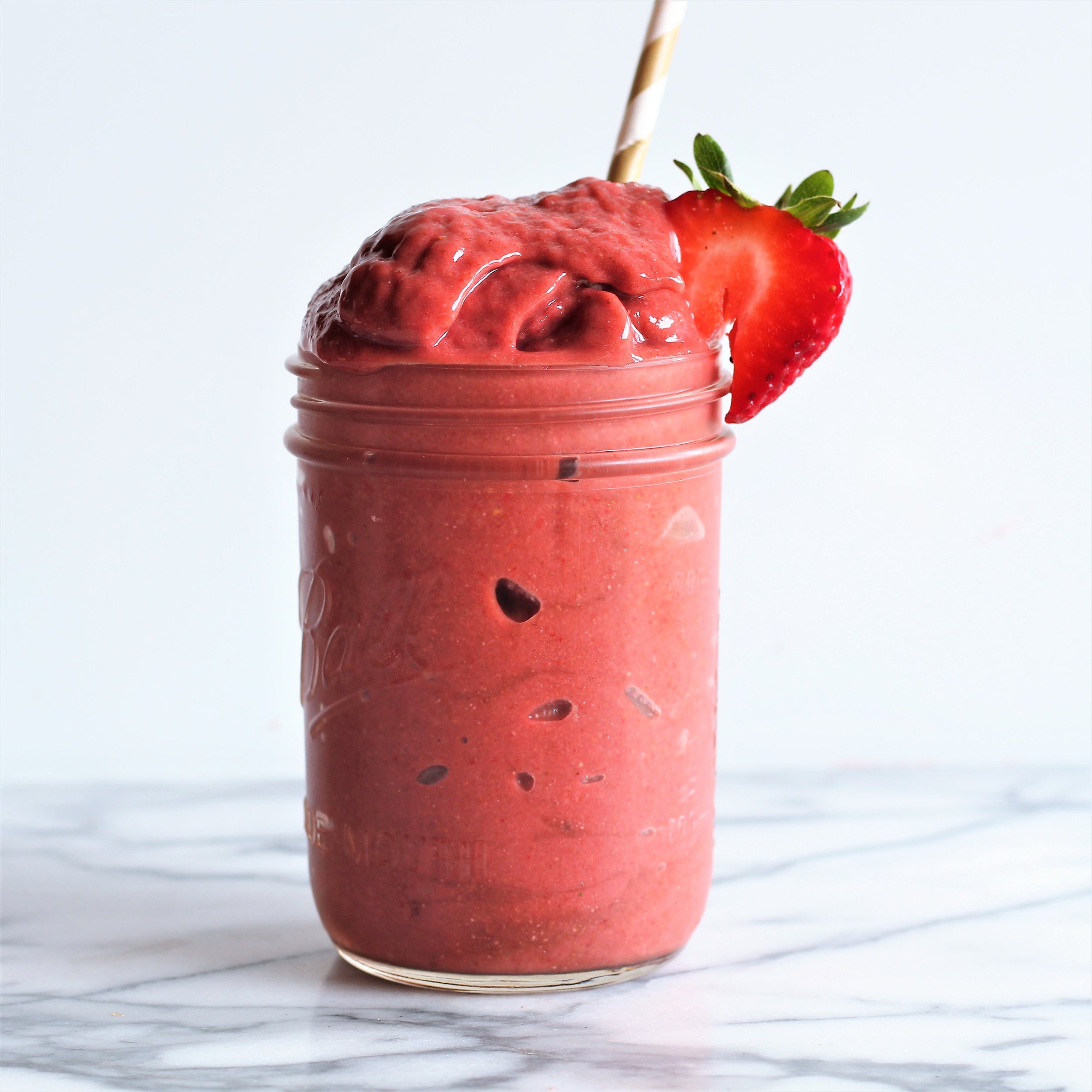 2-3 Natural Delights™ Pitted Medjool dates
1/2 cup unsweetened coconut water
1/2 tsp vanilla extract
2 Tbsp chia seeds
2oz Young Living Ningxia Red (optional)
1 scoop The Natural Citizen Organic Digest, Organic Energy, or Organic Protein (optional)*
Blend all ingredients together for 60 seconds in a high powered blender. Enjoy in a glass or bowl! Add toppings if you'd like! Recipe makes 2 servings.
Note: The above recipe works best in a high powered blender. If you do not have a high powered blender, you can use a food processor OR increase the amount of coconut water used. 
*This is an affiliate link. I make a small commission if you decide to purchase any Natural Citizen products. I love their products and the company philosophy, and I know you will too!
---
Check out these other smoothie recipes…