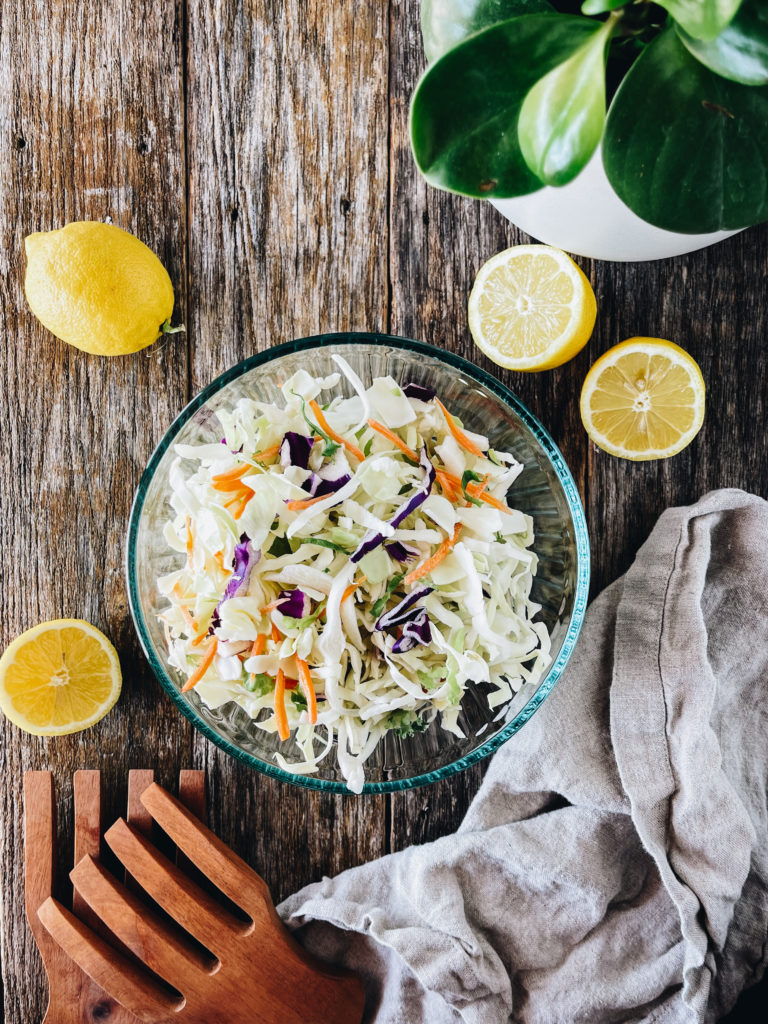 This low carb coleslaw will be a new staple at all your summer gatherings!
Coleslaw is a beloved condiment at any family gathering or barbeque hosted on a hot summer day. And, this low carb coleslaw will be a crowd-pleaser for sure!
Is coleslaw healthy?
Coleslaw is a delicious potluck item and can undoubtedly be nutrient-dense. This recipe uses a coleslaw mix of shredded green cabbage, red cabbage, and carrots, which are all vitamin-rich vegetables. And the coleslaw dressing functions for flavor, as well as a healthy fat. Together, the shredded cabbage and dressing ingredients combine to make a healthy coleslaw recipe!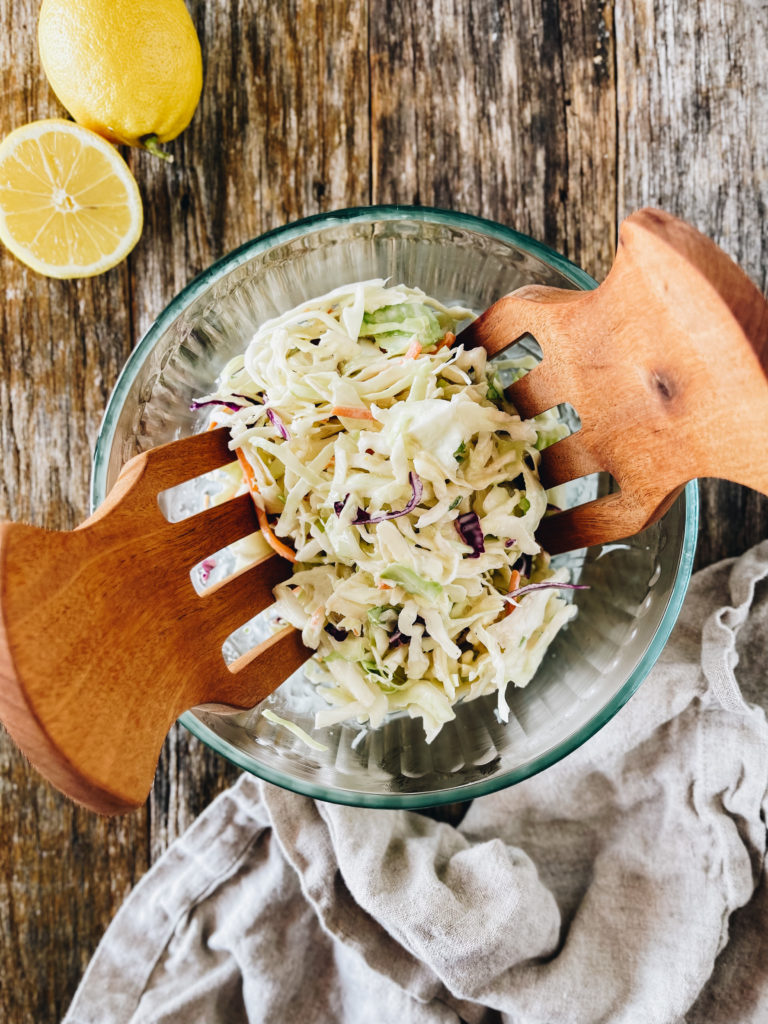 Are there carbs in coleslaw? And how do you make coleslaw for diabetes?
Traditional coleslaw at restaurants, fast food chains, or the grocery store typically has anywhere between 11 – 21 grams of carbohydrates in one serving, and this low carb recipe has 8g. For those living with diabetes, low carb recipes are a helpful alternative. Vegetables, such as cabbage which predominantly make coleslaw, are a natural source of carbohydrates. However, cabbage is, in particular, a low carbohydrate vegetable. So yes, there are carbs in coleslaw, but this recipe is slightly lower, making it the perfect dish to bring to family gatherings when thinking of loved ones living with diabetes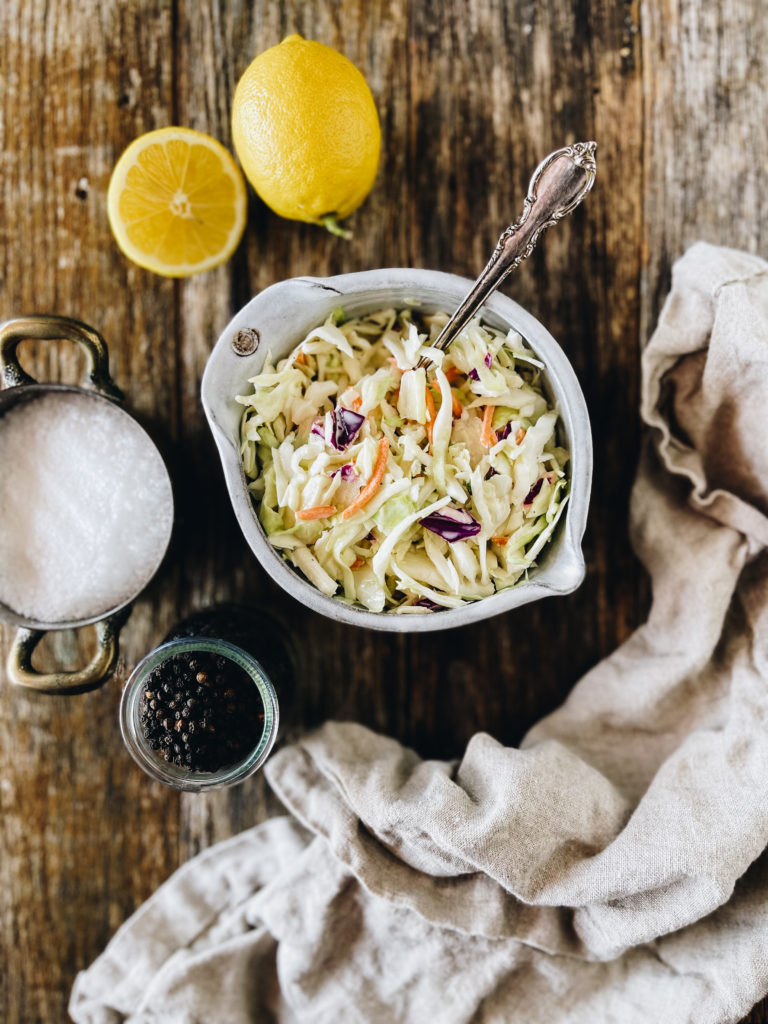 Why add lemon and lime juice?
Coleslaw is made traditionally with either a mayonnaise or a vinegar-based dressing. However, this recipe combines mayonnaise, vinegar, lemon juice, and lime juice. The mayonnaise and vinegar provide a creamy and tangy profile to the side dish, while the lemon and lime bring vibrant and bright flavors.
Is store bought coleslaw low carb?
Is all coleslaw low carb? Premade store-bought coleslaw, on average, contains 15-21 grams of carbs per ½ cup serving, which is significantly higher than this low-carb recipe. Most pre-made coleslaw sold in grocery stores has higher amounts of sugar and cornstarch as an ingredient which lead to a higher carb amount.
How do you make coleslaw?
Coleslaw is simple to make and requires very little time and effort, yet is still massively impressive tasting! To make coleslaw, you can either purchase a coleslaw cabbage mix in the salad bag section of your grocery store or if you're feeling fancy, use a whole cabbage and carrots to shred by hand with either a box grader or food processor.
Next, you will make the coleslaw dressing. You can measure out all the ingredients into a small bowl and whisk them together. Or you can place all the ingredients into a small jar with a lid and shake to your heart's content to mix the low-carb coleslaw dressing.
Once your coleslaw dressing is made, you will pour it over the shredded cabbage in a mixing bowl. Using either a pair of tongs or clean hands, toss the shredded cabbage and coleslaw dressing together until all the cabbage is coated. And there you have it, a delicious, easy, homemade low carb coleslaw! The coleslaw can be served the same day or stored in an airtight container in the refrigerator for 3-5 days.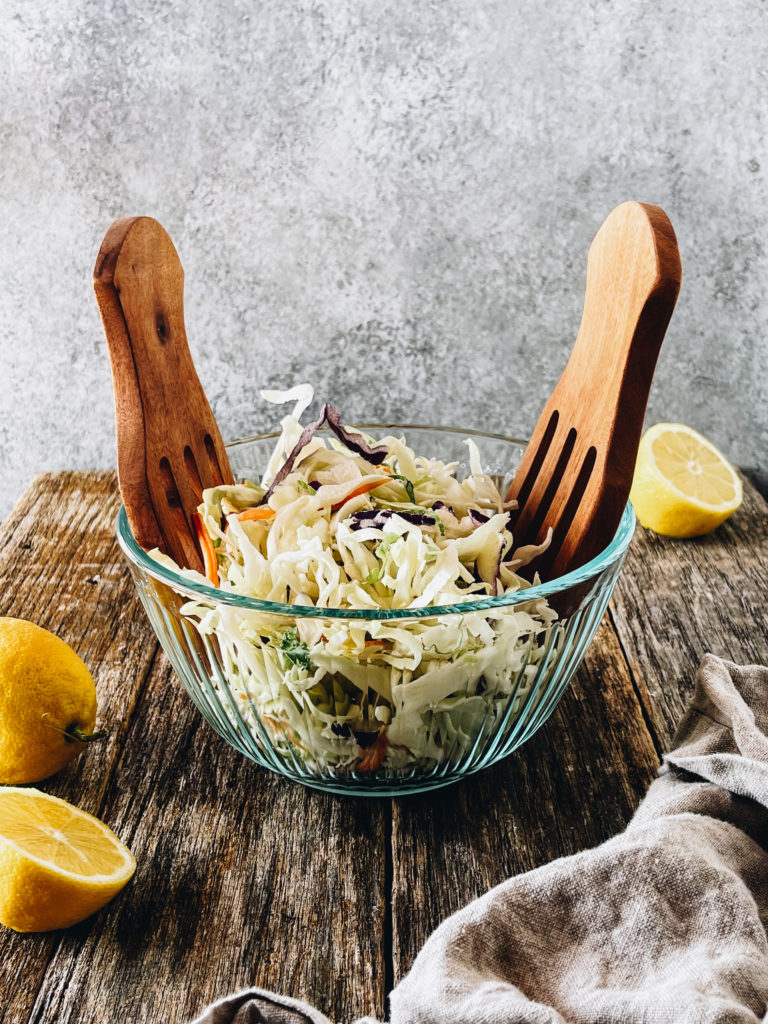 Tips for making low carb coleslaw 
Try adding a variety of shredded vegetables to your coleslaw, such as shredded broccoli, bell pepper, beets, or more carrots!

For added crunch, color, and flavor, use leftover coleslaw to top salads and rice bowls.

If you do not have apple cider vinegar, swap 1:1 for more lemon juice or a different vinegar such as red wine vinegar, white wine vinegar, or rice vinegar.
How to make keto coleslaw
If you want to make this low carb coleslaw recipe even lower in carbohydrate, you can swap out the sugar for an alternative sweetener like stevia. This would bring the total carbohydrate count per serving down to 6g/serving. Two of these grams are also fiber.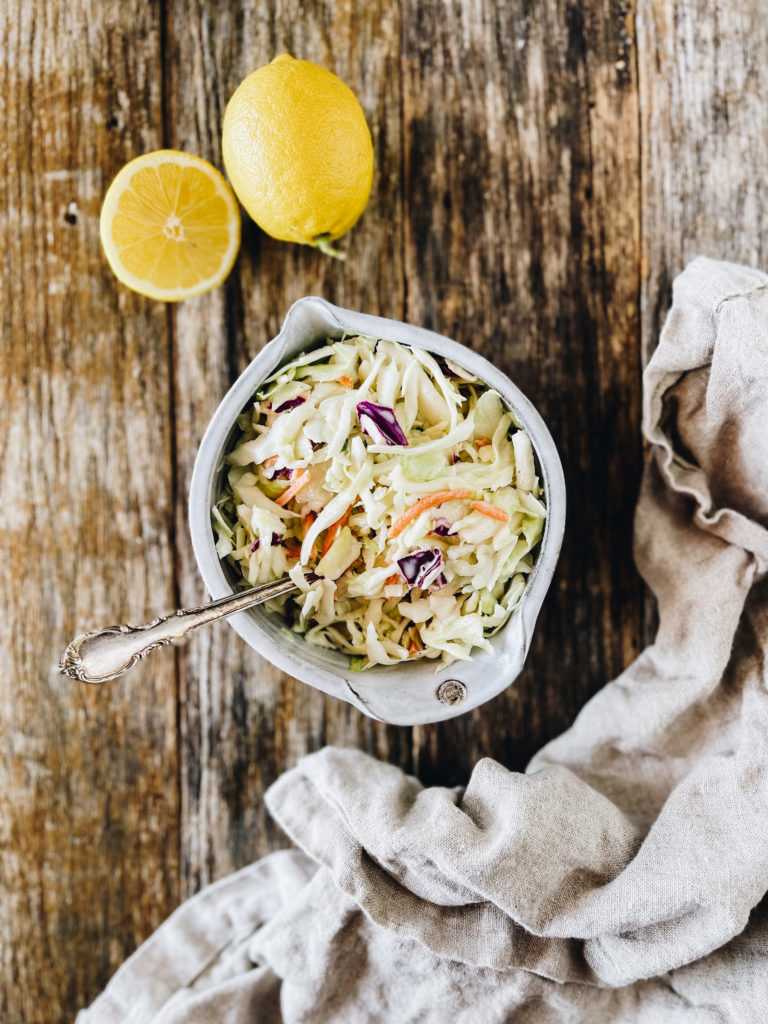 Other low carb side dishes to try
Other summer recipes to pair with your health coleslaw recipe 

Healthy Low Carb Coleslaw (6 ingredients)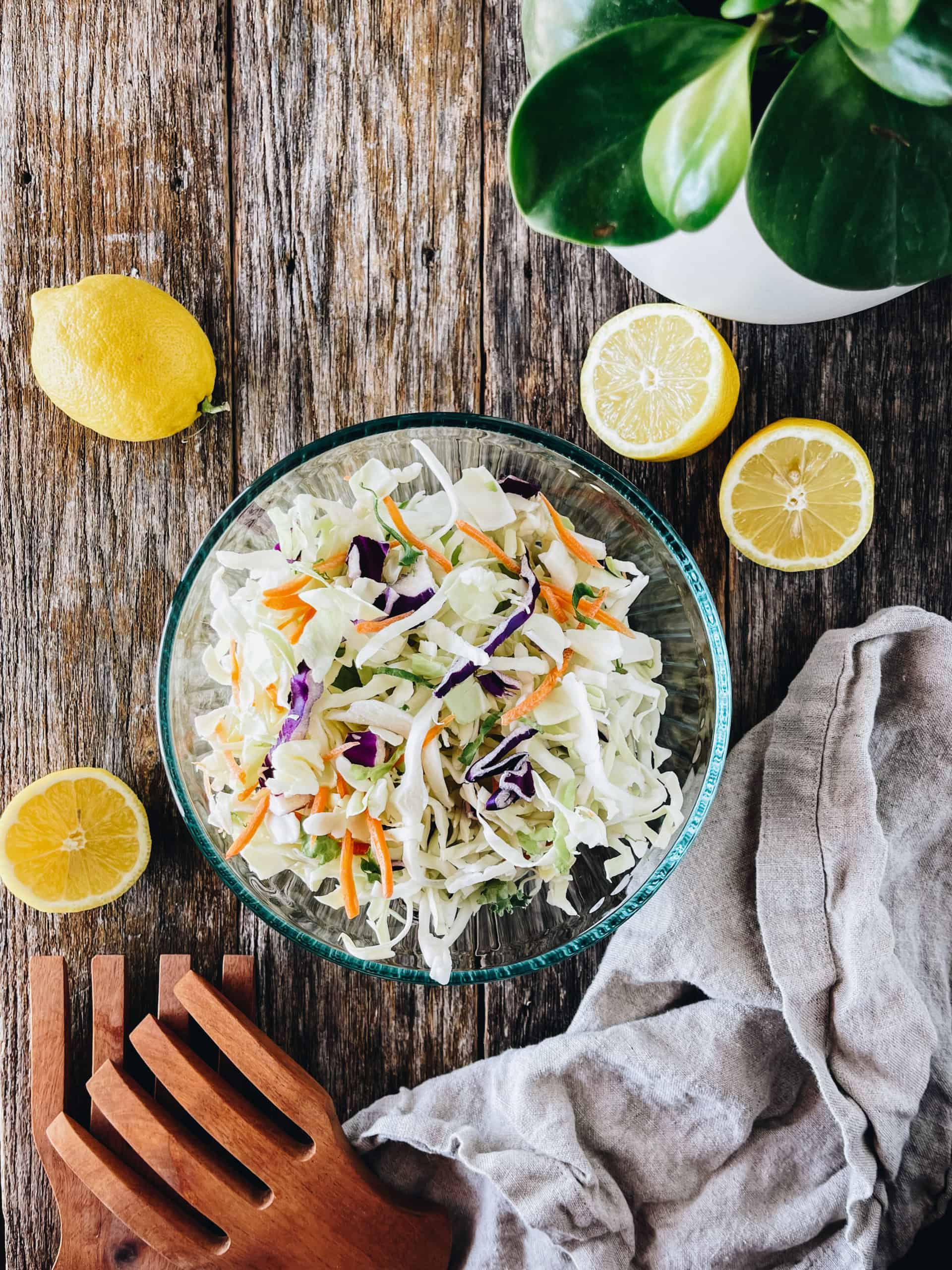 Ingredients
½

cup

mayonnaise

1 ½

Tbsp

sugar

1

Tbsp

lemon juice

½

Tbsp

lime juice

1

Tbsp

apple cider vinegar

½

Tbsp

ground black pepper

optional

¼

Tsp

salt

optional

24

oz

coleslaw mix
Instructions
Combine the mayonnaise, sugar, lemon juice, lime juice, apple cider vinegar, black pepper, and salt in a bowl and whisk thoroughly.

Place the coleslaw mix in a bowl and pour the dressing over top. Stir until the coleslaw is thoroughly coated.

Enjoy immediately or store in a sealed container for up to five days in the refrigerator.
Notes
The brands you use and product types chosen can change the nutritional information presented. To obtain the most accurate nutritional information, you should calculate the nutritional information with the actual ingredients you use.
Nutrition
Serving:
1
serving
|
Calories:
125
kcal
|
Carbohydrates:
8
g
|
Protein:
1
g
|
Fat:
10
g
|
Saturated Fat:
1.5
g
|
Sodium:
180
mg
|
Fiber:
2
g
|
Sugar:
5
g