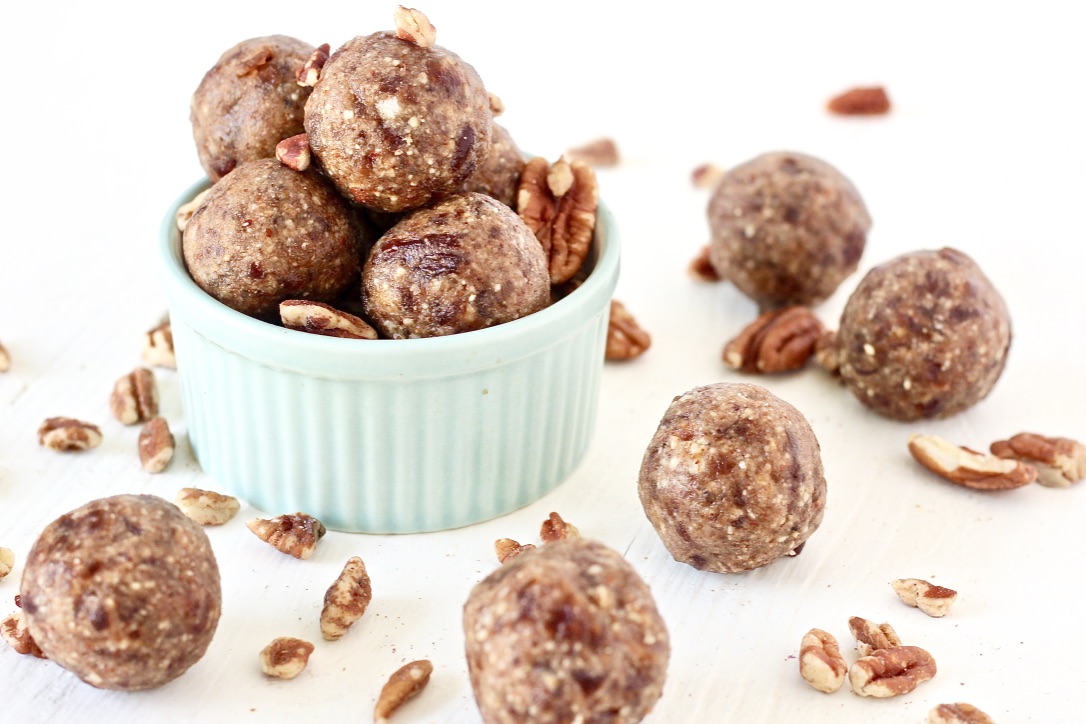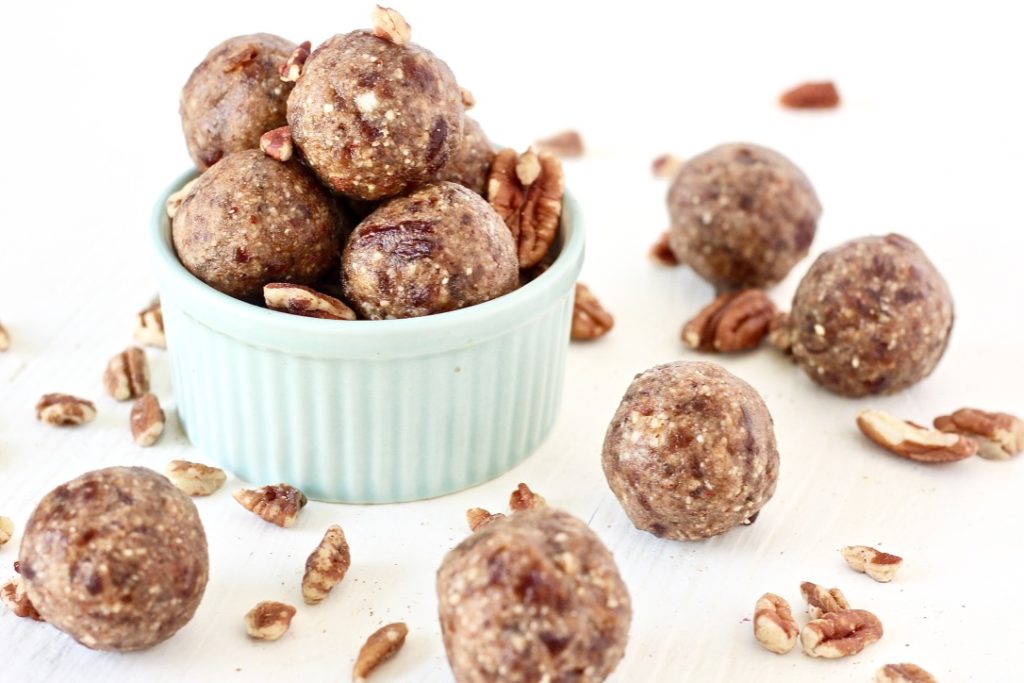 This post was sponsored by the American Pecan Council. All thoughts and ideas are my own.
If you're looking for the perfect quick and easy snack, these Simple Pecan No- Bake Energy Bites are a great option with only 4 ingredients and no added sugar!
No-bake energy bites are easy to make, and these simple pecan ones are naturally gluten free, paleo friendly, and have no added sugar. These particular bites also use one of my favorite nuts: pecans! Pecans have a naturally sweet taste and buttery texture that makes them stand out from other nuts and are perfect for this recipe.
Pecans are a big deal in Texas
I was born and raised in Texas, and naturally received a thorough education in Texas history and culture. (We Texans are very proud about being Texan!) So, I've been a fan of pecans ever since I learned in 4th grade that the pecan tree was the Texas state tree. You can find pecan trees all across the state (and in other states too!), I even have one right in my own backyard.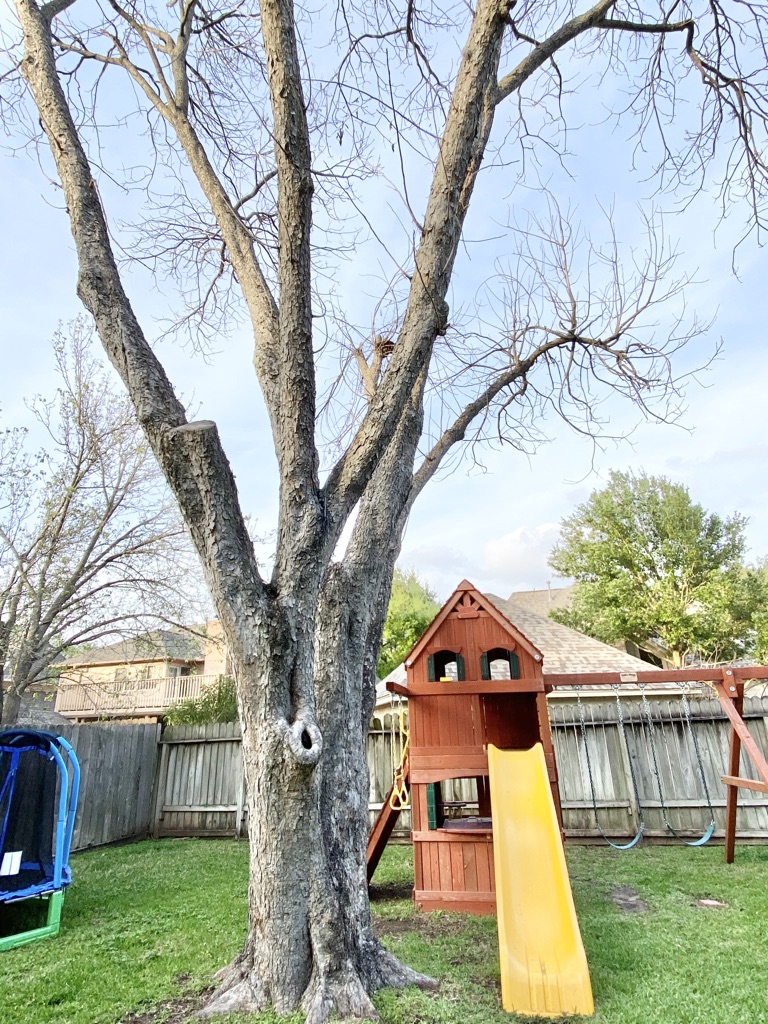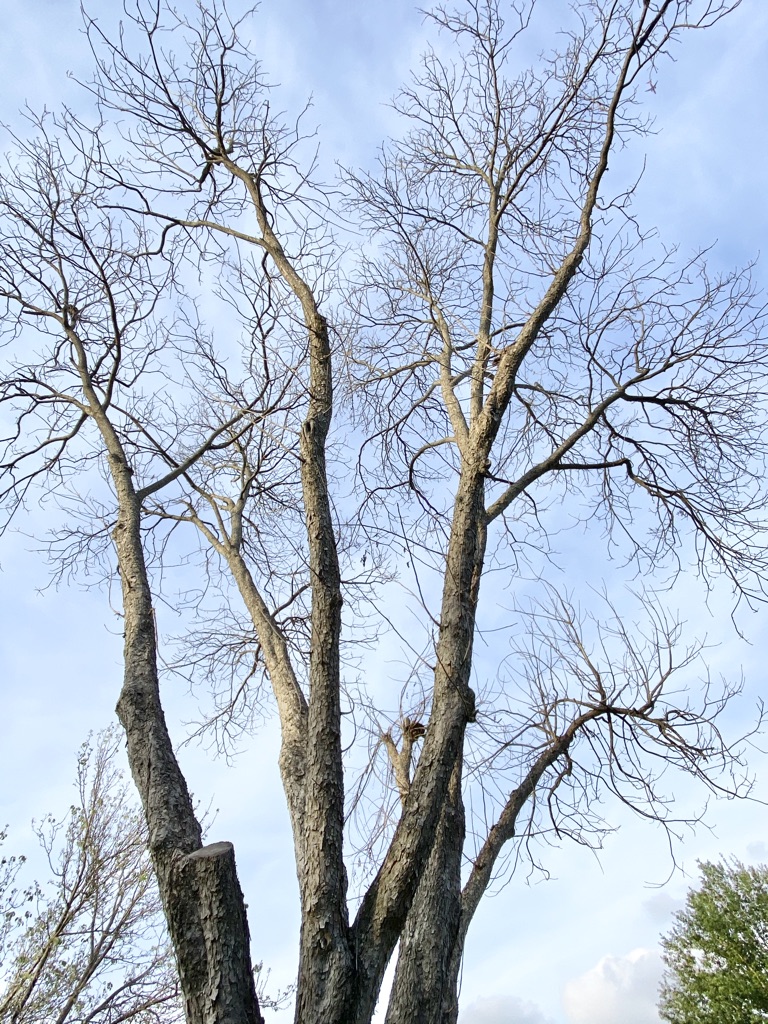 And while they are famous around here for sweet things like Texas Sheet Cake, Pecan Pie, and Pralines… I actually love to use pecans in a ton of other ways too, including simple pecan no-bake energy bites!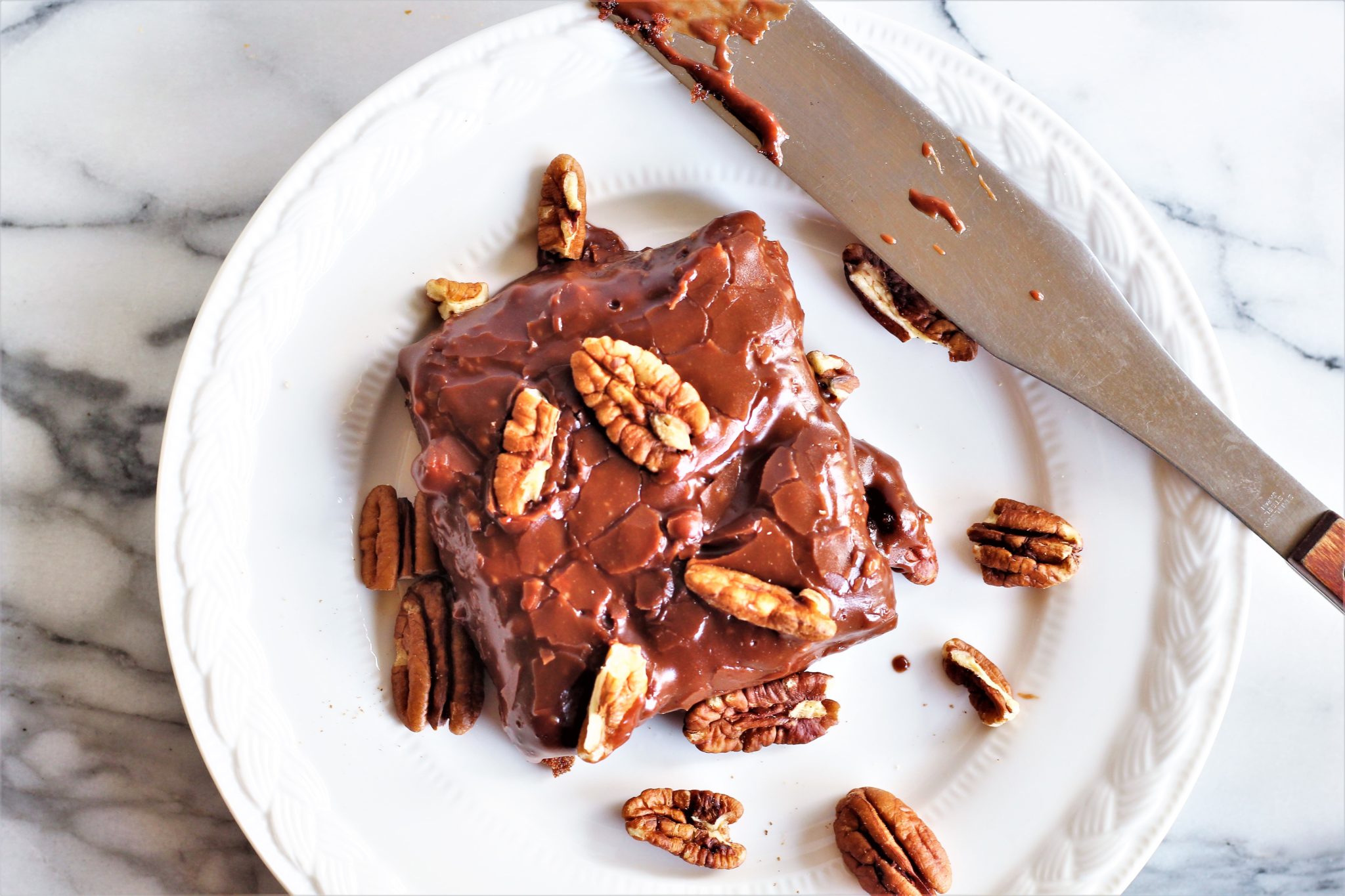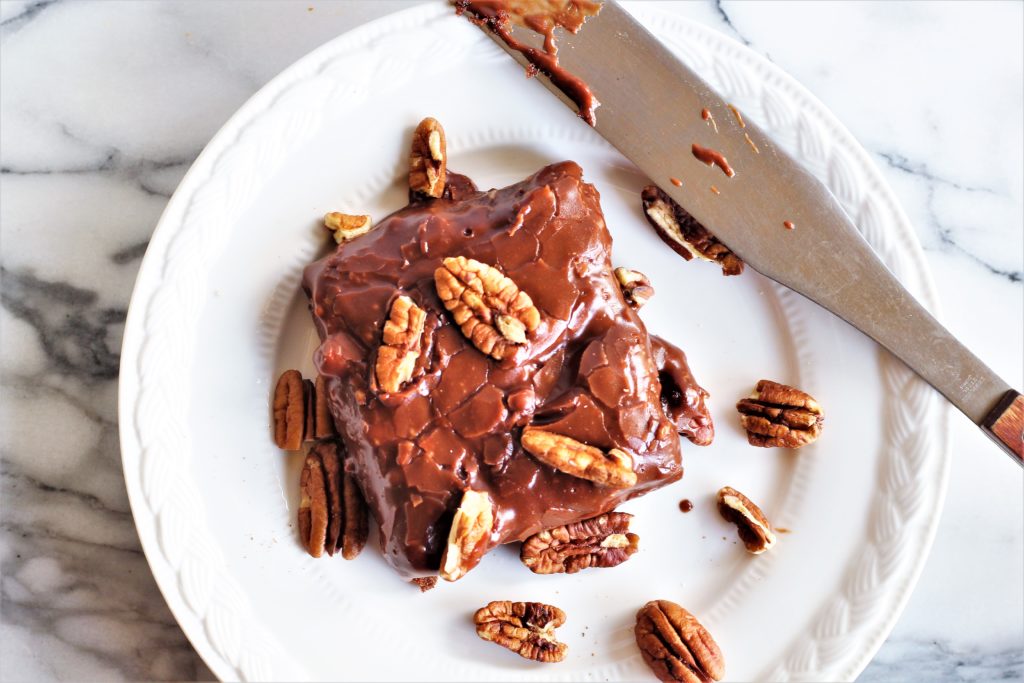 My favorite ways to use pecans
Pecans are incredibly versatile, pairing well with a range of sweet and savory foods – including salads, whole grains and vegetables.* Pecans are also a fun and easy snack, either on their own or combined with other ingredients.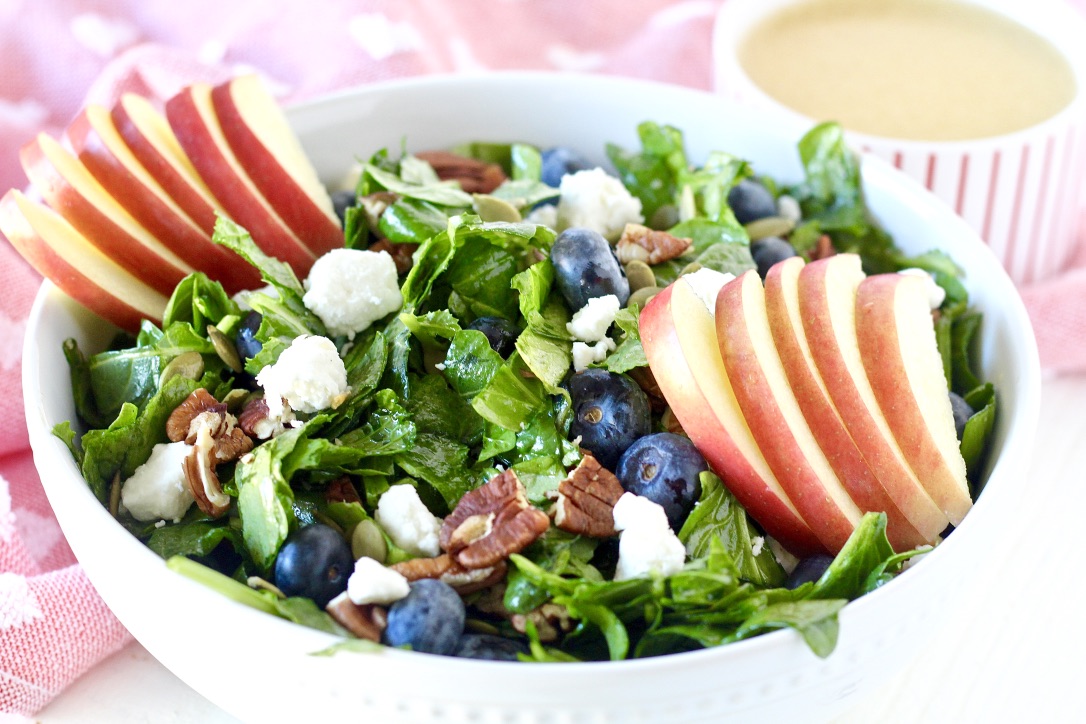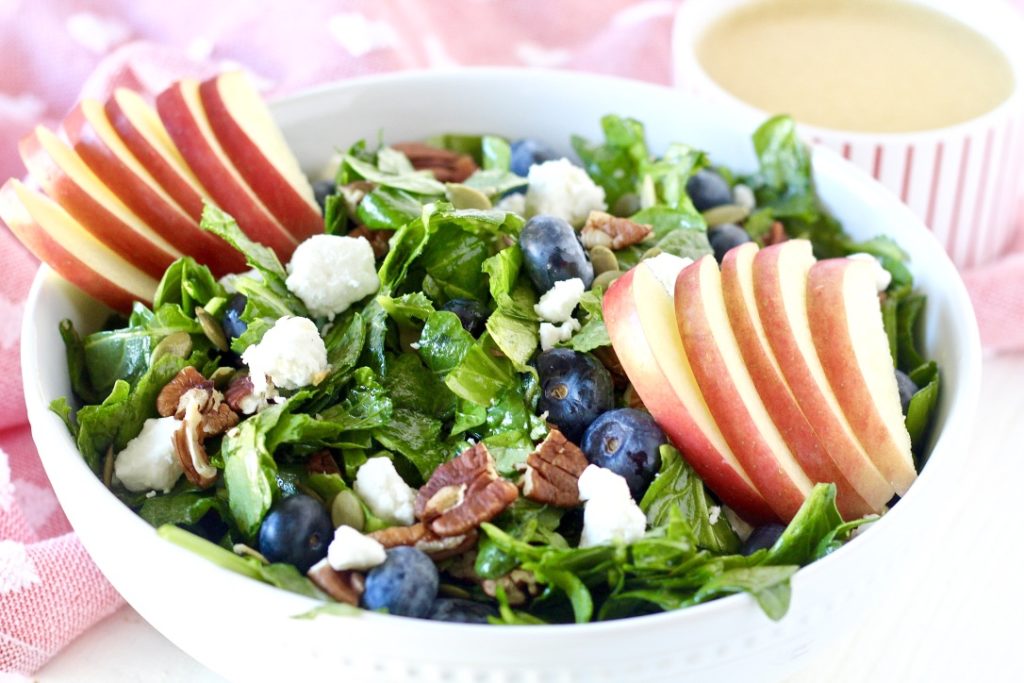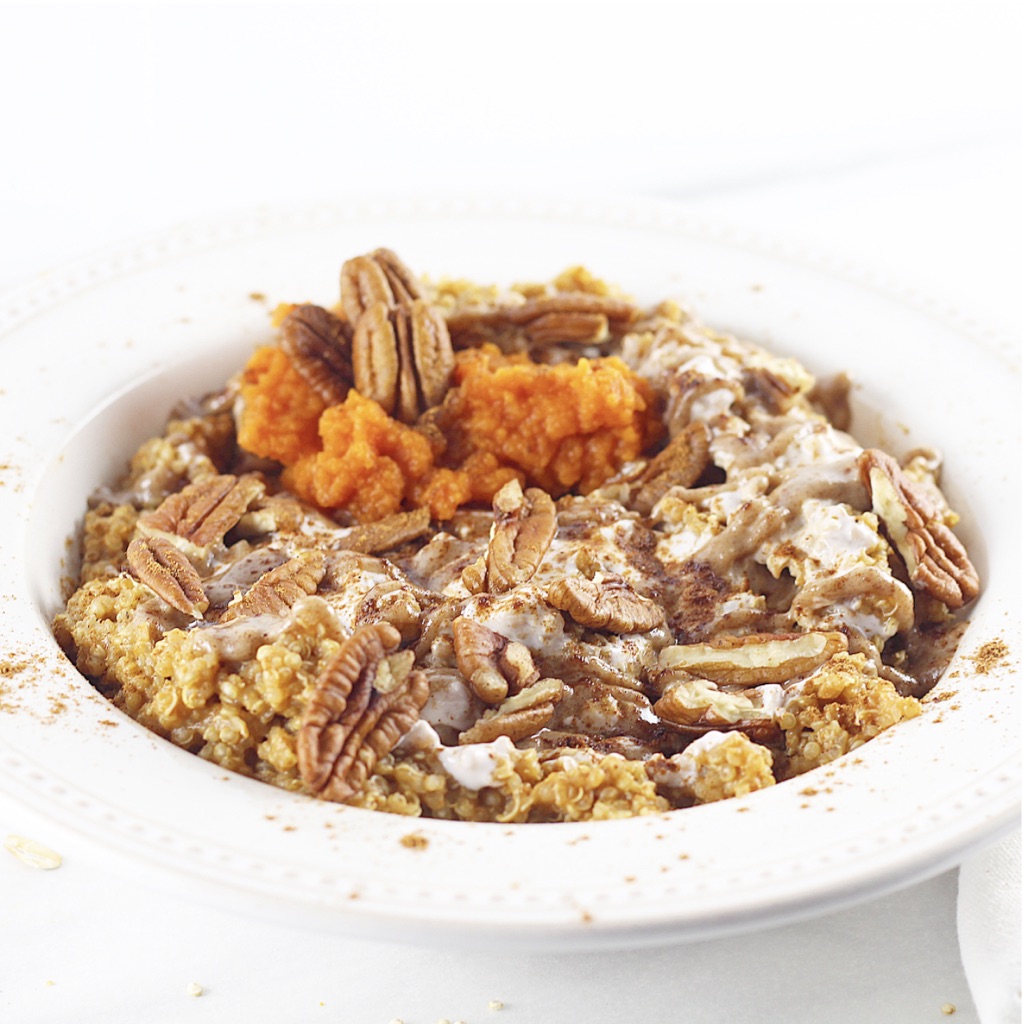 You can also grind pecans into a flour to use much like you would any other flour for baking and cooking.
And not to mention, the pecan's nutrient profile is not significantly changed by roasting or toasting pecans for a short period of time, as the nutrients and bioactive compounds, such as flavonoids, will remain intact.
The pecans I use for no-bake energy bites
One of my favorite ways to shop for pecans is to buy pecan pieces. You can usually find these on the baking aisle at your local store, and sometimes in the bulk section as well. The beauty of pecan pieces is that they are already shelled, and are small enough that if a recipe calls for chopped pecans, there's no need to do anything else! Super simple! And in this recipe for no-bake energy bites, the batter takes less time to blend up since the pecans are already in pieces.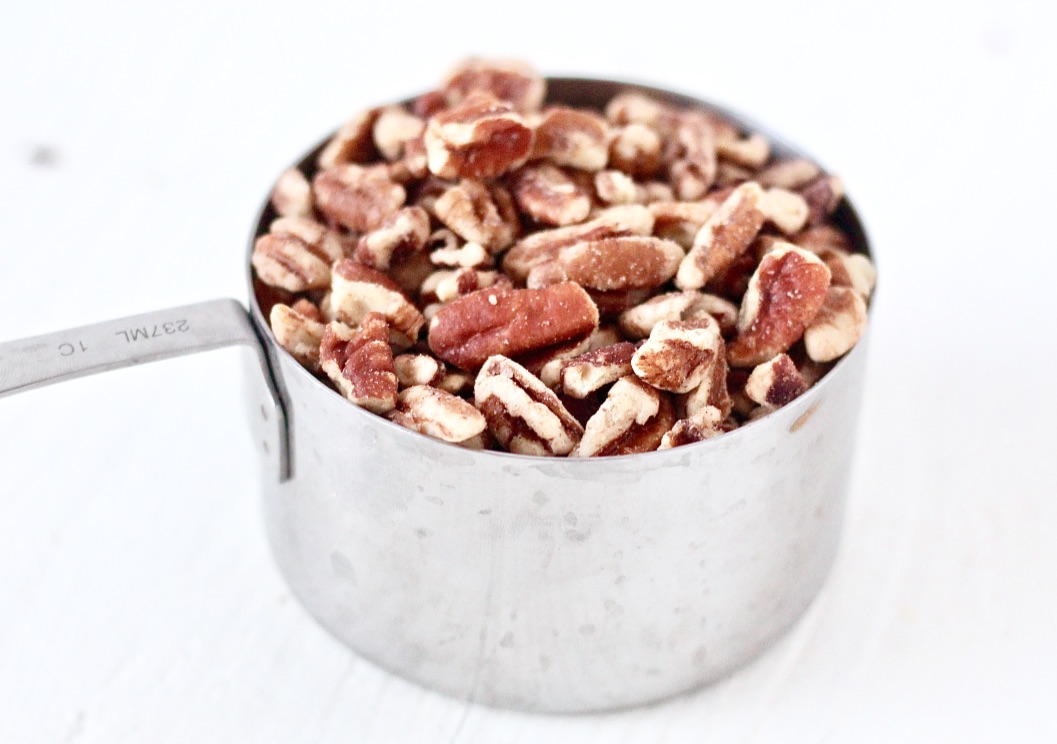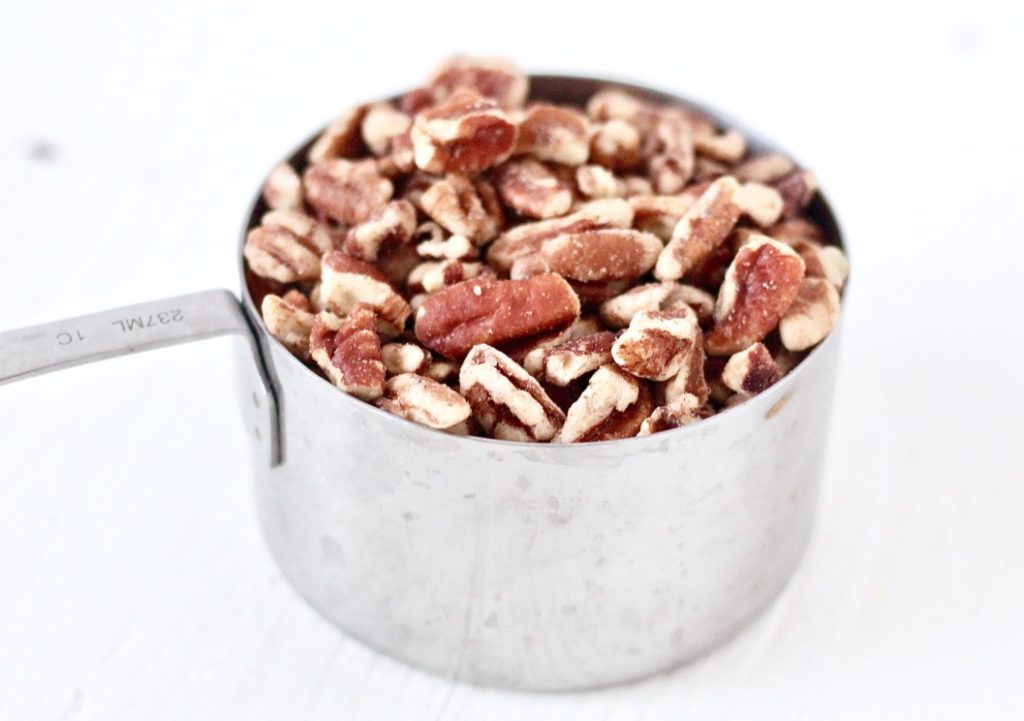 Pecan Nutrition
Pecans offer multiple health-promoting nutrients and have rightfully earned the reputation as a nutrition powerhouse!
Pecan Storage
To protect pecans rich oils and buttery taste, it's best to store shelled pecans in the refrigerator to extend their shelf life. Pecans will keep for about nine months in an airtight container, and up to TWO YEARS in a sealed plastic bag in the freezer! Pecans can be thawed and frozen repeatedly during the two-year freezing period without any loss of flavor or texture. How cool is that?! For in-shell pecans, you can store them in a dry, cool place for up to a year.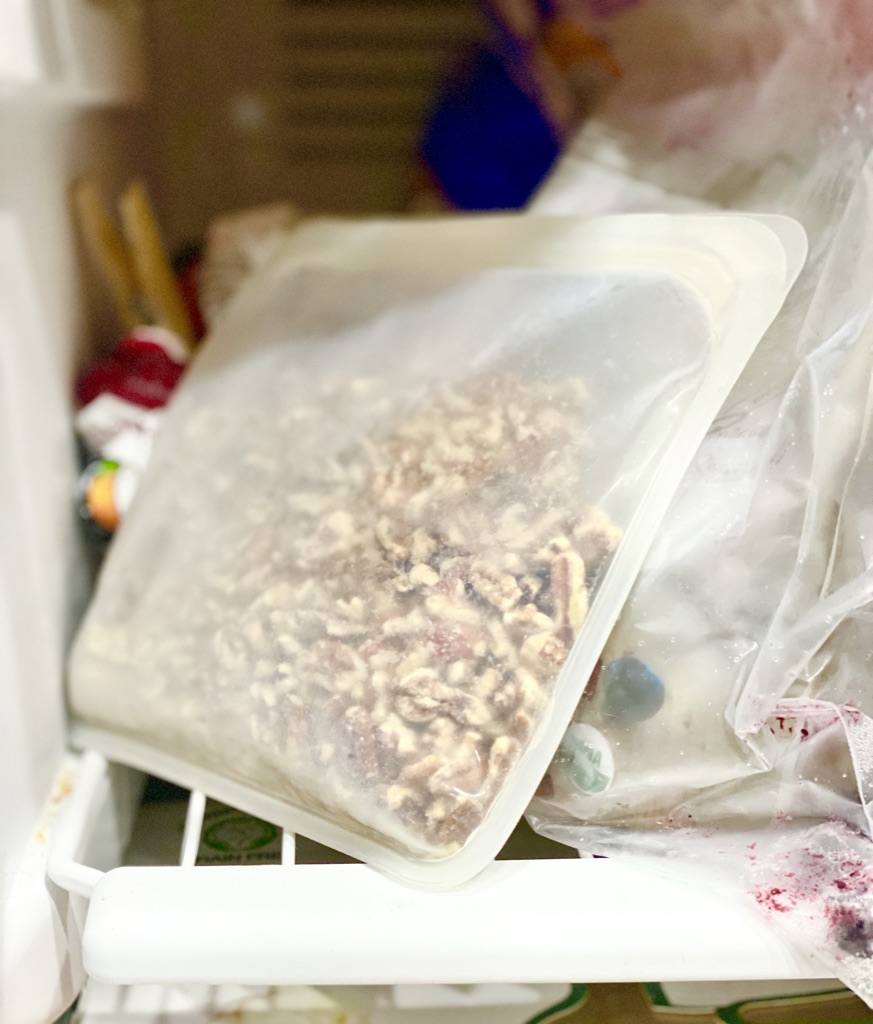 The current situation around COVID-19 across the globe warrants more consideration for the groceries we are purchasing and how long we can store things in our pantries, refrigerators, and freezers. Pecans themselves and the other ingredients needed for these Simple Pecan No-Bake Energy Bites are kitchen staples that can be stored for long periods of time. And also things that I bet you already have on hand and thus preventing any unnecessary trips to the grocery store.
I also highly encourage you to use this simple recipe as a way to get any kids in your house in the kitchen! They can help read the recipe, measure, pour, and scoop!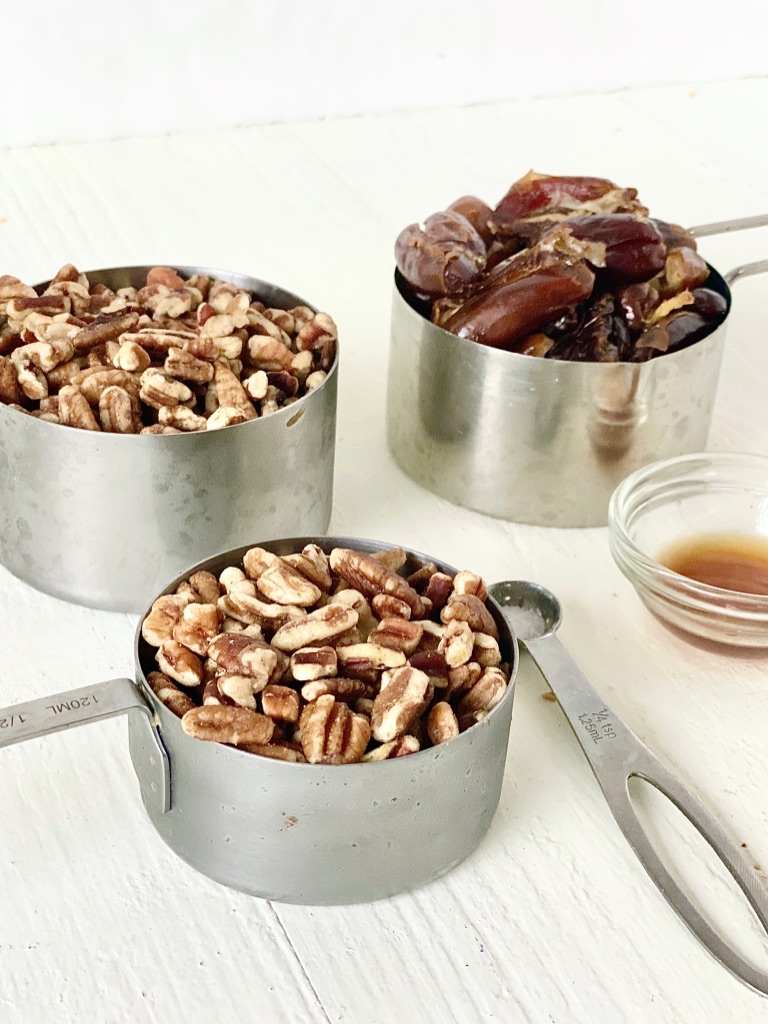 *According to the U.S. Food and Drug Administration: Scientific evidence suggests but does not prove that eating 1.5 ounces per day of most nuts, such as pecans, as part of a diet low in saturated fat and cholesterol may reduce the risk of heart disease.

Simple Pecan No-Bake Energy Bites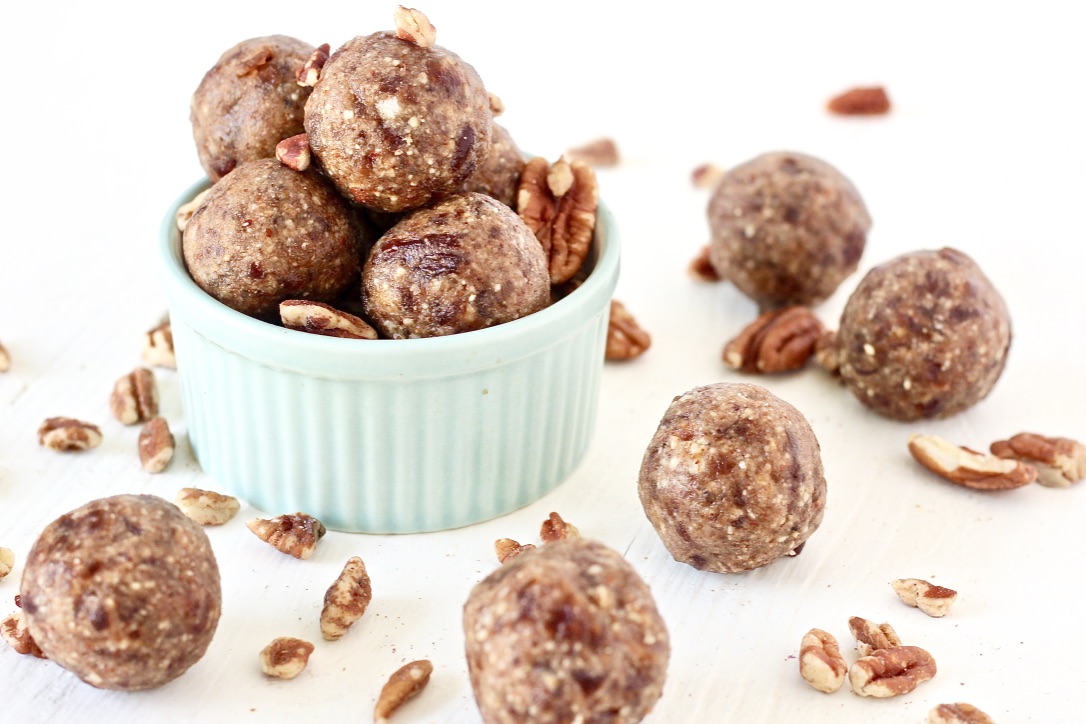 Ingredients
1 1/2

cups

pecan pieces

1

cup

pitted dates

1

tsp

vanilla extract

Pinch

of sea salt
Instructions
Add the pecan pieces to the bowl of a large food processor. Process on high (with your s-blade) for about 15 seconds until they form a fine powder. (Make sure not to over process the pecans and release the oils too much).

Add the remaining 3 ingredients to the bowl of the food processor and process for about one minute until it forms a dough.

Carefully remove the blade from the food processor, and divide the dough into 12 balls. (Alternatively, you can press the dough into the bottom of a parchment lined loaf pan and cut into pieces at a later step)

Let the bites chill in the refrigerator or freezer for about an hour before enjoying. You can store them in the refrigerator for up to 2 weeks or in the freezer for up to 3 months.
Notes
The nutrition facts presented here are estimates only. The brands you use and product types chosen can change the nutritional information presented. To obtain the most accurate nutritional information, you should calculate the nutritional information with the actual ingredients you use.
Nutrition
Serving:
1
bite
|
Calories:
130
kcal
|
Carbohydrates:
11
g
|
Protein:
2
g
|
Fat:
10
g
|
Saturated Fat:
1
g
|
Sodium:
13
mg
|
Fiber:
2
g
|
Sugar:
8
g