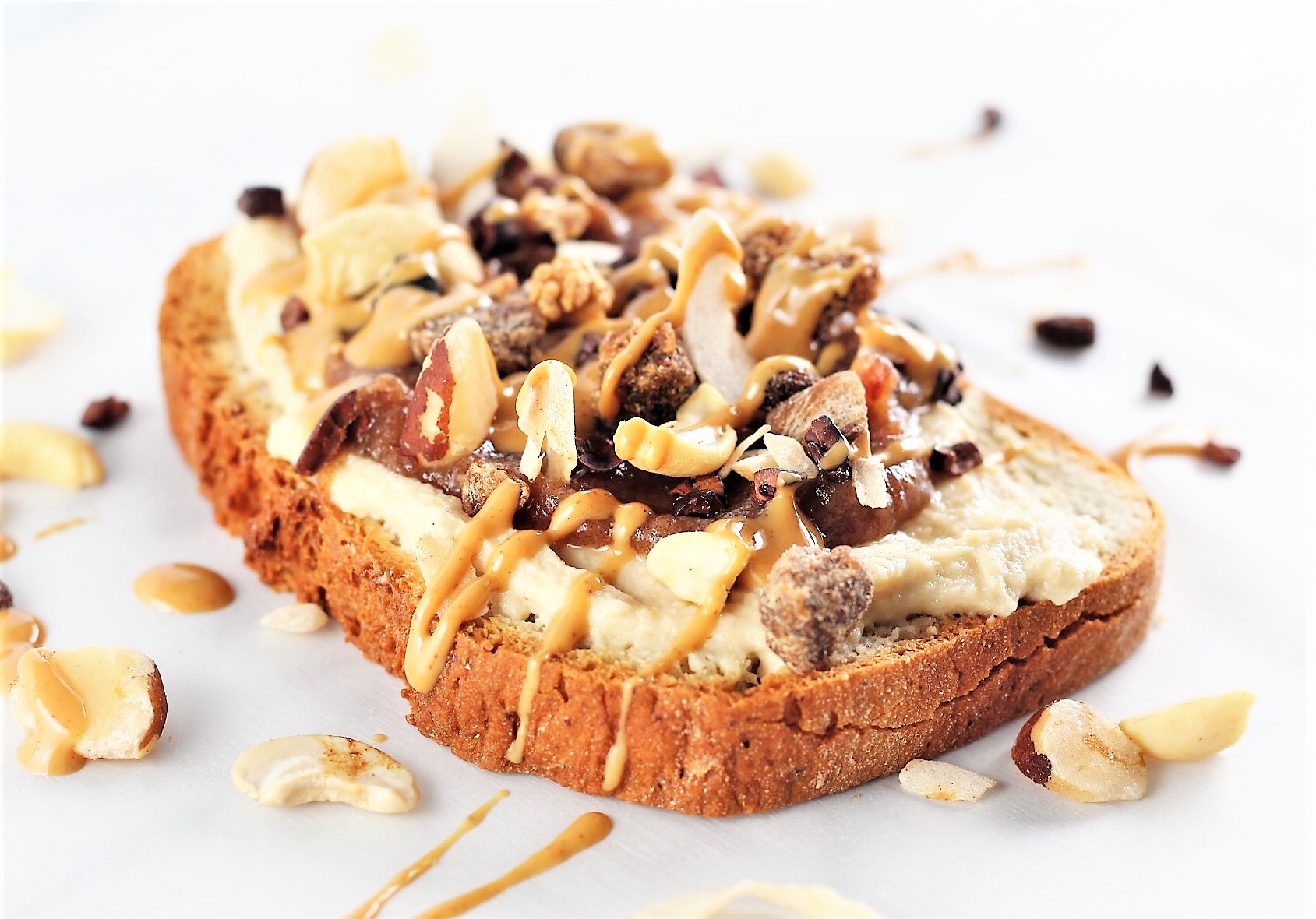 Now, before you go running off and thinking, "That girl's crazy"… hear me out. If done right, a salty-sweet combo can be pure toast perfection. And lucky for you, I've perfected it, and all you have to do is recreate it in your own kitchen. It's super simple and easy. But, I'll warn you, I've only tested (and perfected!) it with these specific ingredients, so substitute at your own risk!
Bread
Go with a neautral, but nutty flavored bread. I love Udi's Whole Grain Gluten Free Bread or Dr. Schar's Multi-Grain Gluten Free Bread.
Hummus
Be warned: not all hummus is created equal. Most hummus is loaded with salt and preservatives… and if there's too much of either of those, that salty-sweet combo perfection I referenced above can be ruined. So, how do you avoid that? You make your own (… but, really, who wants to take the time to do that?) OR you let my friends over at Hummustir do the work for you. Hummustir is a shelf-stable, fully customizable hummus. (You can use this discount code for 20% off on Amazon too: MILKNHON)
Think about it… what are the bare-bones essential ingredients for a good hummus? Really, it's just chickpeas and tahini. Each Hummustir tub comes with shelf-stable packets of chickpea puree and tahini, and some additional spices if you want to use them. For this salty-sweet perfection Hummus & Date Toast, skip the spices. Just mix up the chickpea puree and the tahini! And that's it! AND the other great part about hummustir? The tubs can sit in your pantry for up to a year before going bad. It's organic, non-GMO, and free of preservatives like potassium sorbate. Once you've mixed up a tub, just store it in the fridge until you're done eating it… which won't take long, I promise. Just watch my instagram stories anytime to see how much my girls love this stuff. (And don't forget that amazon discount code: MILKNHON)
Medjool Date Paste
See the instructions below for making the perfect sweet addition to this toast. Medjool date paste is great in recipes, but it's also perfect as a spread. A great way to add natural sweetness, without added sugars, and the sugar crash that inevitably comes later on. I love using Natural Delights Medjool Dates. They're a trusted brand with great quality and flavor. And the texture is just … you guessed it… perfection!
Added-Sugar-Free-Trail-Mix
Again, you can make your own using raw nuts, coconut, dried fruit, chia seeds, etc. Or, find a pre-made one you love. You can find some that are just raw ingredients, with no added sweeteners or flavorings.
All-Natural Peanut Butter
There's not a whole lot of explanation needed here… peanut butter should have one and only one ingredient. I'll give you a minute to think about what that should be… I know, it's tough one… keep thinking. Did you think of one? Ok, ok… I'll tell you… it's peanuts!! I love Crazy Richard's because this is the only ingredient in their peanut butter… AND they're very affordable (less than $4 a jar) unlike a lot of other natural peanut butters.
So there you have it… everything you need to know to make the perfect salty-sweet Hummus & Date Toast. Now go gather your ingredients, get that toaster fired up, and get in the kitchen!
Disclaimer: Please note that there are affiliate links and discount codes on this page and I will earn a small commission if you purchase through those links or codes. However, all opinions are 100% my own. Thank you for your support.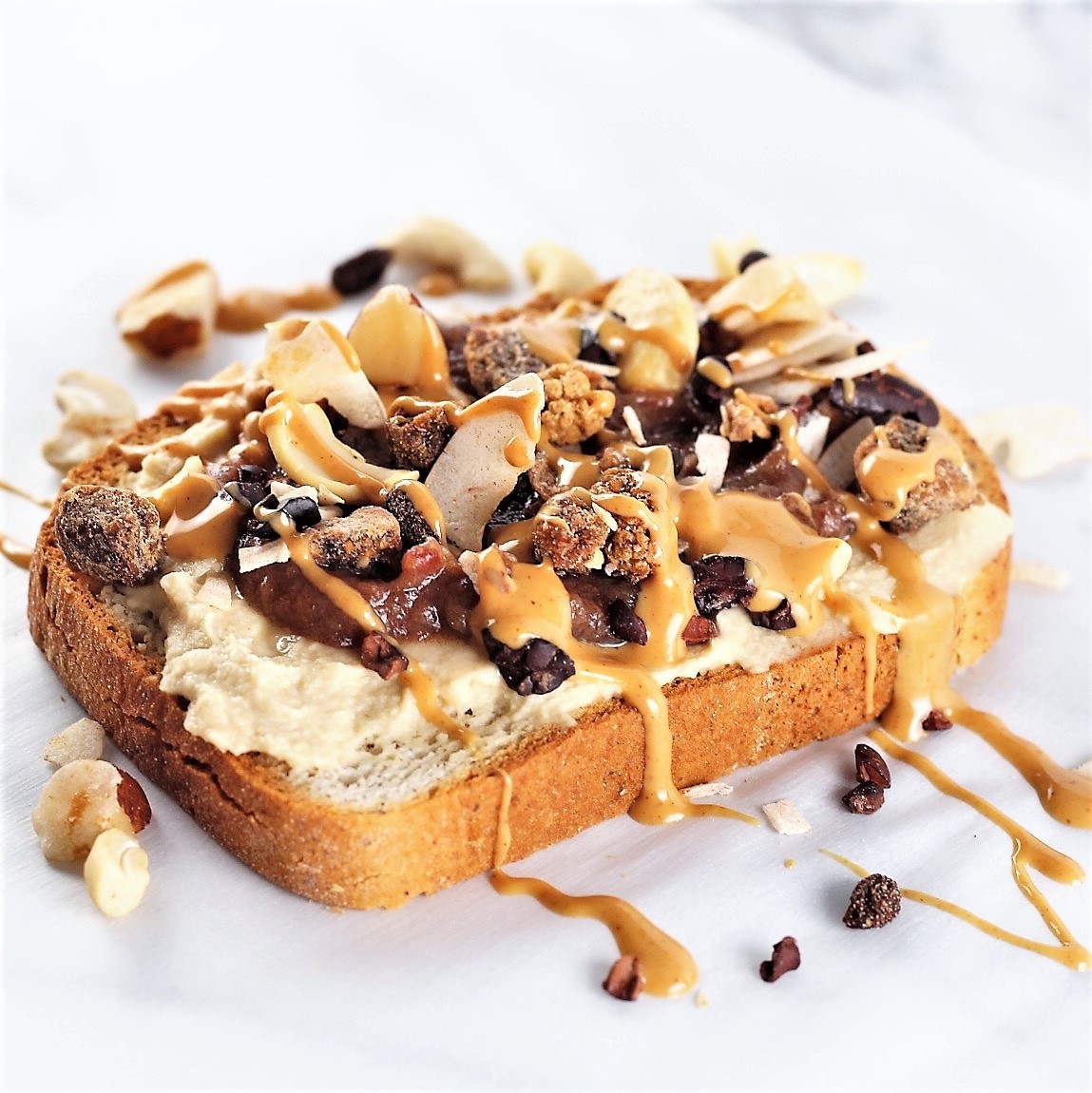 Hummus & Date Toast
2 slices whole grain or gluten free bread
1/4 cup Hummustir Classic hummus (with no seasoning)
2 Tbsp medjool date paste*
1/3 cup low sugar trail mix
All natural peanut butter (I like Crazy Richard's Creamy PB)
Toast bread to desired crispness. Divide hummus and spread half on each piece of toast. Repeat with the medjool date paste. Add trail mix and peanut butter. Enjoy!
---
Medjool Date Paste
6 pitted medjool dates
2 cups filtered water
Combine medjool dates and water in a small saucepan and bring to a boil. Let boil for 10 minutes with lid on. Remove from heat and let it cool for 10-15 minutes. Place medjool dates and 1/4 cup of liquid in food processor and process until smooth. (You may need to stop and scrape down the sides 1-2 times.) Store in a small mason jar or another container with a lid for up to 7 days.
---

---
More Toast Tuesday ideas!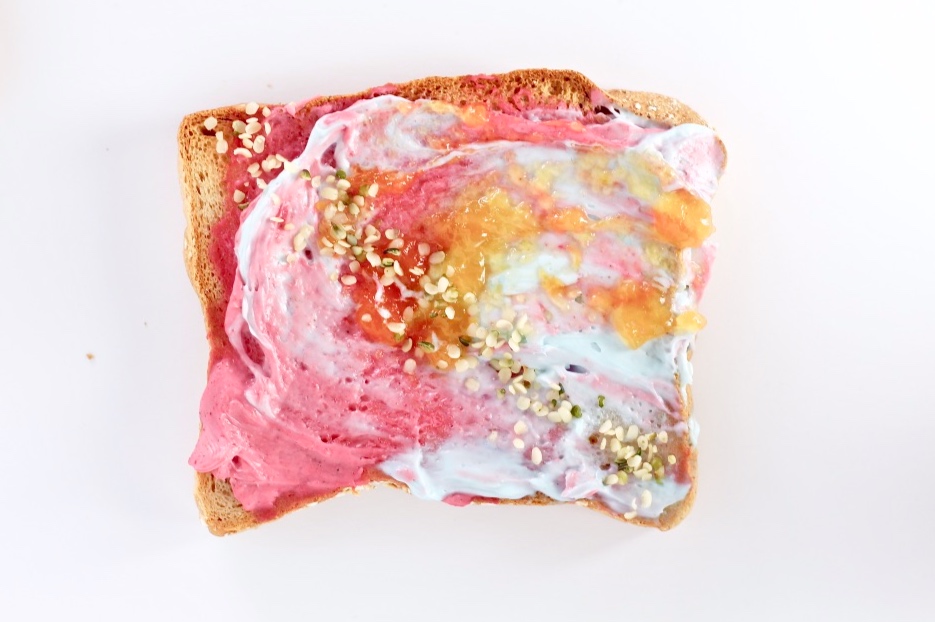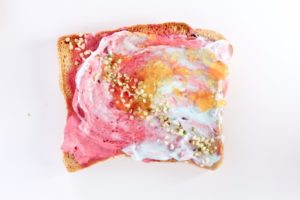 Watercolor Toast with no artificial dyes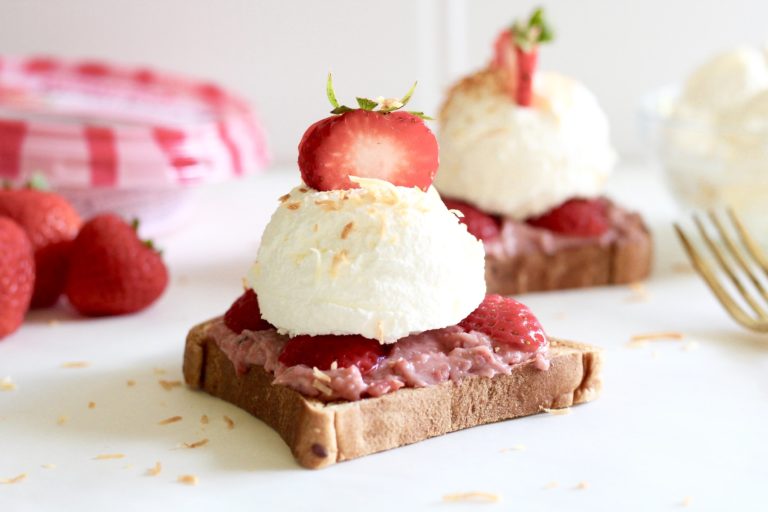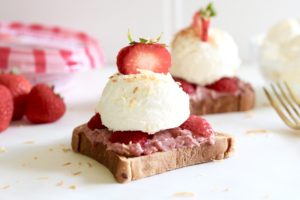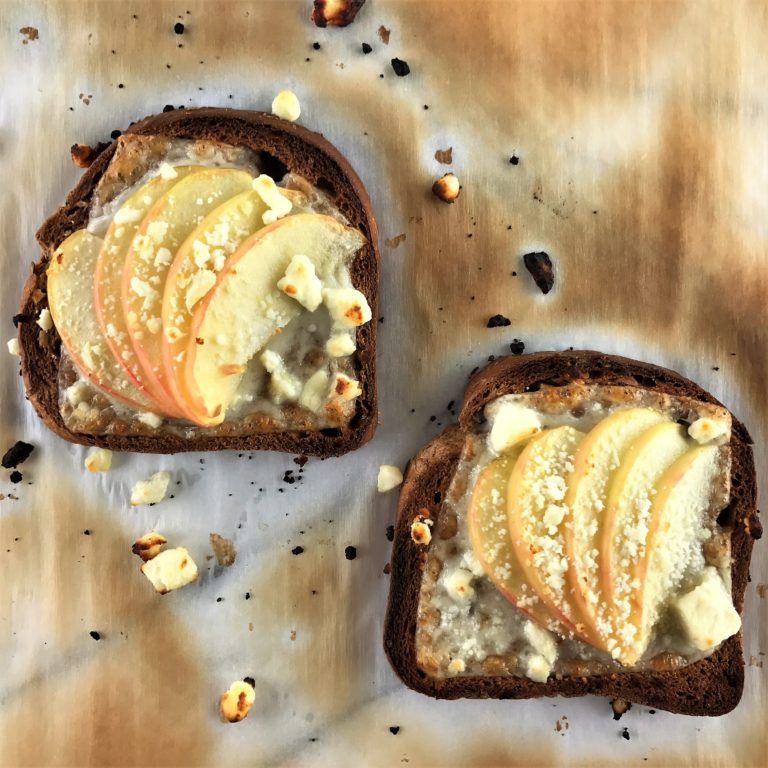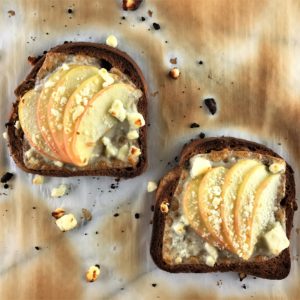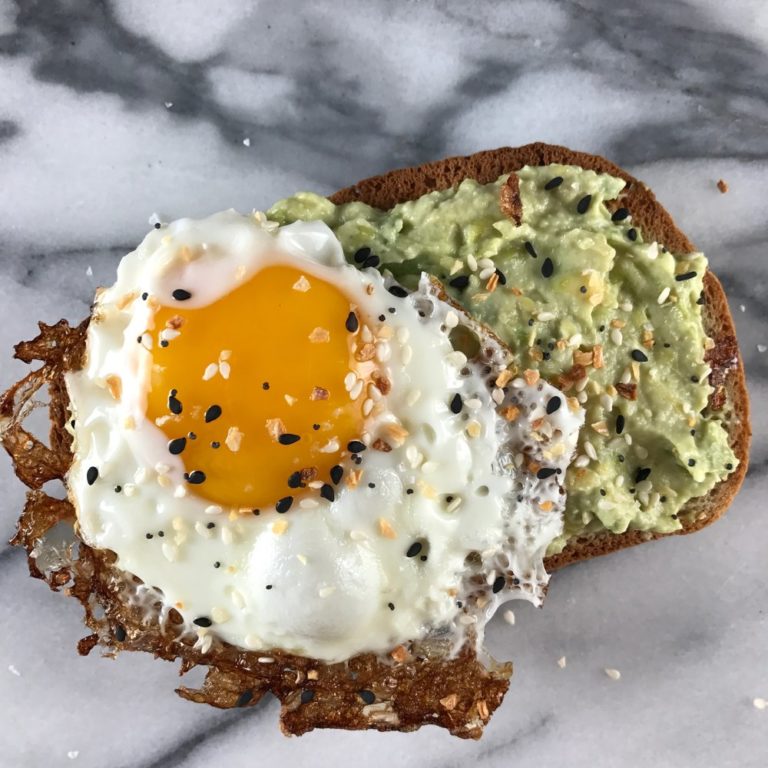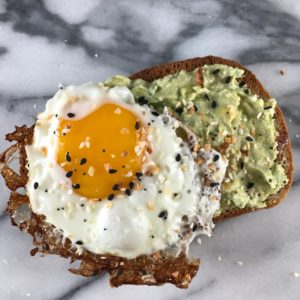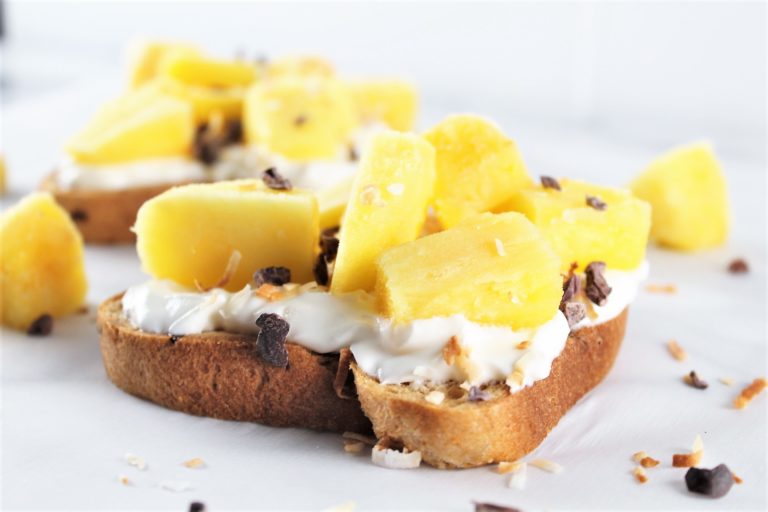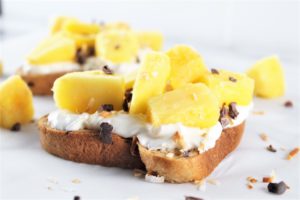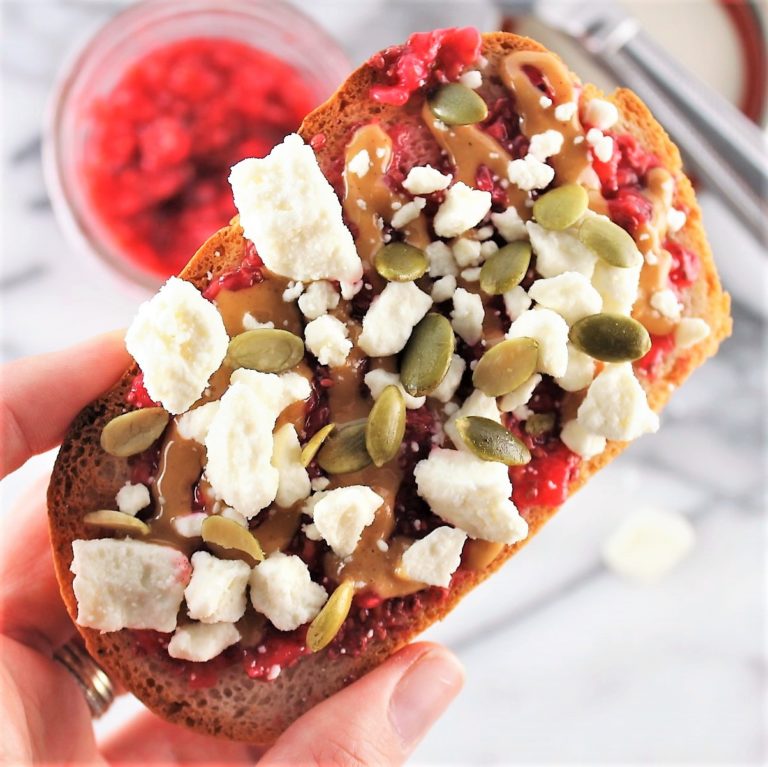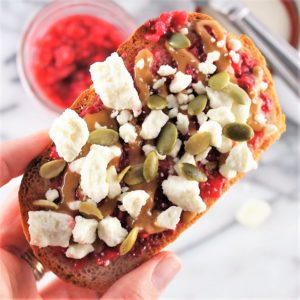 Peanut Butter Jelly and Feta Toast