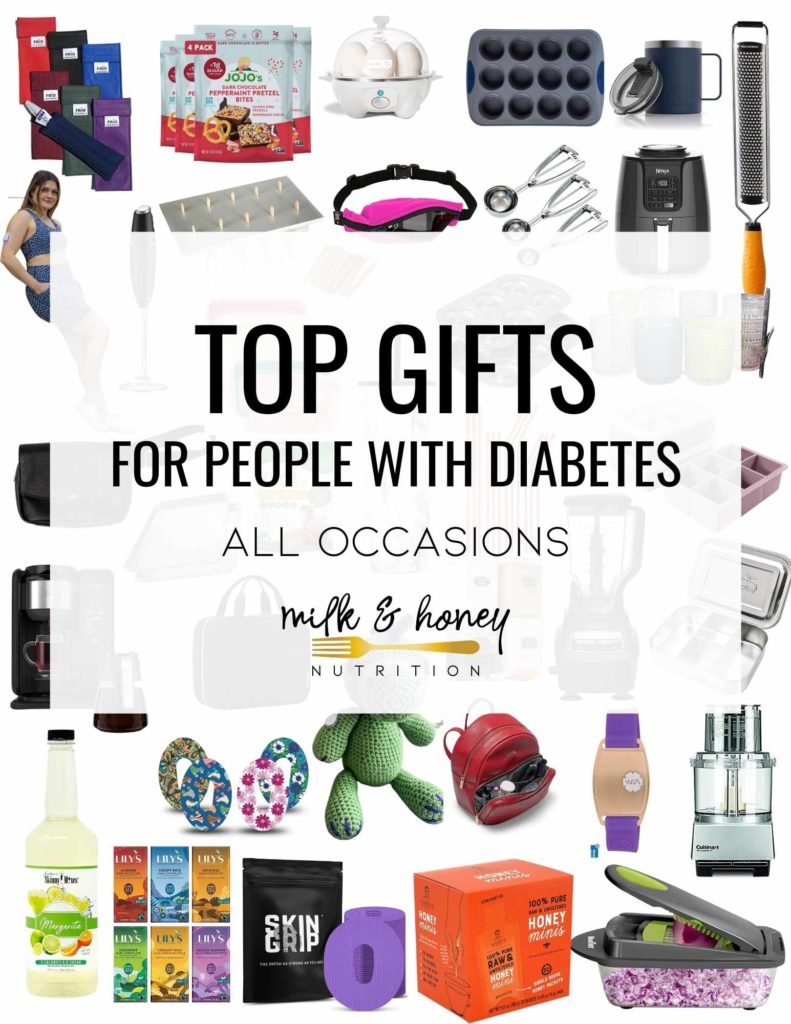 'Tis the season for gift giving, and if you find yourself wondering what are the best gifts for diabetes, you've come to the right place!
In this article, we'll cover all of my favorite gift ideas to give your loved ones living with diabetes for any occasion. And, I guarantee some of these gifts for diabetes are going to surprise you!
Gifts for a person with diabetes
There are a lot of different things to consider when thinking about buying anyone a gift… and especially when they're living with a chronic condition like diabetes. The gifts listed below range from super practical to super fun and frivolous. Consider if the person you're buying for would even want a gift related to diabetes or food, or something else… I've got lots of ideas to share with you! Keep scrolling or jump to a section that interests you most!
Diabetes gifts for all occasions
We're definitely about to enter into prime time gift giving season, but the gifts below can be given anytime of year and for any occasion! So, make sure to come back and reference this list next time you need diabetes gifts for him, diabetes gifts for her, diabetes birthday gifts, house warming gifts, or any other type of gift for diabetes. 
What can you give someone with diabetes for Christmas?
Christmas gifts can often revolve around food, but that can be tricky if you don't know what your friend or family member living with diabetes is comfortable eating. So, we've got lots of non-food gift ideas, as well as several food themed gifts and cookbooks featuring some amazing blood sugar friendly treats, snacks, and foods!
Birthday gifts for someone with diabetes
Birthday gifts can be a great time to treat someone to something they maybe wouldn't buy for themselves. Or, maybe a more personalized gift like some of the options below.
38 Best gifts for diabetes
These are some of my favorite products, foods, and books to give to people with diabetes for any occasion. Read through this list of gifts for diabetes and then see below for some fun ways to package them up!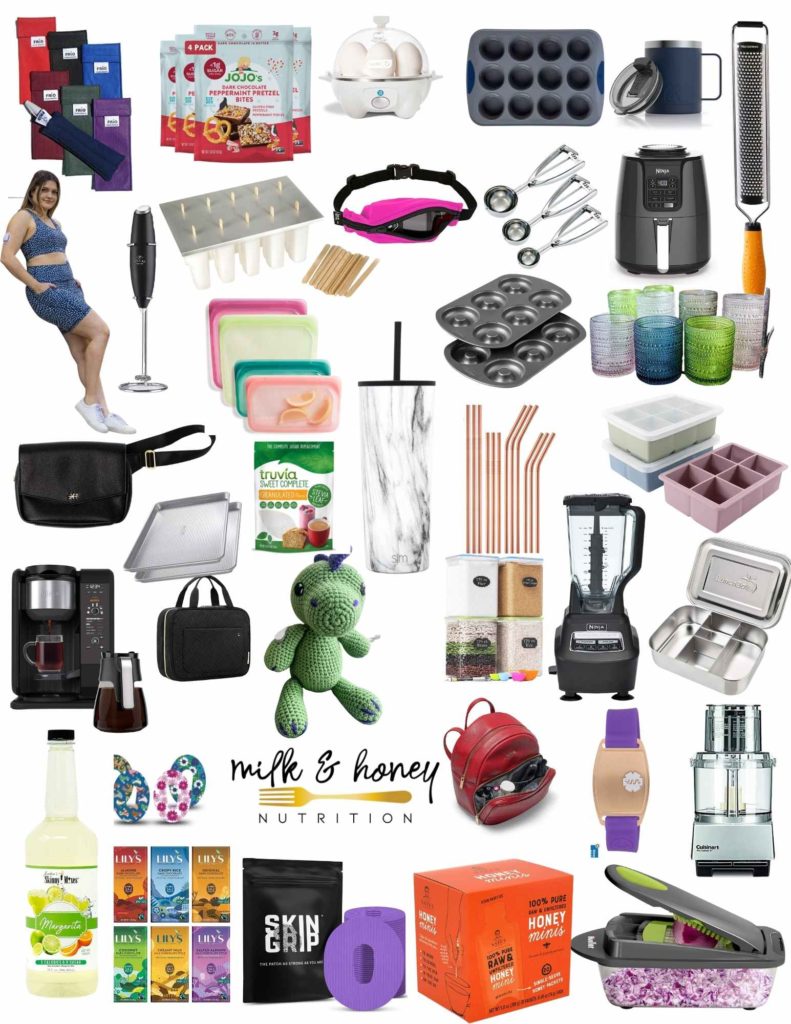 Note: Some of the links below are affiliate links. This means I earn a small commission if you choose to purchase a product after clicking the link… at no extra cost to you.
Kitchen gifts for diabetes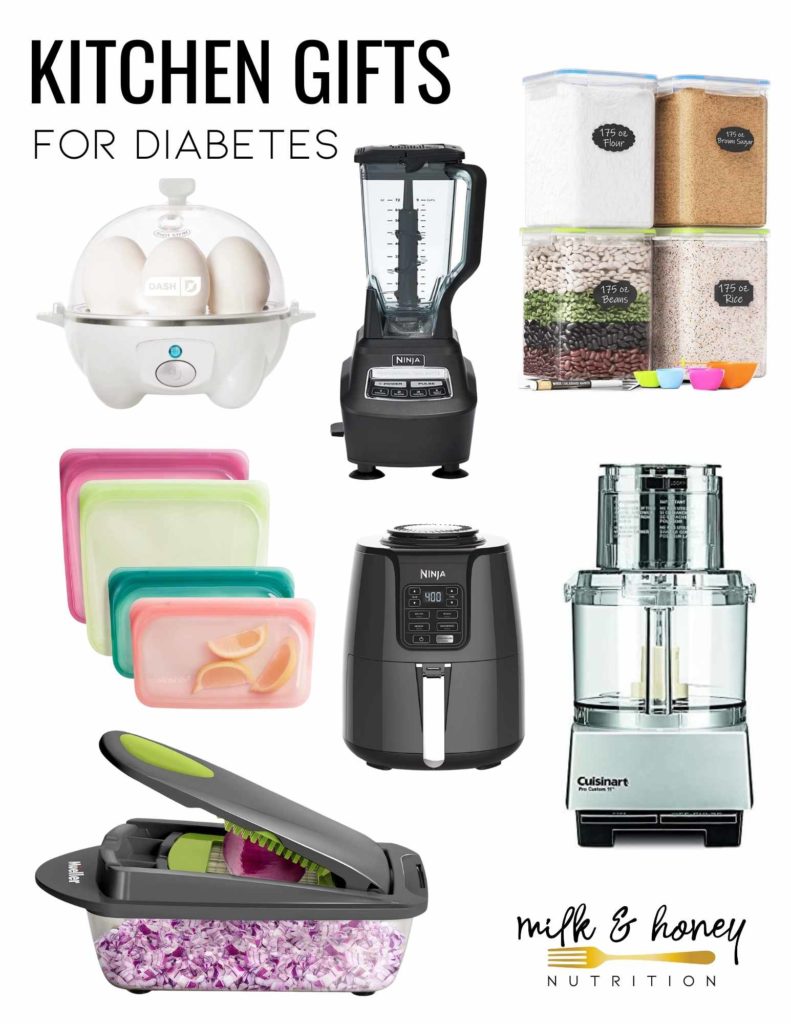 1. Egg Cooker
My life changed the day I got an egg cooker. This model comes in a 6 egg or 12 egg size and is such an easy and stress free way to have an easy protein source ready to go for the week ahead.
2. Ninja Kitchen Air Fryer
My favorite air fryer is the Ninja Kitchen Air Fryer. One of the main reasons I love having an air fryer is just how tasty and easy it is to cook veggies in it. Which means, we're much more likely to eat our veggies!
3. Cuisinart 11-Cup Food Processor
A food processor is a must for anyone looking to make delicious healthy treats and recipes at home! And, this Cuisinart model is the best one on the market in my opinion.
4. Ninja Kitchen Blender
A high powered blender can go a long way in getting the perfect texture for lower sugar and more blood sugar friendly smoothies at home… but, if you don't like the high end price tag that comes with a Vitamix, this Ninja Kitchen model is amazing for half the price.
5. Vegetable Slicer and Chopper
This vegetable chopper that went viral on TikTok earlier this year, offers another easy and fun kitchen tool to make preparing veggies way less time consuming and easier.
6-7. Extra Large Food Storage Containers and Stasher Bags
Anyone looking to prepare more food at home or bake lower sugar treats at home will love these larger food storage containers and silicone bags to help keep everything from flours to beans to nuts fresher longer.
Baking gifts for diabetes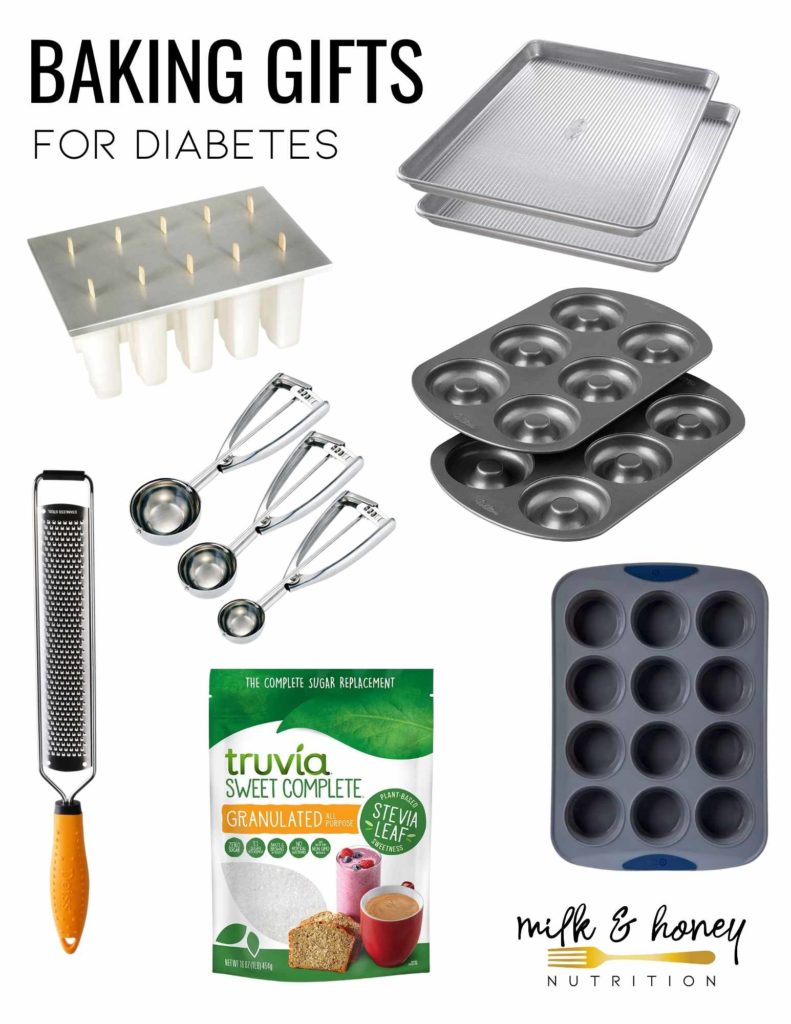 8. Wilton non-stick donut pan
One of my favorite recipes I've ever created was for healthy homemade cinnamon sugar donuts, but not all donut pans are created equal. The center well in the Wilton pan is high enough to actually make making healthier donuts at home possible!
9. Silicone muffin pan
And, muffins are such an easy and fun breakfast or dessert to make a low sugar version of at home. This silicone muffin pan from Target is the best I've found with hard edges and pliable wells so you don't have to worry about using liners or greasing the pan. And, you can just throw it right in the dishwasher!
10-12. Baking pans, cookie scoops, and citrus zester
Being equipped with the right tools in the kitchen is half the battle of feeling confident in your ability to prepare delicious food while living with diabetes. Some of my favorite less expensive tools include: quality baking pans, cookie scoops, and a citrus zester.
13. Truvia Sweet Complete
Truvia Sweet Complete is my favorite no-sugar all purpose sweetener. If you're looking to help stock the pantry of a loved one with diabetes, this is a must!
14. Popsicle molds
And, even though it's technically not baking, making lower sugar popsicles at home is so simple with these fun molds!
Coffee gifts for diabetes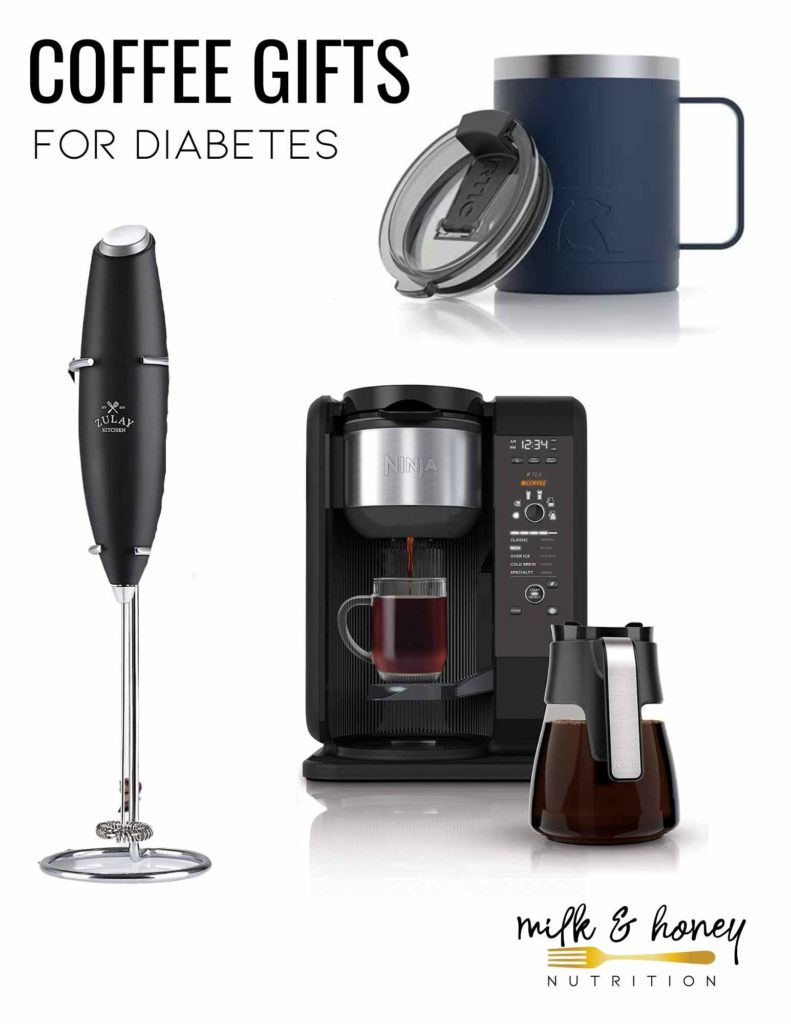 Flavored and sweetened coffee drinks from your local coffee shop are not only expensive but also loaded with sugar typically. So, don't forget about coffee supplies when looking for gifts for diabetes!
15. Handheld stick milk frother
A stick frother makes making lattes at home super easy.
16. RTIC/Yeti style coffee mug
And, everyone needs a good coffee mug to keep their drink nice and hot for longer.
17. Ninja hot & cold brew system
But, probably my favorite gift in this bunch is the Ninja Hot & Cold Brew System. I've had mine for 4+ years and it's still going strong. You can make pretty much any coffee drink imaginable without the high price tag of an espresso machine.
And don't forget to send them some of my favorite low sugar coffee reicpes:
Drinkware gifts for diabetes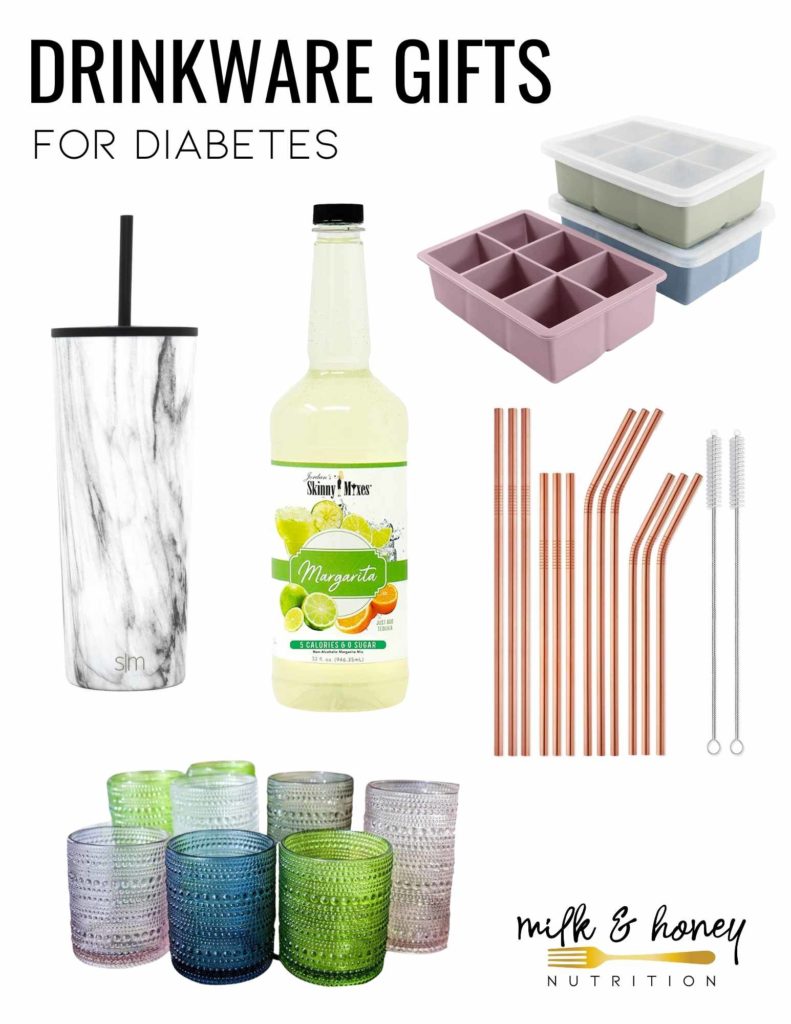 18. Simple Modern insulated 24oz tumbler
Staying hydrated while living with diabetes is essential, but who says it has to be boring? Grab your loved one with diabetes one of my favorite tumblers in a fun color or pattern.
19. Silicone ice cube trays
Water can get pretty boring, so I love using these silicone ice cube trays to freeze frozen fruit and add them to my water.
20. Fun stainless steel straws
And, because I refuse to use soggy paper straws, these stainless steel straws are the best!
21-22. Fun drink glasses and low sugar drink mixes
Believe it or not, cocktails are not off limits for people with diabetes, so gift your favorite person with diabetes some fun glasses and some low sugar drink mixes! (And then send them here to learn about how to enjoy alcohol safely while living with diabetes.)
Food gifts for people with diabetes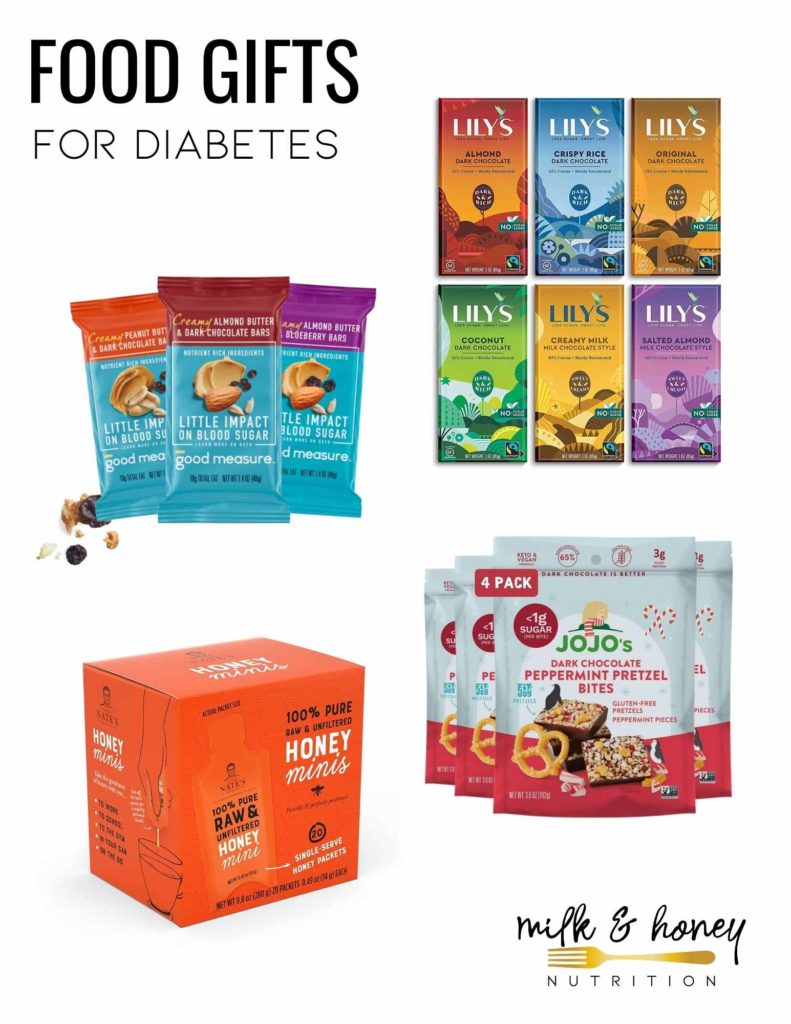 23-24. Low sugar chocolate
If your friend with diabetes is a chocolate lover, I highly recommend the JoJo's dark chocolate peppermint pretzel bites and Lily's Chocolate Bars this time of year!
25. Good Measure nutrition bars
And, my favorite blood sugar friendly bars, Good Measure bars!
26. Mini honey pouches
Or, these mini honey pouches are perfect for treating low blood sugars on the go!
Clothes and accessories for people with diabetes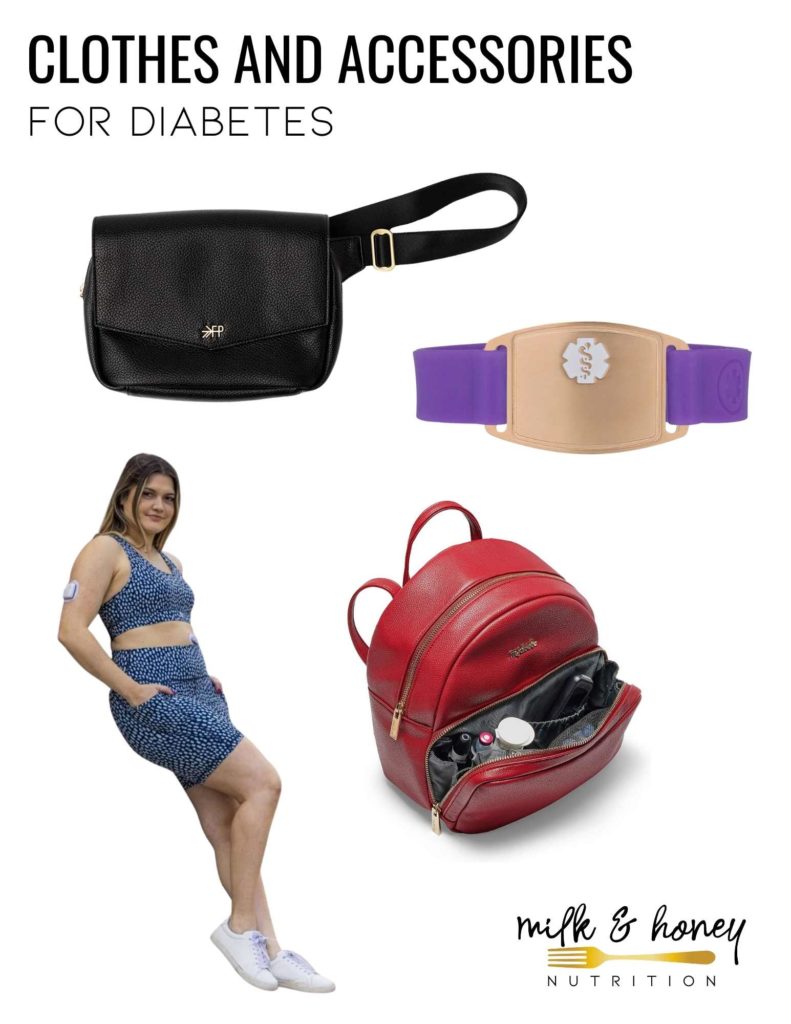 Who says diabetes gear can't be fashionable?? Or, that you have to buy accessories specifically for diabetes? The products below are a combination of accessories made specifically for people with diabetes and items I've found over the years that just so happen to unintentionally work perfectly for living with diabetes!
27. Myabetic diabetes bags
Myabetic products are perfect for a mom with a child with diabetes or someone with diabetes who loves to be on the go!
28. Freshly Picked Park Pack belt bag
I personally have this belt bag and use it anytime I'm on the go and need to have my hands free throughout the day. It's technically a small diaper bag so it's lined with water resistant fabric and has a ton of space and pockets… perfect for carrying insulin, low blood sugar supplies and more.
29. Medical alert bracelet
Everyone with diabetes should wear some form of a medical alert tag. So, why not make it fashionable? American Medical ID makes some great options and you can use code MILKNHONEY for 10% off.
30. Senita athletic wear
And finally, Senita is an athletic wear company founded by a woman living with type 1 diabetes who understands the need for pockets in workout gear! Everything form sports bras, to tops, to leggings has all the pockets needed for diabetes gear. And, not to mention the designs are so fun!
Travel gifts for diabetes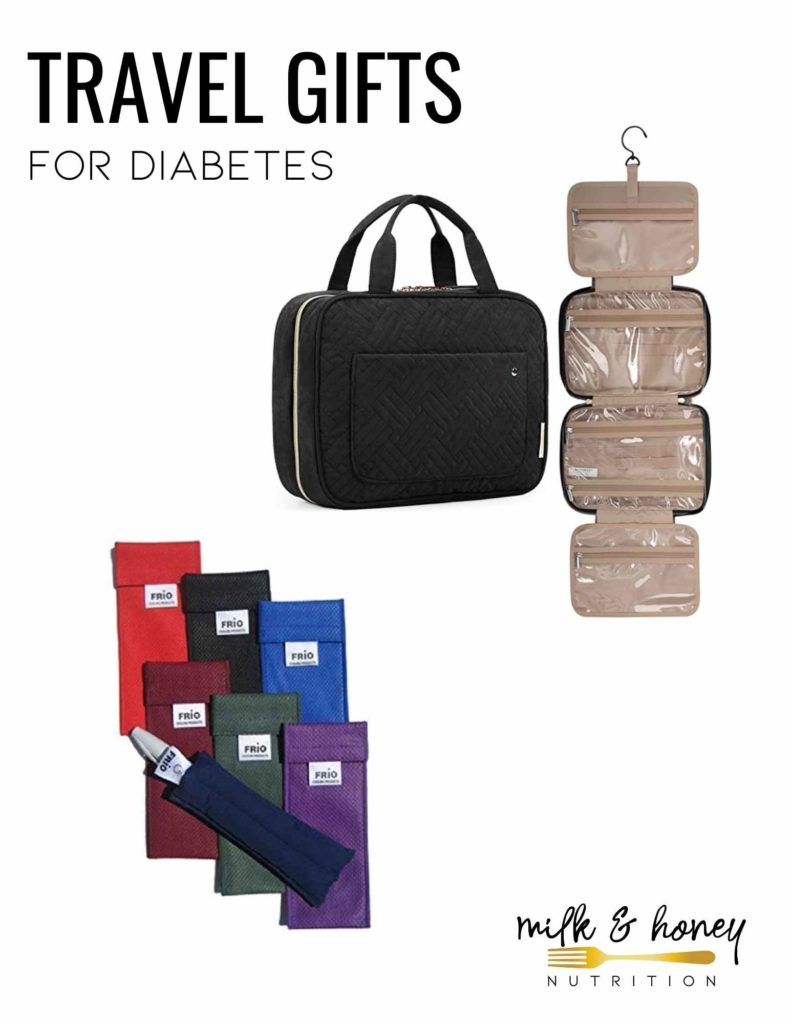 31. Travel supply bag
While not intended for people with diabetes, this travel toiletry bag can fit so much stuff… including all the diabetes supplies needed for a trip!
32. Frio insulin cooling pouch
And, if your friend or loved one is on injections, these insulin cooling cases don't require an ice pack and work so well at keeping insulin temp stable.
Diabetes cookbooks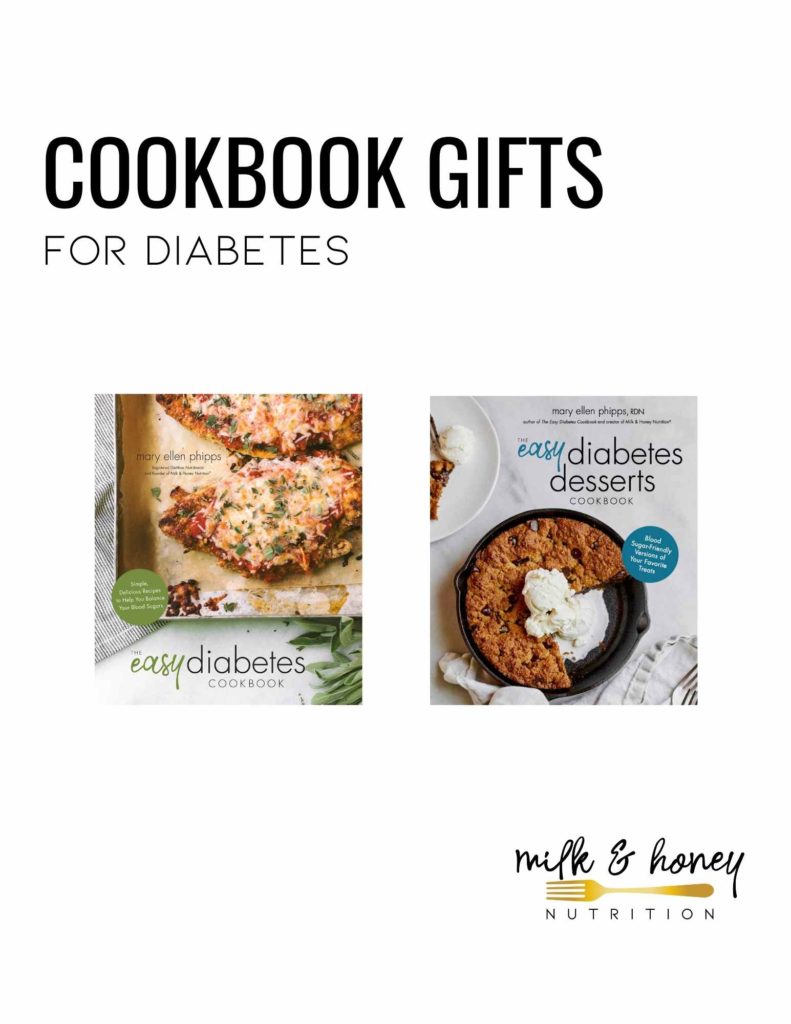 33-34. My cookbooks
Now, obviously I've got a bit of a vested interest in promoting my cookbooks, but gifting them as a set to your favorite person living with diabetes would make such a great gift!
Diabetes gifts for kids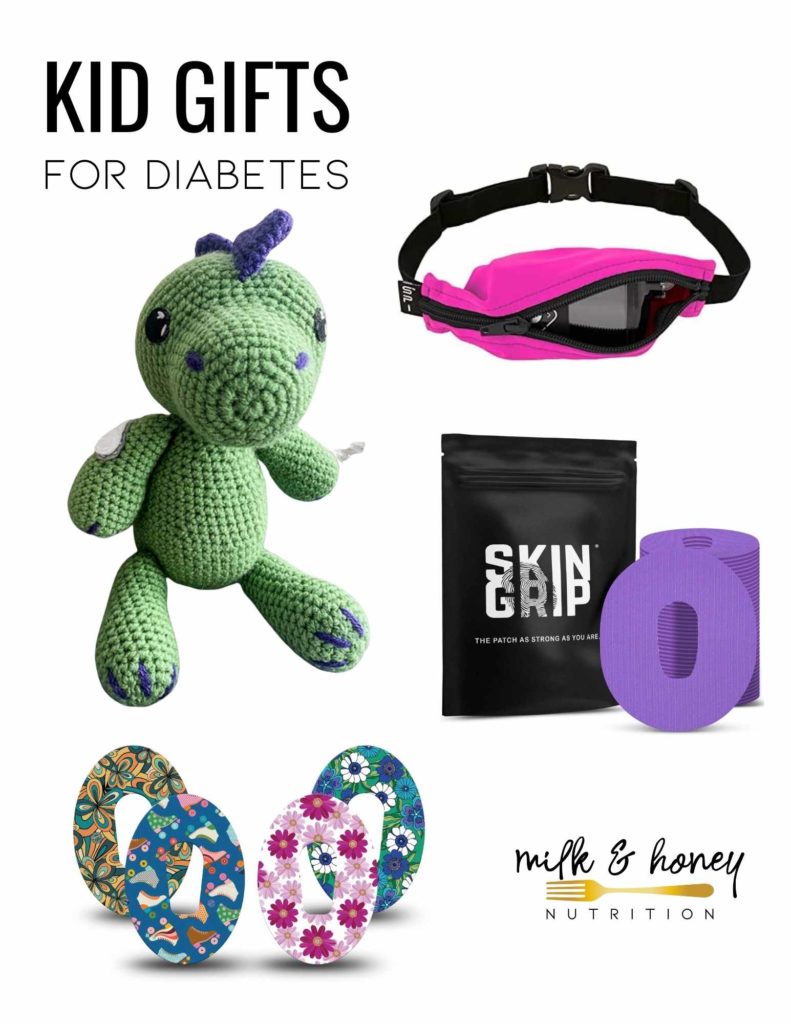 Kids living with diabetes often need a lot of extra stuff to carry their supplies or keep diabetes devices close to them, but there are so many ways to make these things fun and exciting and less medical feeling!
35. SPIbelts
SPIbelts are perfect for small kids who are too young to know to carry a CGM or pump receiver around with them. They come in some super fun colors and designs.
36-37. CGM and insulin pump tapes
Both Skingrip and Expression Med offer some fun overpatch tapes for CGMs and insulin pump sites.
38. Type One Together custom stuffed animals
Probably my favorite of all of these is the custom stuffed animals from Type One Together. You pick your animal and the devices it wears and they custom make a stuffed animal for you or your child! I got my nephew a dinosaur who wears a Dexcom and Omnipod just like he does last year for Christmas and he loved it!
Diabetes gift basket ideas
Now that we've gone through my list of top individual gifts, here's some fun ways to combine them into themed diabetes gift baskets!
1. Blood sugar friendly coffee basket
Pair a few bags of your favorite coffee with a hand held stick milk frother and an RTIC/Yeti style coffee mug. And, you can even add in your favorite no-sugar sweetener like stevia or monk fruit.
2. Baking for diabetes basket
Put together a fun baking basket with all the supplies needed to make blood sugar friendly treats at home!
3. Low sugar margarita basket
Making low sugar cocktails can be a fun night in at home! And, make sure to use my go to low sugar margarita recipe!
Lemon and lime juice
Artisanal salt
Diabetes care package ideas
While the gift baskets above are more fun oriented, there's also occasions for more practical care packages like these ideas.
1. Low blood sugar supply box
A low blood sugar supply box is a great thoughtful and practical gift for someone who's just been diagnosed with diabetes. Grab an inexpensive basket from your local dollar store and fill it with some low blood sugar treatment options.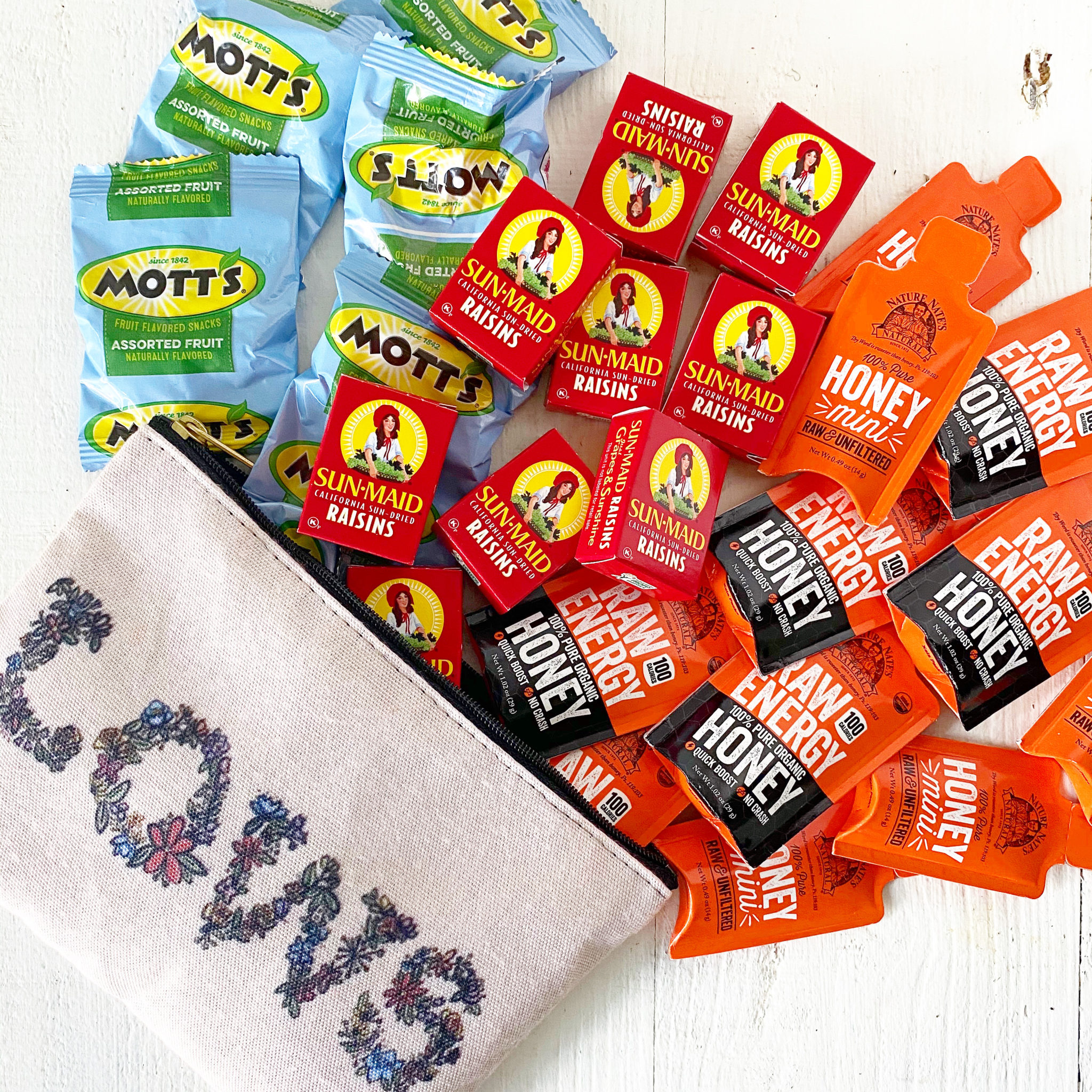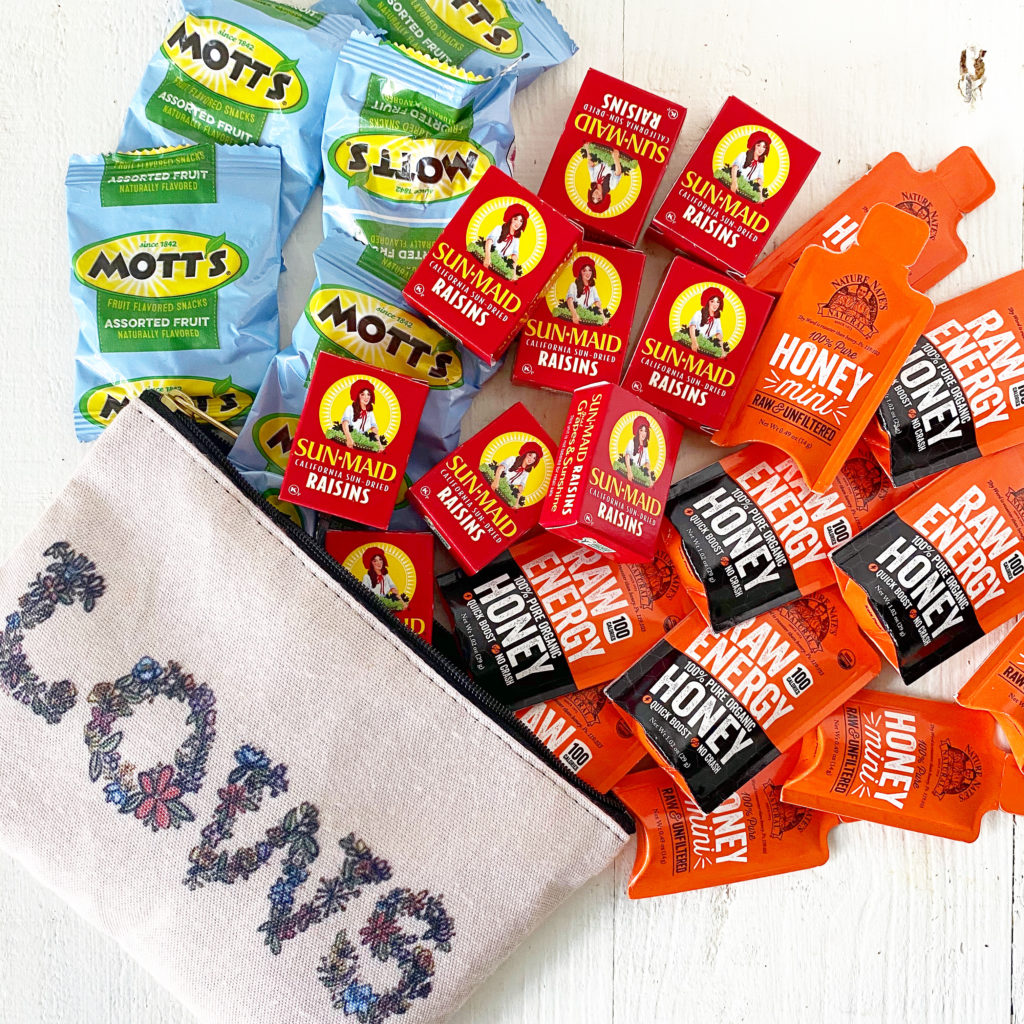 2. Travel with diabetes kit
Traveling with diabetes is an adventure in and of itself. Fill this travel pouch for diabetes supplies with any of the following:
Alcohol wipes
Low blood sugar supplies
Snacks
Expression Med tapes
And more!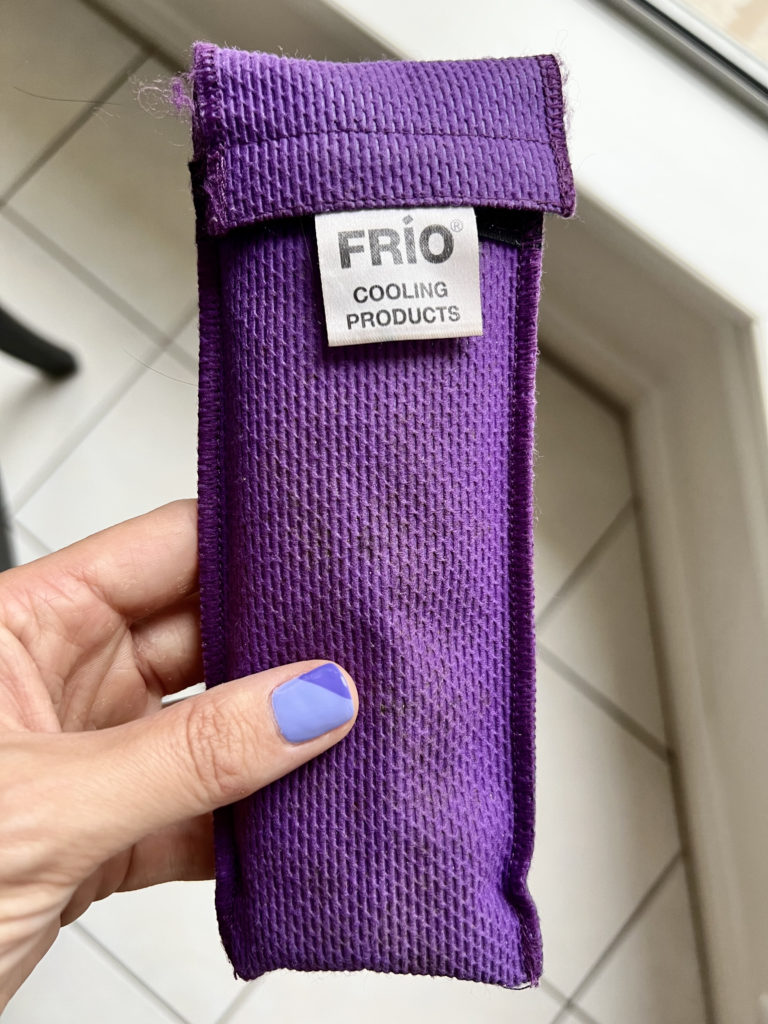 3. Care package for a child just diagnosed with type 1 diabetes
Children who've just been diagnosed and their parents often need all the help they can get. And while you may not be equipped to help with day-to-day management, you can certainly send a care package to bring a smile to their faces. Try combining the following into a fun basket.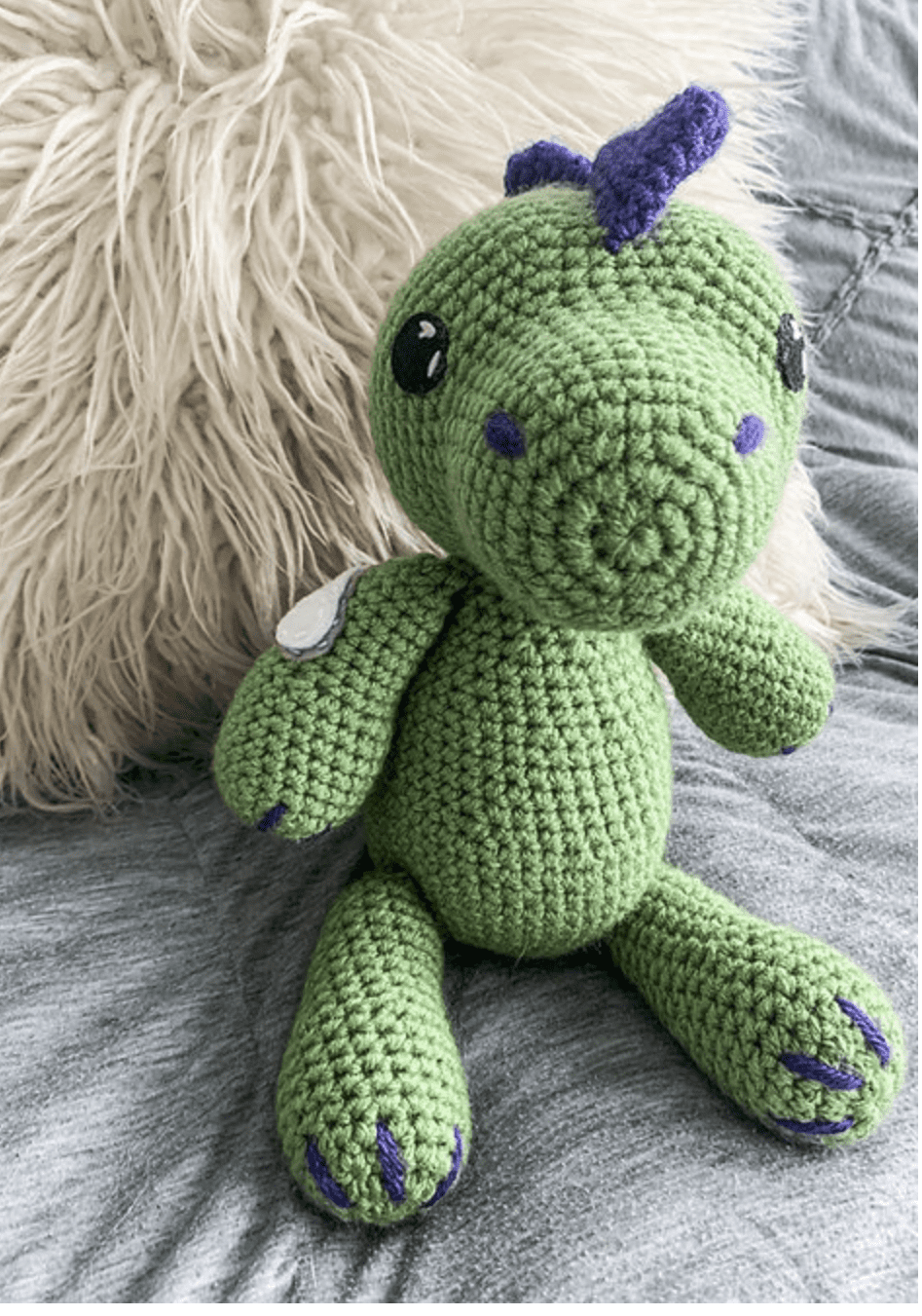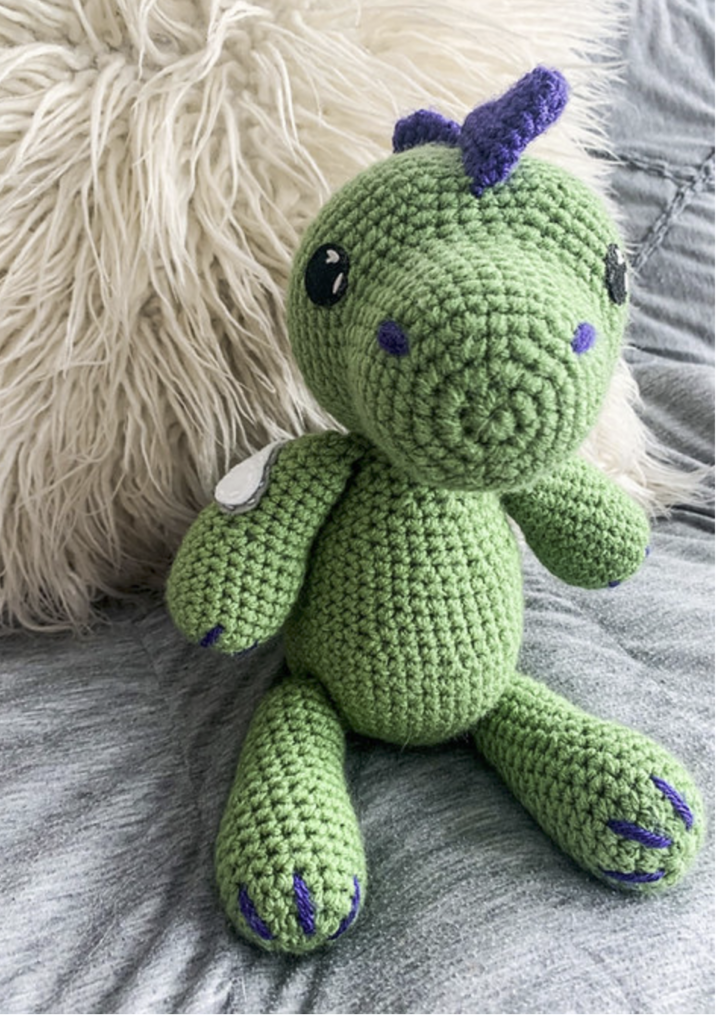 4. Blood sugar friendly snacks
And finally, one of my favorite ideas for gifts for diabetes is to combine a bunch of blood sugar friendly snacks into one basket. This allows your loved one to sample an assortment of fun and tasty snacks and decide what they like best! Use this blog post with 60+ options for ideas!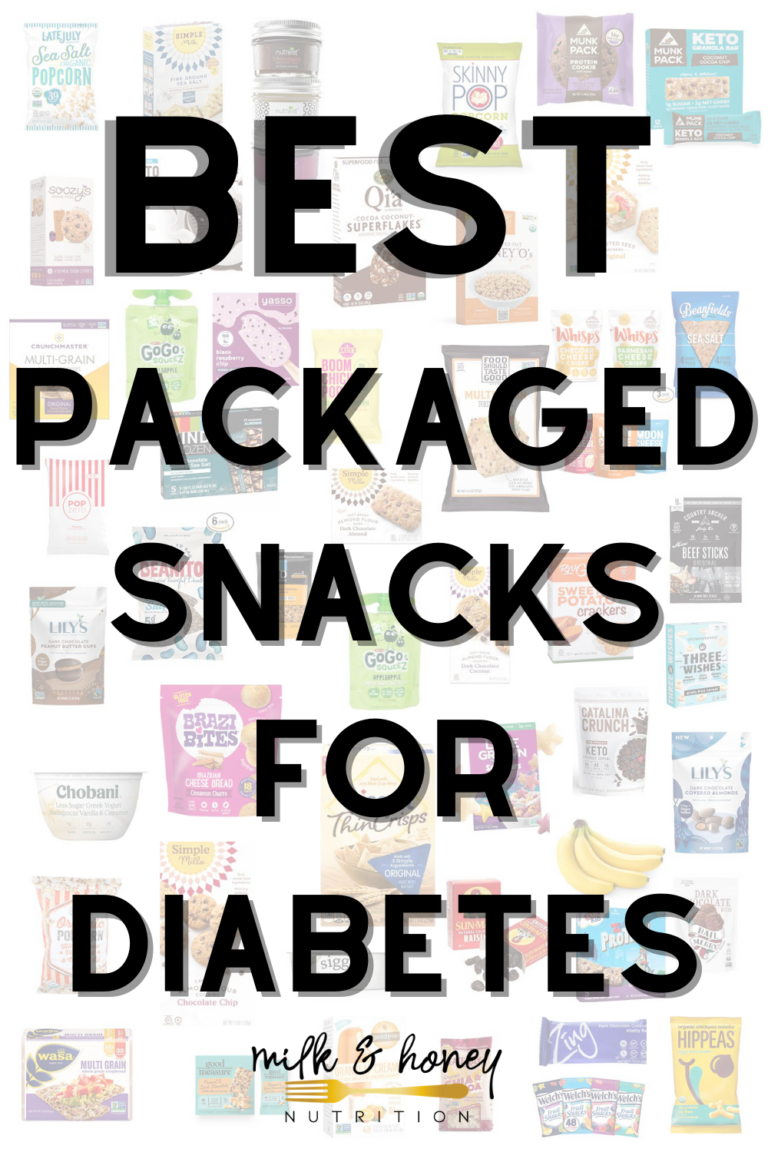 Want more tips for living and eating with diabetes? Make sure to sign up for my bi-monthly email newsletter!