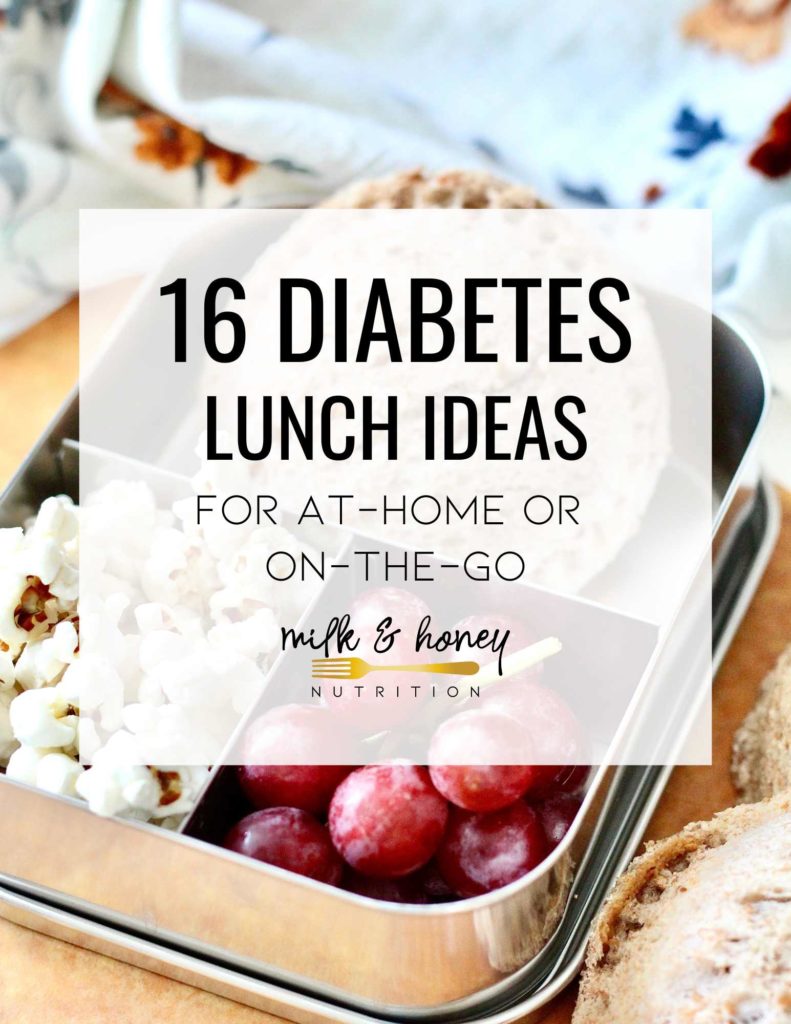 In this article, we'll talk about what makes good lunch foods for diabetes and some easy, tasty diabetes lunch ideas.
Diabetes lunch ideas aren't as complicated or bland as people think. Keep reading to see just how delicious and effortless a tasty diabetes-friendly lunch can be.
What makes for a good lunch for diabetes?
Here's the good news: people with diabetes have many options to choose from when making a delicious lunch. You should be more mindful of the foods and portions you choose, but luckily, no specific foods are "off-limits." If your diabetes care team recommends carb counting, try to stay within the range of carbs they suggest for meals.
A good lunch for diabetes should be well-balanced with high-fiber foods, a lean protein source, and healthy fats. You can even choose foods that double as a protein and healthy fat choice, like peanut butter.
Here are some practical steps to building a balanced lunch:
Start by choosing your protein choice
Include a healthy fat
Add non-starchy veggies and/or fruit
Choose a high-fiber grain
Include a small treat to jazz up the meal
Here's an example of what these steps look like:
Option 1:
Protein: Tuna salad
Healthy fat: Avocado
Veggies/fruits: Mixed greens as the base
High-fiber grain: Crackers
Treat: Chocolate chip cookie
Option 2:
Protein: Chia seeds
Healthy fat: Peanut butter
Veggies/fruits: Banana slices
High-fiber grain: Whole wheat bread
Treat: Strawberry yogurt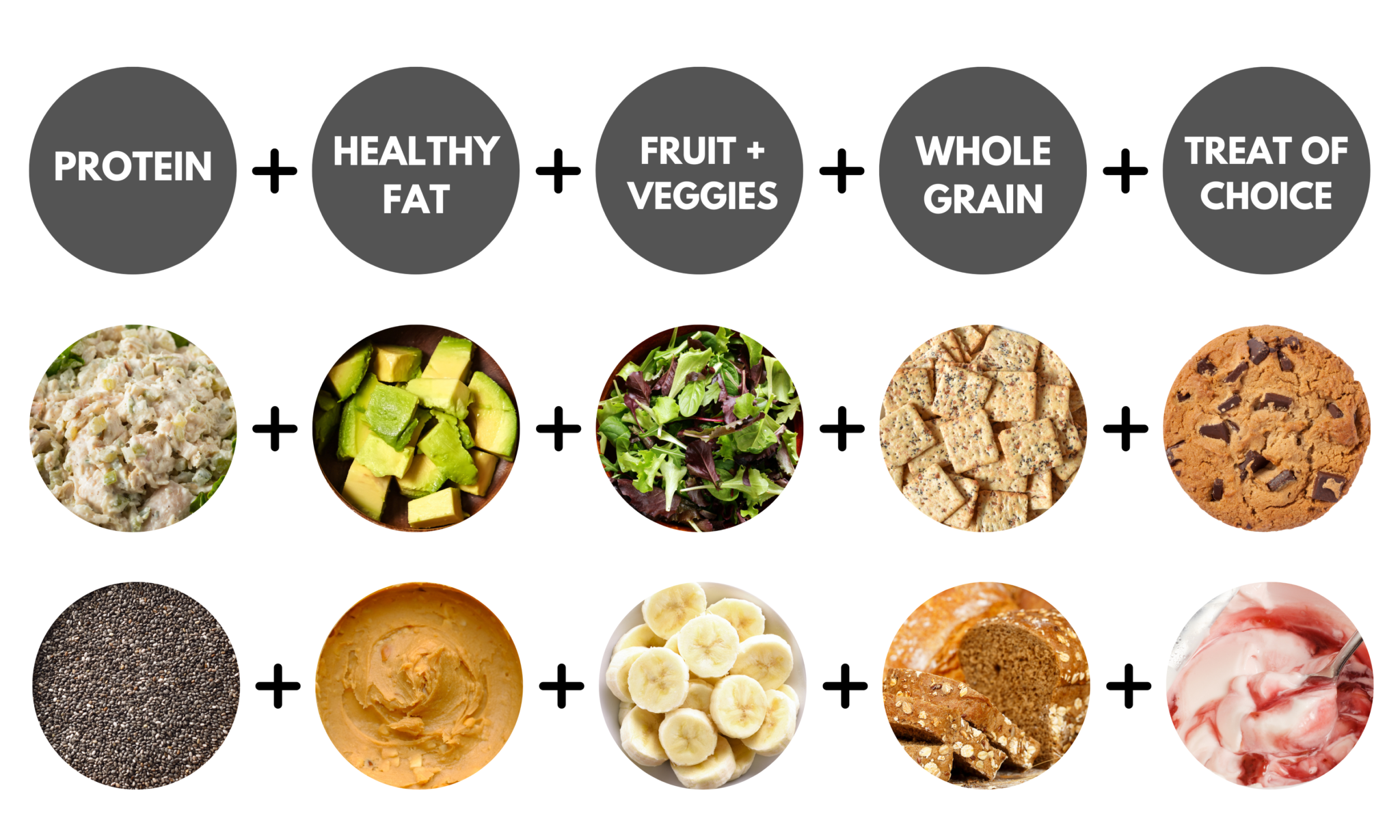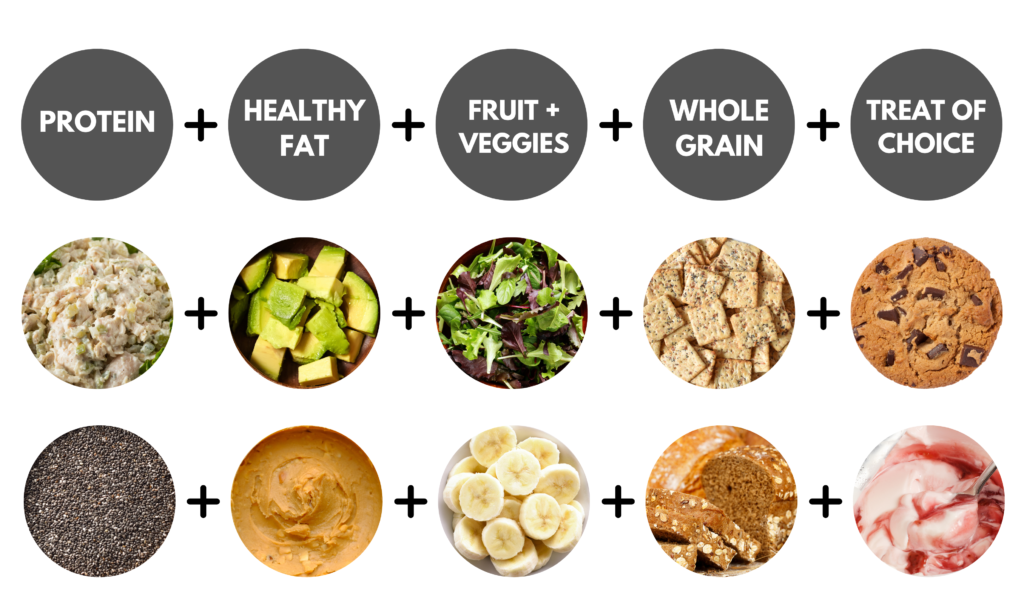 These steps act as a useful template to help you get into the habit of building balanced meals. Once you get the hang of it, you'll be whipping up good lunches for diabetes like a pro!
What are good lunch foods for diabetes?
Good lunch foods with diabetes are nutrient-dense foods that will help keep you full and blood sugars stable. Most of the time, these are foods that have a lower glycemic index to promote blood sugar balance. Here's a list of some blood sugar-friendly foods you can include in your diabetes lunch ideas:
Grains/Starch
Whole wheat bread
Whole grain tortillas
Corn tortillas
Whole grain pasta
Buckwheat noodles
Quinoa
Farro
Brown rice
Oats
Sweet potato
Regular potato
Proteins
Canned fish (tuna, salmon, etc)
Eggs
Beans
Greek yogurt
Nuts and seeds
Cottage cheese
Low-sodium lunch meats
Tofu
Fruits & veggies
Apples
Citrus fruits
Berries
Tomatoes
Cauliflower
Broccoli
Avocado
Salad greens
Spinach
Mushrooms
Carrots
Summer squash
Snacks & treats
Jerky
Olives
Banana
Crunchy chickpea snacks
Popcorn
No-bake energy bites
Trail mix
Flavored yogurts
Apple sauce
Can people with diabetes have sandwiches?
Yes! Sandwiches are probably my go-to lunches. They're easy to make, versatile, and filling! Of course, some sandwiches are better than others depending on how you build it. Similar to the steps above, consider including those same components into your sandwiches: protein, fiber, and healthy fat.
Here are some specific diabetes-friendly tips to make the most out of your sandwich:
Aim to use whole-grain breads with nuts and seeds to increase the fiber.
Opt for low-sodium, low-fat lunch meats like roasted turkey.
Be generous with the veggies!
Choose spreads that are lower in sodium like avocado, pesto, or hummus.
For a more detailed guide on how to build nutritious and delicious sandwiches for diabetes, check out this free download.
Diabetes lunch ideas on the go
During the school or work week, packing lunch can be extra burdensome. Here's a few quick, simple diabetes lunch ideas for those on-the-go situations:
Cheese, berries, and crackers
Yogurt with fruit, nuts, seeds
Hard-boiled eggs
Cheese pizza on a tortilla
Turkey, spinach, cheese wrap
Peanut butter and banana roll ups
Hummus, veggies, and crackers
Guacamole, beans, salsa, with salad greens
And don't forget to check out this post on "Snack lunch: THE 5-minute meal solution"!!
Eating lunch out with diabetes
Busy mornings happen. It's true that a homemade lunch provides more control of what you're eating, but that's not always realistic. Ideally, I would have packed lunch the night before, but sometimes I end up leaving the house empty-handed and need to eat out. Luckily, it's totally possible to eat a blood sugar friendly lunch out with diabetes.
Here are some things to consider when getting fast food or takeout from a restaurant for lunch:
Choose a moderate portion size (or pack leftovers for another meal)
Make sure your meal has a protein component
Choose whole-grain options for breads, tortillas, grains
Watch out for high-carb, high-fat dressings and sauces
Avoid sugary drinks
Read this article for more tips on eating out with diabetes and top diabetes-friendly fast food options.
Gestational diabetes lunch ideas
When you have gestational diabetes, it's best to snack as needed and eat balanced meals to help keep blood sugars stable. Make sure your lunch has a protein source, carb source, non-starchy veggies, fruits, and healthy fats.
Pregnant women also need more calories than they typically may be used to so their baby can grow. Choose foods that are both energy-dense and nutrient-dense. Energy dense refers to high calorie foods. Nutrient-dense, on the other hand, refers to foods with higher amounts of fiber, vitamins, and minerals. Some great examples are salmon, nuts, seeds, and greek yogurt.
Lunch ideas for diabetes
Lunch ideas for type 1, type 2, and gestational diabetes all follow the similar pattern that we talked about before. Make sure the meals are balanced with fiber, protein, and healthy fats. And, these ideas don't have to be complicated. Below are a 16 diabetes lunch ideas to give a try:
1. 30- Minute Chicken Noodle Veggie Soup
Chicken noodle soup is the perfect pairing with an open faced sandwich or on its own. It's easy to whip up on a Sunday night to pack in your thermos for your lunch that week. There's a healthy amount of veggies like carrots and celery and it's high in protein. You can even get creative with the type of noodles you use, or omit the noodles completely and pack it with your favorite piece of bread.
2. PB&J Power Bites
Power bites are some of my favorite, easy, quick items to make. Depending on how many you eat, it can double as either a snack or even a meal. It's high in fiber, fat, and protein from the peanut butter, hemp hearts, and almonds. Literally the most perfect and well-rounded snack to take on-the-go. If you want to amp it up, you can pack it with some berries, cheese slices, and crudite to make it an extra complete meal.
3. Low Carb Broccoli Ranch Salad with Bacon
Salad doesn't always need to include salad greens. In fact, high-fiber broccoli makes the perfect base for this low-carb broccoli ranch salad! Plus, the bacon not only adds a delicious smoky flavor, but adds extra protein to the meal too. It's simple, creamy, delicious, and everything I want in a lunchtime salad.
4. Homemade PB&J Uncrustables with 1-Ingredient Grape Jam
Instead of buying a premade version of this, why not just make them at home? And while you're at it, why not make your own grape jam without any added sugars? My favorite part about this recipe is that it includes the 1-ingredient grape jam. Normally, grape jelly is just grape juice with higher amounts of added sugar and thickener. But, this jam uses the whole fruit, including the skin, which means more fiber! The peanut butter and fiber from the whole grain bread rounds out this classic sandwich, to make it diabetes friendly.
5. Healthy DIY Pizza Lunchables for back to school
Lunchables, as gimmicky as they may seem, are actually a genius idea. This deconstructed pizza version of it is so quick to make and satisfying for both kids and adults. Almond flour crackers, lean pepperoni, tomato sauce, and cheese make this a balanced meal that'll hit the spot during lunchtime.
6. BLT Lettuce Wraps with Avocado Ranch Dressing
This is a light, refreshing take on the classic BLT sandwich. Replacing the bread with lettuce wraps creates room to get your carbs from other tasty foods, like pretzels or a cookie. The extra lettuce and avocado in the dressing adds fiber and healthy fats to make this a delicious and satisfying meal.
7. Cheesy Veggies and Ground Beef Quesadillas
Quesadillas are arguably one of the most simple meals you can make. Plus, there are so many ways to upgrade them! These lean ground beef quesadillas are filled with veggies, protein, and ooey-gooey cheese. What's not to love?
8. Pepper Jack Cheese and Grapes Skewers
These pepper jack cheese and grape skewers are the perfect addition to your lunchtime meal rotations. They're surprisingly filling and perfect for those extra busy days when you have a shorter lunch break.
Lunch ideas for type 2 diabetes
If you have type 2 diabetes, it's important to eat a higher fiber lunch that will keep you full for longer. This can help support heart health and other health goals Here are lunch ideas for type 2 diabetes:
9. Grilled Sesame Ahi Tuna Steak
Grilled ahi tuna steak makes the perfect protein addition to your favorite salad, grain, or even wrap! Tuna steak is a great lean protein option that you can make the night before and take for lunch the next day.
10. Low Carb Burrito Bowl with Guacamole
Burrito bowls are usually packed with quality protein foods, veggies, whole grains, and beans. If that's not a balanced meal, I don't know what is! And while you could readily buy a burrito bowl from a restaurant, making your own at home may make carb counting easier.
11. Chicken Bacon Ranch Pasta Salad
Hands down, this is the best lunch on a hot summer day. And it's diabetes friendly! There's just something about cold chickpea pasta salad that's packed with protein and creamy ranch dressing.
12. Crispy Air Fryer Salmon Patties
Salmon is rich in omega-3 fats and protein, making these crispy air fryer salmon patties the perfect addition to your lunch. You can eat it in a bun, over salad, or even on its own.
13. The Best Tuna Salad with Egg Recipe
Tuna salad and egg salad are two of my favorite sandwich options. So I thought, why not just combine the two to make the best sandwich ever? If you use a whole grain bread, this will make for a delicious, high fiber and high protein meal.
14. Easy Salmon Lettuce Wraps with Spicy Black Bean Sauce
Like the BLT lettuce wraps from before, this quick and delicious salmon lettuce wrap is a winner. Not only does the lettuce wrap make it extra diabetes friendly, it also acts as a makeshift tortilla for a great fish taco experience.
15. Crunchy Pistachio Chicken Salad
Pistachios are awesome, especially in this salad. Of course their main benefit is the crunch it gives the salad, but they also add more healthy fat and protein to the mix. You can eat this in a wrap or roll up, a sandwich, or over your favorite salad greens.
16. Veggie Protein Wraps
High protein doesn't need to mean it's not vegetarian friendly. In fact, edamame is one of my favorite plant-based and high protein ingredients to use. It adds great texture to the wrap and keeps me feeling full and satisfied.
Lunch tips for type 1 diabetes
Type 1 diabetes doesn't have to limit the types of foods you eat. You're able to include almost all foods into your diet. And while it's true that you could eat a hamburger with fries and a soda, it's not exactly going to be the best option for overall nutrition.
When you're taking insulin, it's important to time your dosing and meal to make sure your blood sugars are as stable as possible. This will depend on the type of insulin you're using and the type of foods you're eating. Work with your diabetes care team and pay attention to patterns you notice in your blood sugar after eating certain foods.
---
The bottom line for good diabetes lunch ideas
A good lunch for diabetes is going to cover all the things we talked about in this article. But the bottom line is that any good meal, whether breakfast, lunch or dinner, should be enjoyable for you! Fix yourself a lunch that you find yourself looking forward to, with all the great nutrition components that make a balanced meal.