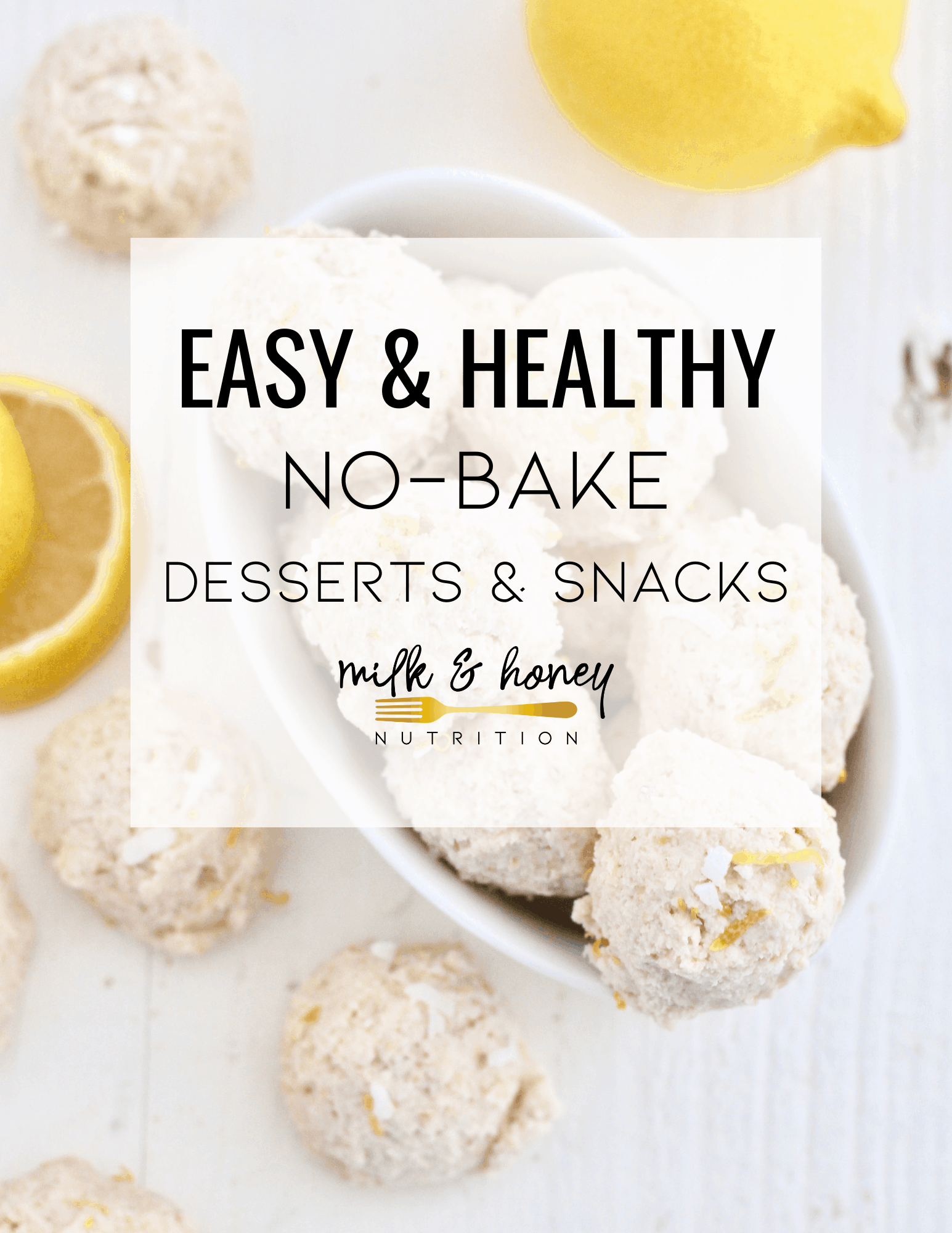 Healthy no bake desserts and snacks are convenient and delicious!
Below I'm sharing some of my favorite no-bake recipes for both desserts and snacks. Having some go-to healthy no bake desserts and snacks can make staying healthy and nourished so much easier!
I love no bake healthy snacks
Healthy no bake desserts and snacks are a perfect way to enjoy a balanced and nutritious treat. We have the opportunity to pack in some really nutrient dense ingredients, all while never turning on the oven.
Some of my favorite nutrient dense ingredients to use in a no-bake recipe include:
nuts
seeds
dates
dried fruit
coconut
almond flour
oats/oat flour
nut butter
applesauce
and more…
Healthy no bake desserts and no bake snacks are so convenient
No bake snacks and desserts are perfect for a middle of the day pick me up or a late night sweet treat. They can be energy bites, protein bars, and more. And, they offer the perfect formula for a healthy dessert or snack without a lot of trouble in the kitchen.
Let's take a look at a few of my favorite healthy no bake desserts and snacks. Some of these are my own recipes you'll find here, and others are from some of my favorite registered dietitians. Just click the link below to the recipe you want to try!
Easy no bake dessert recipes with few ingredients
These recipes pack in a lot of flavor with just a few ingredients!
No bake chocolate desserts and snacks
Did someone say chocolate? An easy healthy no bake dessert with chocolate hits the spot every time!
Easy gluten free no bake desserts
Most the recipes in this blog post are gluten free as well!
No bake energy bites
Energy bites come in handy almost any time of day and I absolutely love having them around for easy snacks and desserts!
No bake cheesecake recipes
My grandma taught me how to make a classic cheesecake years ago but let's be real, we don't always have time for that. These no bake recipes let you enjoy cheesecake in no time!
No bake vegan desserts and snacks
These healthy no bake desserts and snacks are easy, and entirely plant-based!
Strawberry Sorbet (Melissa Altman-Traub MS, RDN, LDN)
Vegan Chocolate Mousse (Seattle-based registered dietitian nutritionist, Ginger Hultin MS RDN, owner of ChampagneNutrition® and author of Anti-Inflammatory Diet Meal Prep and the How to Eat to Beat Disease Cookbook)
No bake diabetes desserts
Most of the recipes in this blog post offer a balanced nutrient profile that can help promote stable blood sugars. These two recipes especially have a low amount of added sugar and contain a good amount of protein and fiber.
And make sure to check out all my diabetes friendly desserts ideas!
Healthy no bake desserts for kids and snacks
No bake desserts and snacks are also perfect for kids. Check out these recipes!
---
Healthy Desserts Cookbook with healthy no bake desserts
If you love the idea of healthy no bake desserts, you have to order my latest cookbook! It's all about desserts, and there's a whole chapter devoted to no-bake desserts. You can order it now!