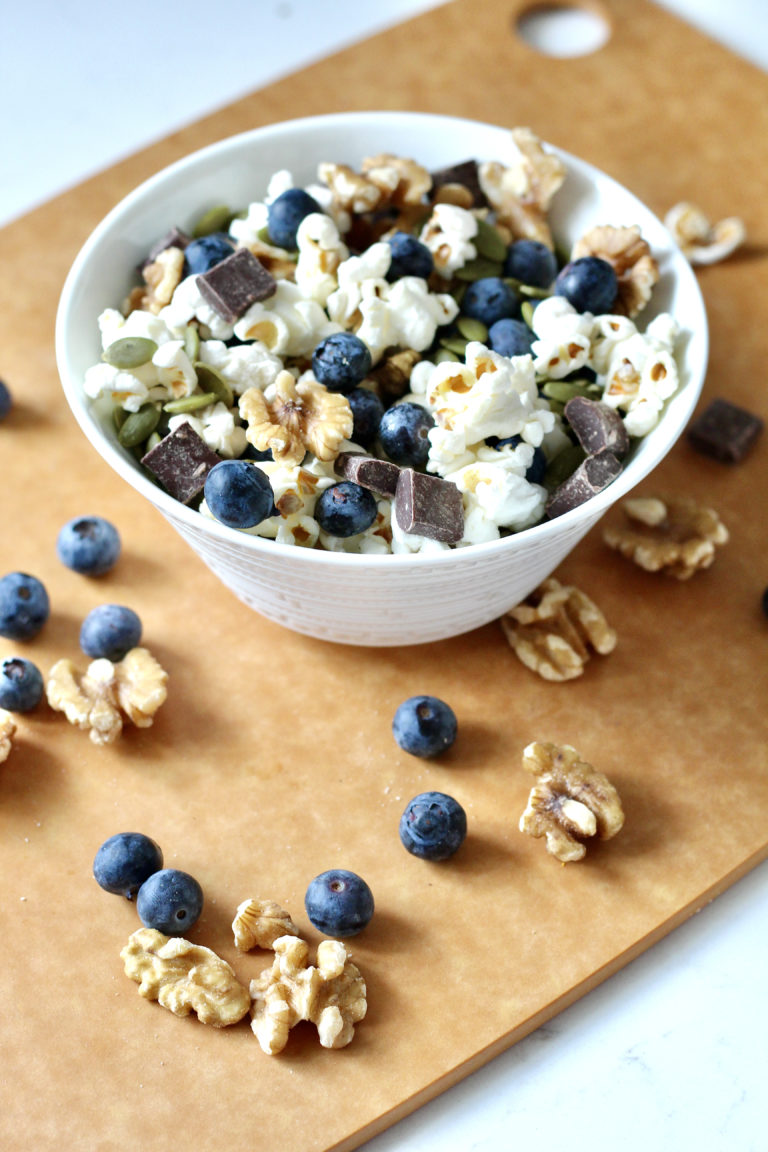 This post was sponsored by the U.S. Highbush Blueberry Council. All thoughts and ideas are my own.
Homemade trail mix is such a quick and easy snack option and this combination of blueberries, walnuts, and popcorn is so tasty!
Throwing together an easy and nutritious snack doesn't have to be hard. That's where a good go-to homemade trail mix option can really come in handy!
A healthy trail mix recipe should include…
Making trail mix at home is so easy, but even if you buy it from the store, there are some great healthy options out there! Look for or make homemade trail mix with the following characteristics:
No added sugar
4g fiber or more per serving
5g or more protein per serving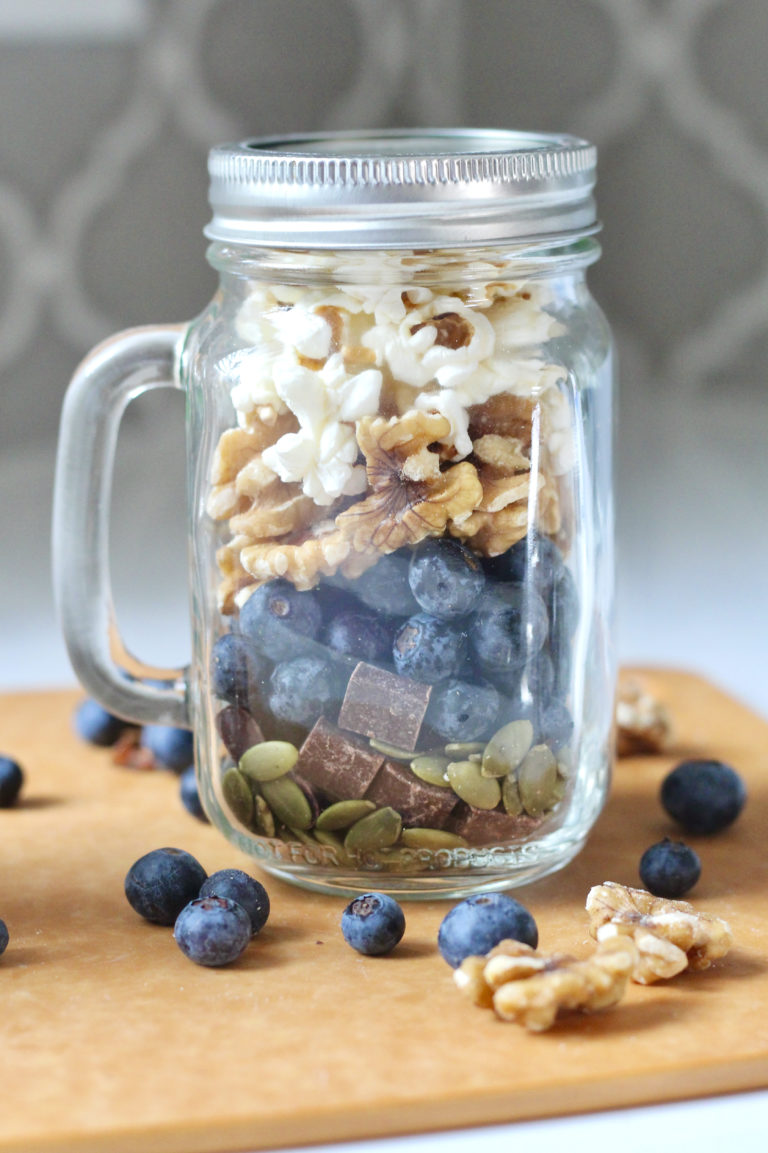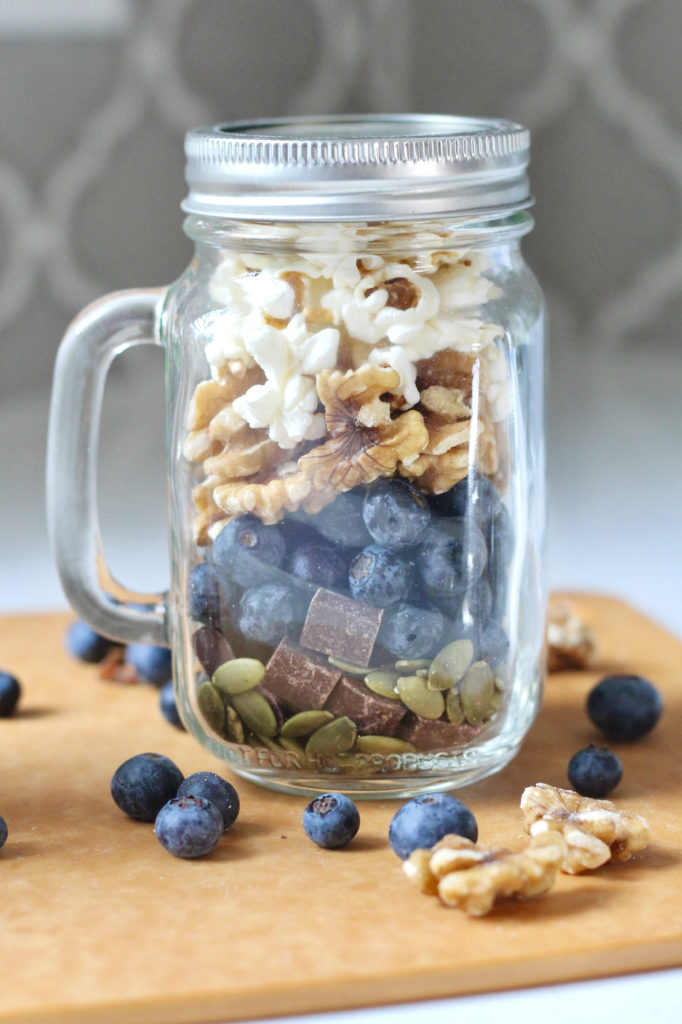 What to mix with popcorn for a healthy snack
Making a popcorn snack mix is the perfect way to give yourself an energy boost! There's lots of healthy popcorn snack mix recipes on the internet, but just be sure you're combining the popcorn with additional sources of fat, fiber, and protein (like blueberries and walnuts!).
Is it cheaper to make your own trail mix?
Making some no-bake popcorn snack mix at home would definitely be cheaper than buying a pre-made version. But, I also love that it gives you the opportunity to be creative and add in ingredients like fresh blueberries!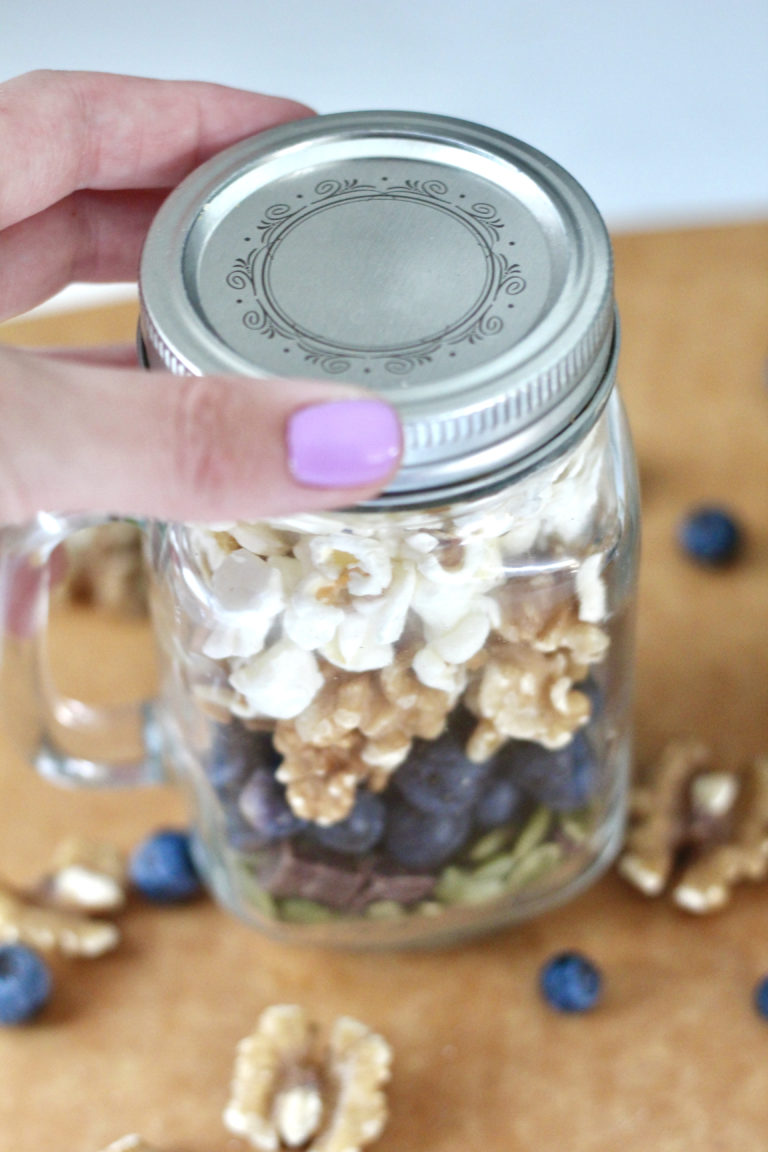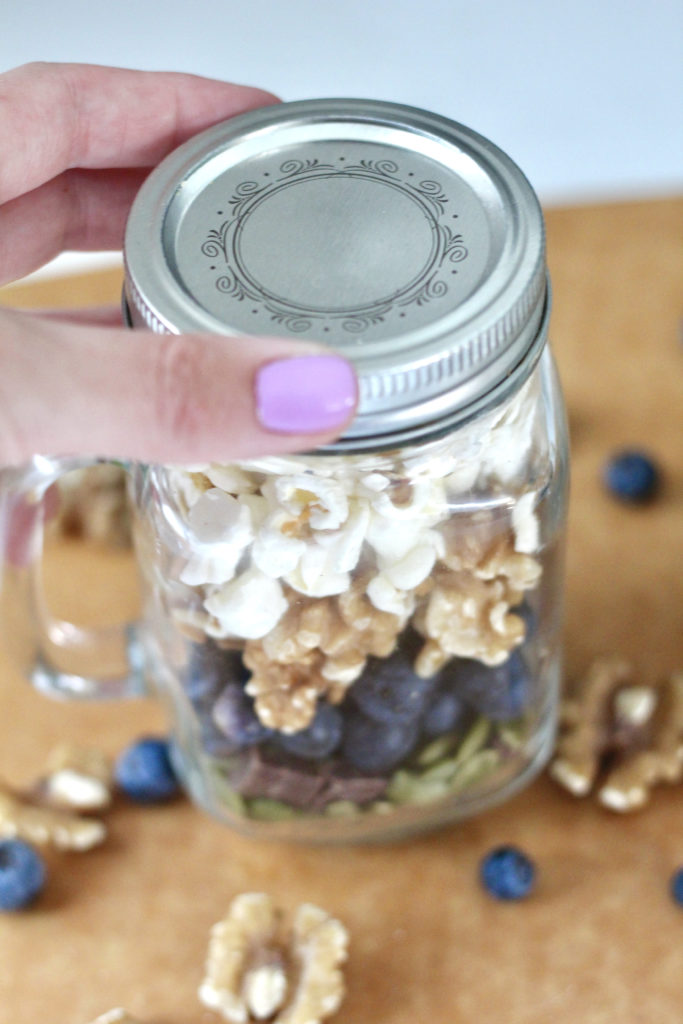 What is usually in trail mix?
Gluten free snack mix can include all sorts of ingredients from nuts, to seeds, to fresh or dried fruit. But, many store bought trail mixes include some form of candy or added sugar. One of the perks of making your own homemade trail mix is getting to decide how much of each ingredient you want.
Popcorn trail mix recipe storage ideas
Since we're using fresh fruit (blueberries) and popcorn together for this homemade trail mix recipe, we have to get a little creative with how we store it. As you can see in the pictures, layering the ingredients in a mason jar so the popcorn is separated from the blueberries works perfectly!
You can also use a bento box to keep ingredients separate and just mix it all together when you're ready!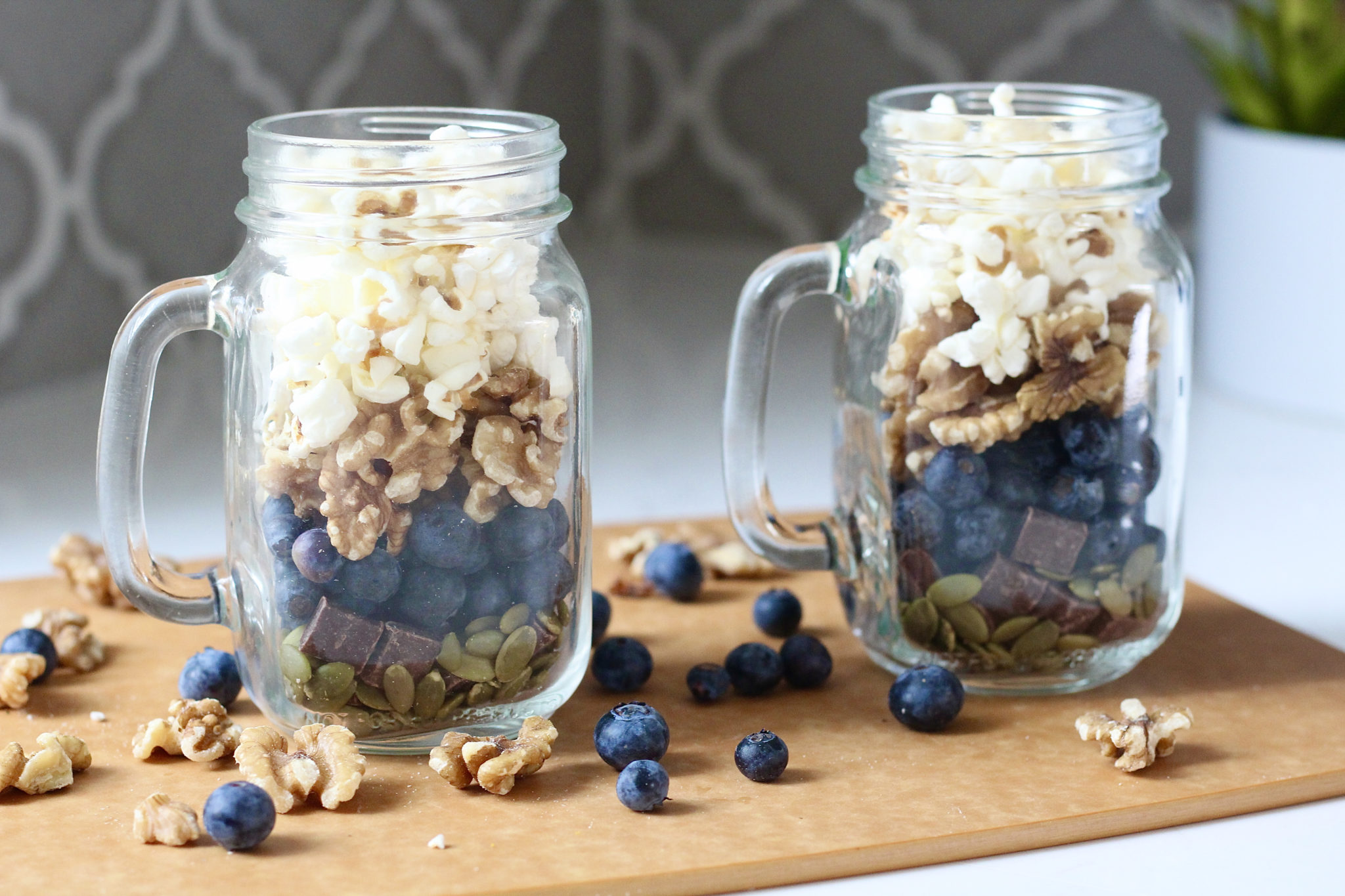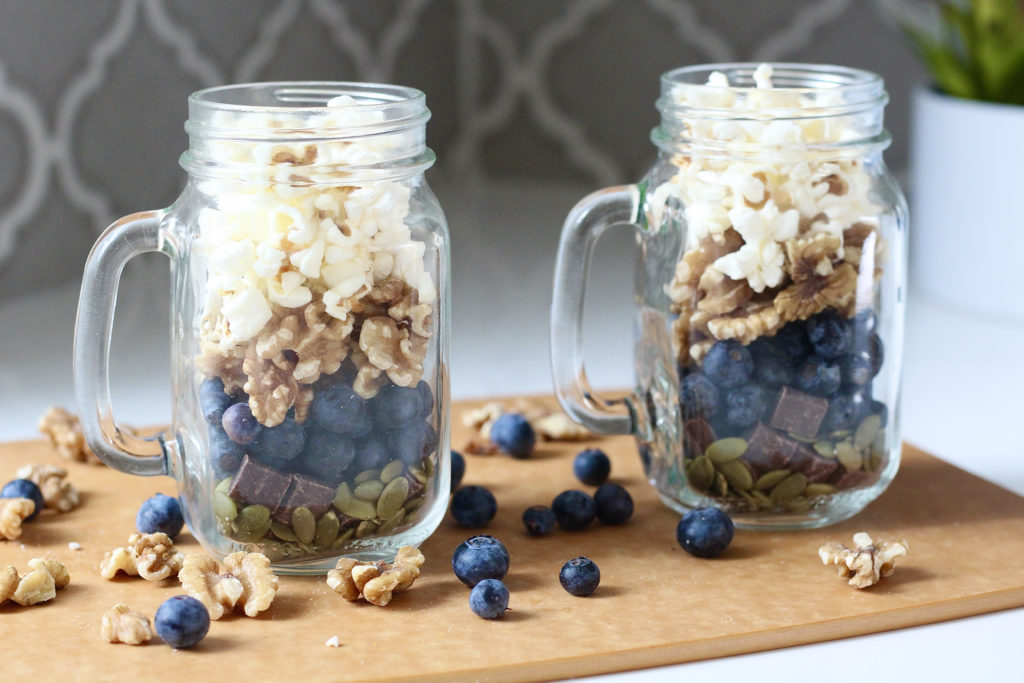 Should you refrigerate this trail mix?
You can if you want to, but it might make your popcorn a bit soggy. If you're going to be eating it within a few days, storing your homemade trial mix on the counter at room temperature is just fine.
Blueberry benefits for brain health
So, are blueberries good for your brain? In addition to being a source of vitamin C, vitamin K, manganese, and fiber, a growing body of scientific evidence is examining how blueberries can be part of eating patterns to support brain health, especially as part of an overall healthy lifestyle.1-5 So, help yourself to some "bluetiful" blueberries – grab that boost of blue!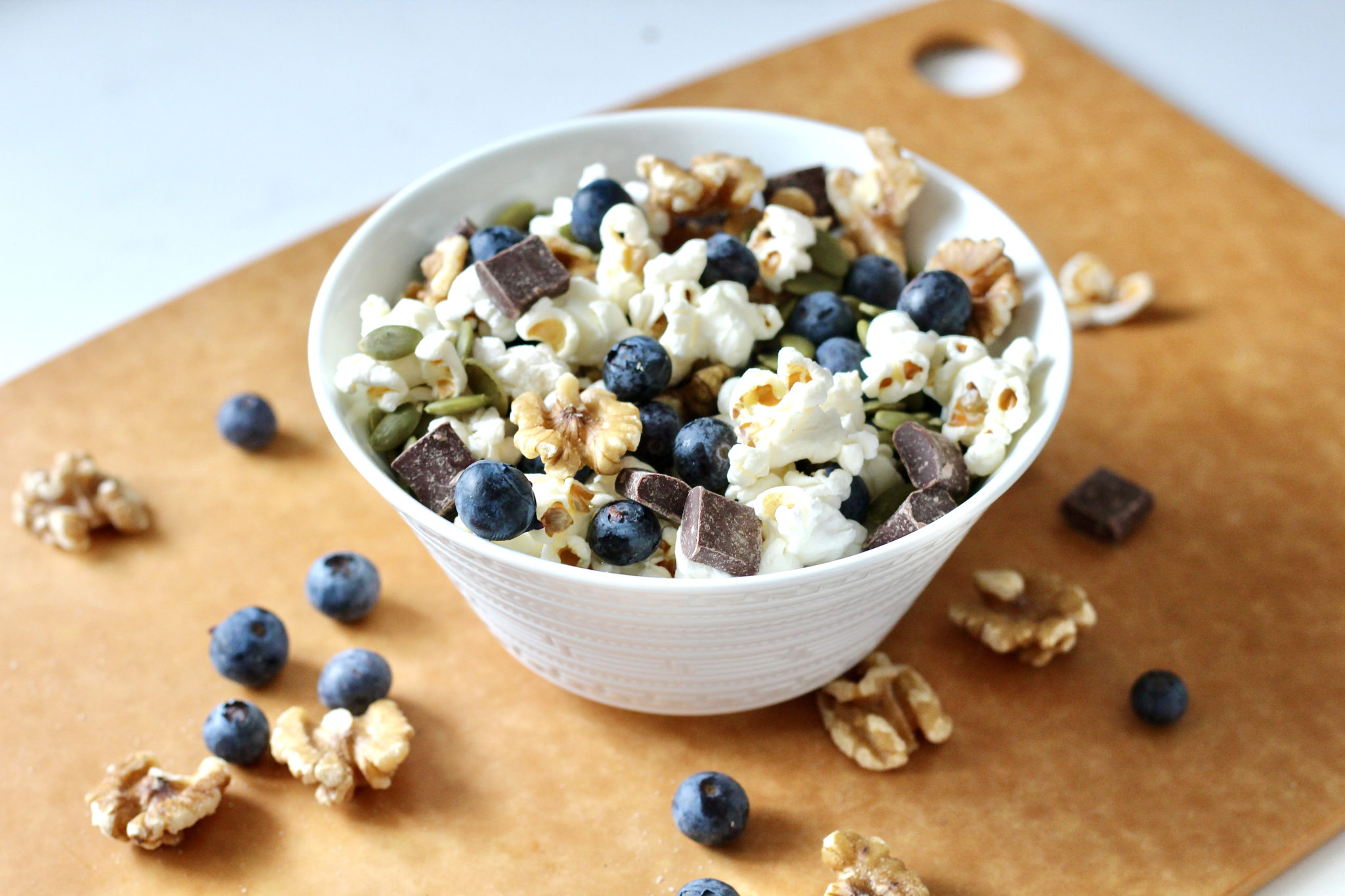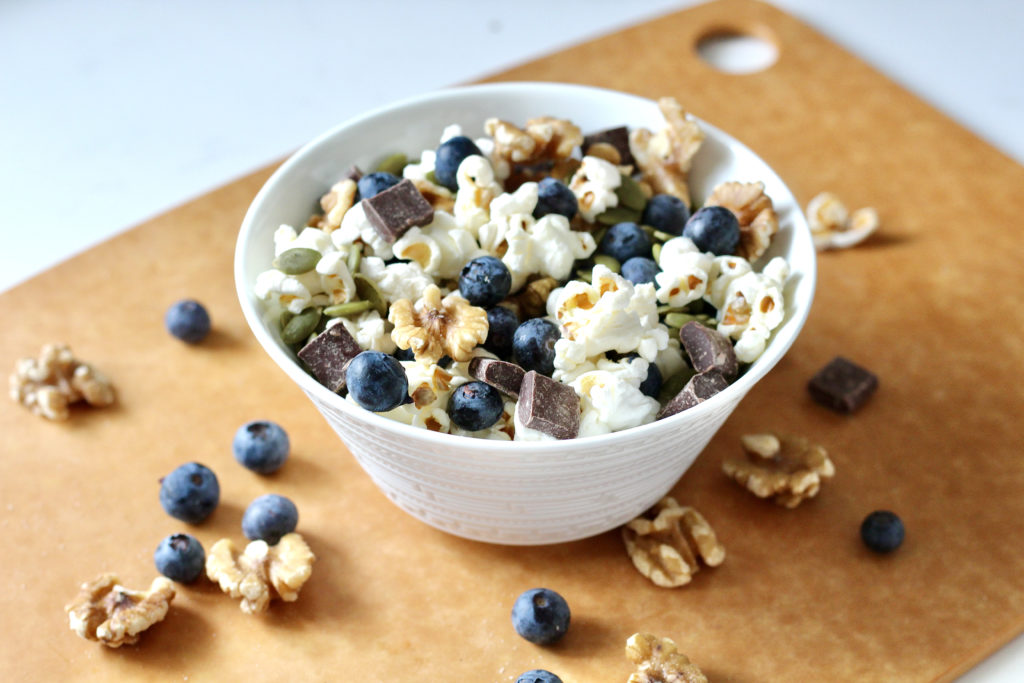 Healthy blueberry snacks
And if you're looking for other ways to include blueberries in your daily routine, make sure to check out these recipes…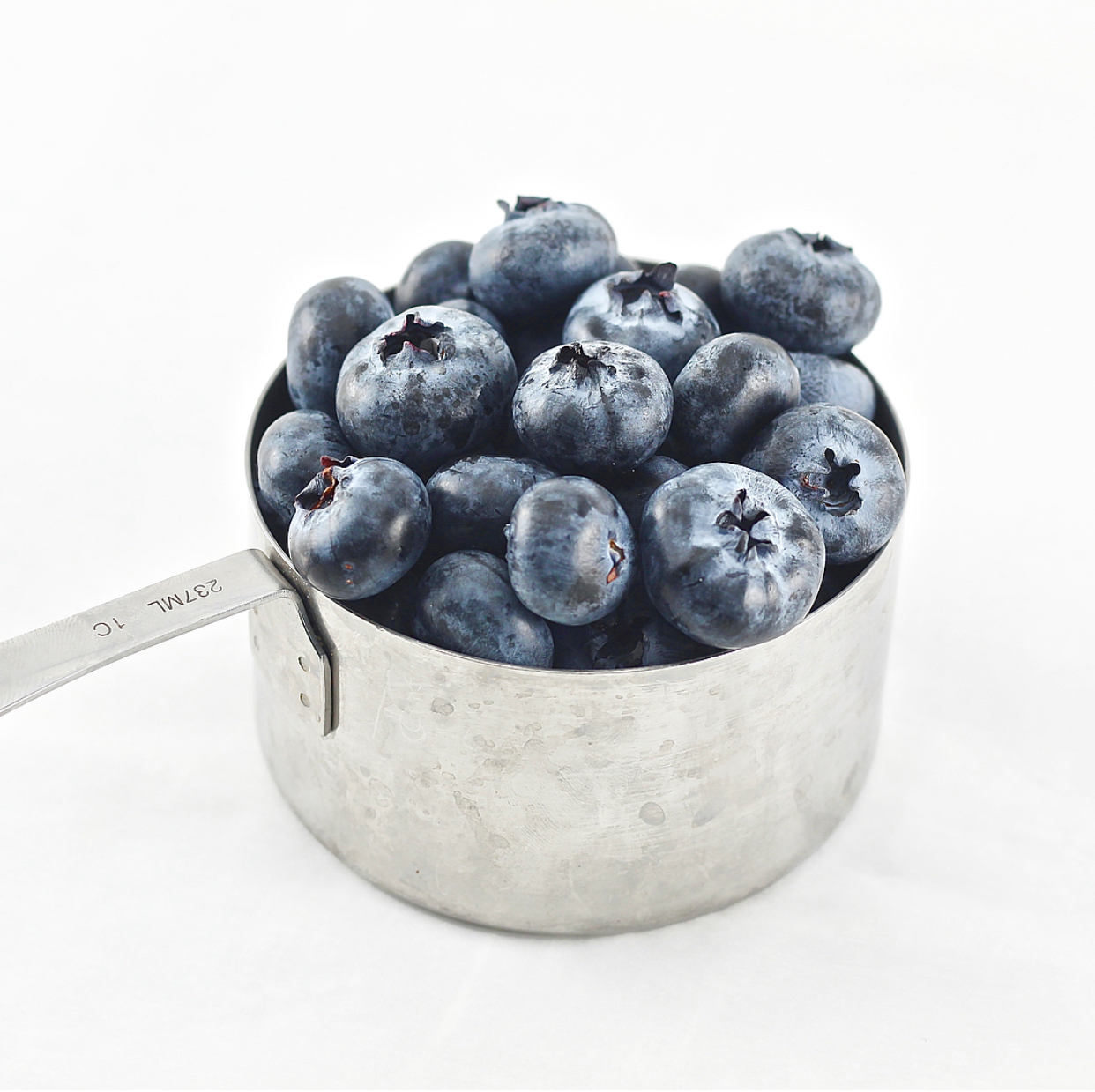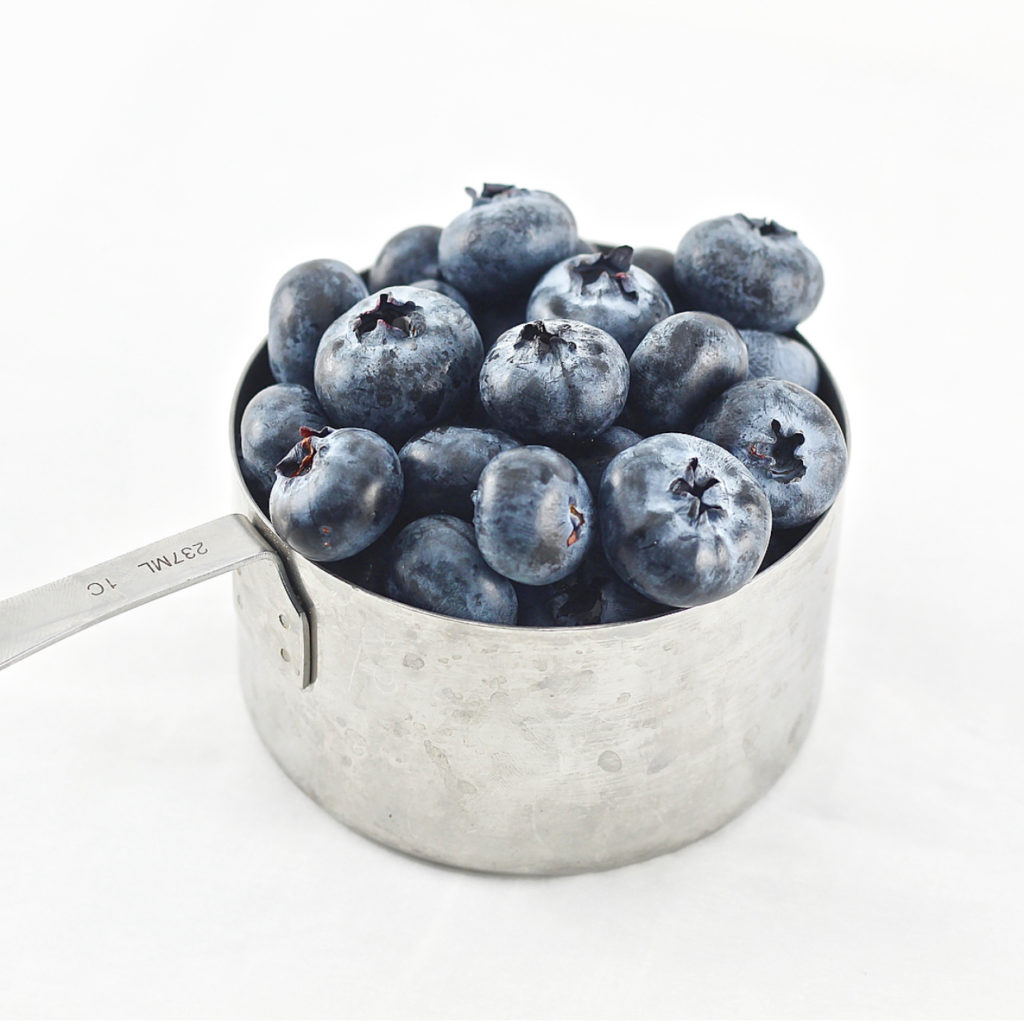 Walnut benefits for the brain
And now, let's answer the question, "Are walnuts good for your brain?" (But, before we do that, have you ever noticed how a walnut looks like a brain?! Pretty cool, huh?!)
But back to the original question…research suggests that walnut consumption may be associated with cognitive function.6 And, substantial research supports the inclusion of walnuts in healthy eating patterns that support cardiovascular health. In fact, supportive but not conclusive research shows that eating 1.5 ounces per day of walnuts, as part of a low saturated fat and low cholesterol diet and not resulting in increased caloric intake, may reduce the risk of coronary heart disease.7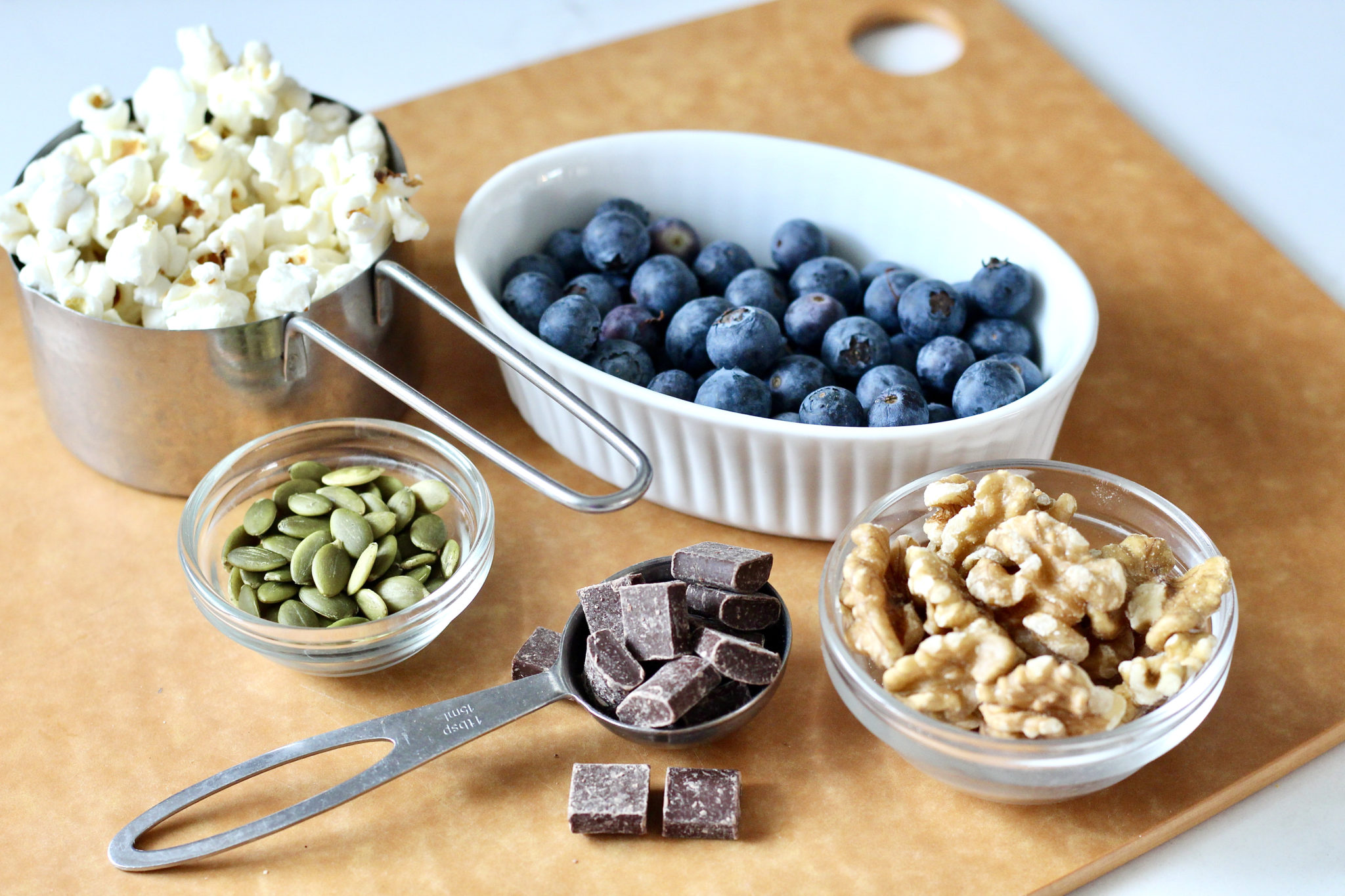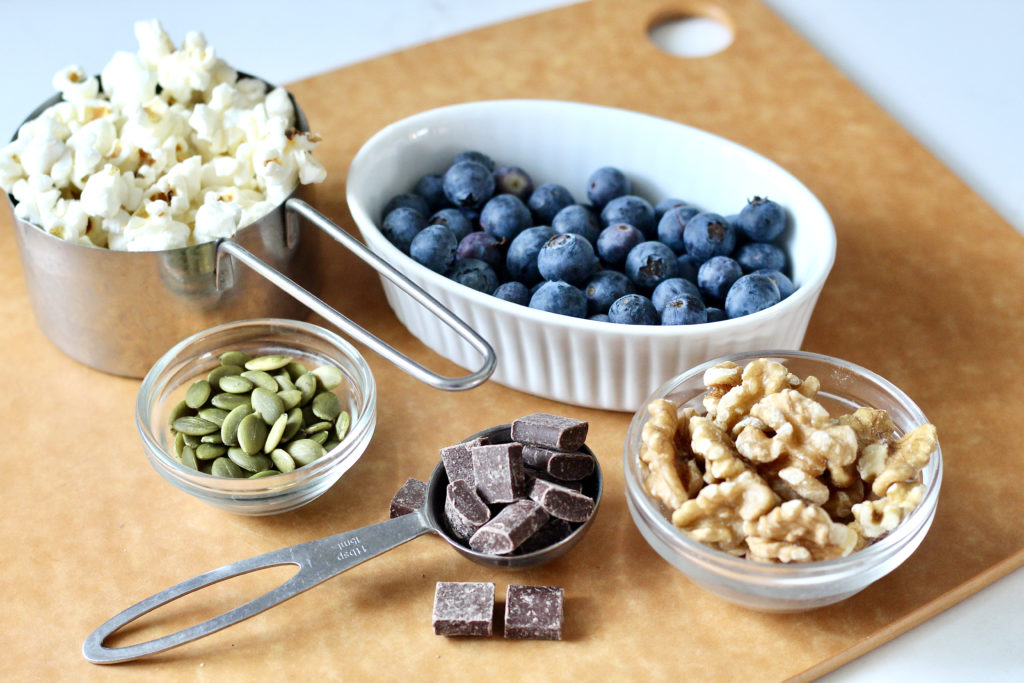 Delicious walnut snacks
If you want more ways to add walnuts to your day, make sure to check out my Grain Free Walnut Chocolate Chip Cookies and Maple Walnut Sweet Potatoes.

Homemade Popcorn Trail Mix with Blueberries, Walnuts, Seeds & Chocolate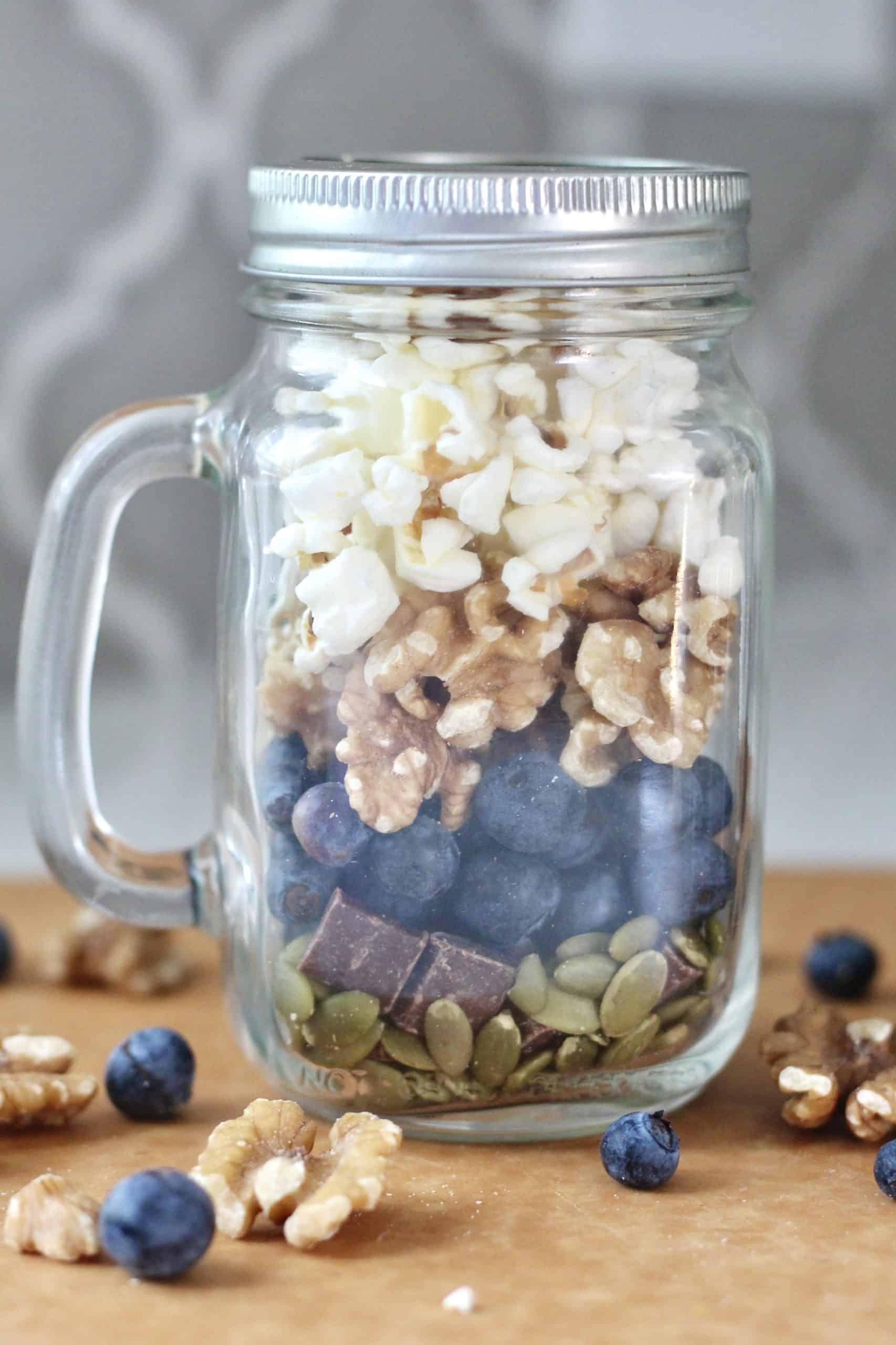 Ingredients
½

cup

fresh blueberries

1

oz

walnut halves

1

cup

air popped popcorn

1

Tbsp

shelled pumpkin seeds

1

Tbsp

dark chocolate chips
Instructions
Combine all of the ingredients together in a bowl and gently stir to combine.

Enjoy!
Notes
If you're planning to store this snack mix, we recommend a mason jar. Layer the pumpkin seeds and dark chocolate chips on bottom, followed by blueberries, walnuts and popcorn. 
Recipe Modifications
Swap 1/2 cup fresh blueberries for 1/4 cup dried blueberries if storing longer-term.
To kick this recipe up a notch, try roasting your walnuts ahead of time. Combine 1/2 Tbsp avocado oil, 1/2 tsp cinnamon and 1/4 tsp sea salt in a bowl. Whisk them together well. Arrange your walnuts on a parchment lined pan and drizzle the cinnamon sea salt mixture over the walnuts. Bake at 300 degrees F for about 15-20 minutes until your walnuts start to turn dark brown. Remove from the oven and let cool completely before mixing into your snack mix. 
The nutrition facts presented here are estimates only. The brands you use and product types chosen can change the nutritional information presented. To obtain the most accurate nutritional information, you should calculate the nutritional information with the actual ingredients you use. 
Nutrition
Serving:
1
serving
|
Calories:
335
kcal
|
Carbohydrates:
31
g
|
Protein:
7
g
|
Fat:
22
g
|
Saturated Fat:
5
g
|
Sodium:
5
mg
|
Fiber:
6
g
|
Sugar:
13
g