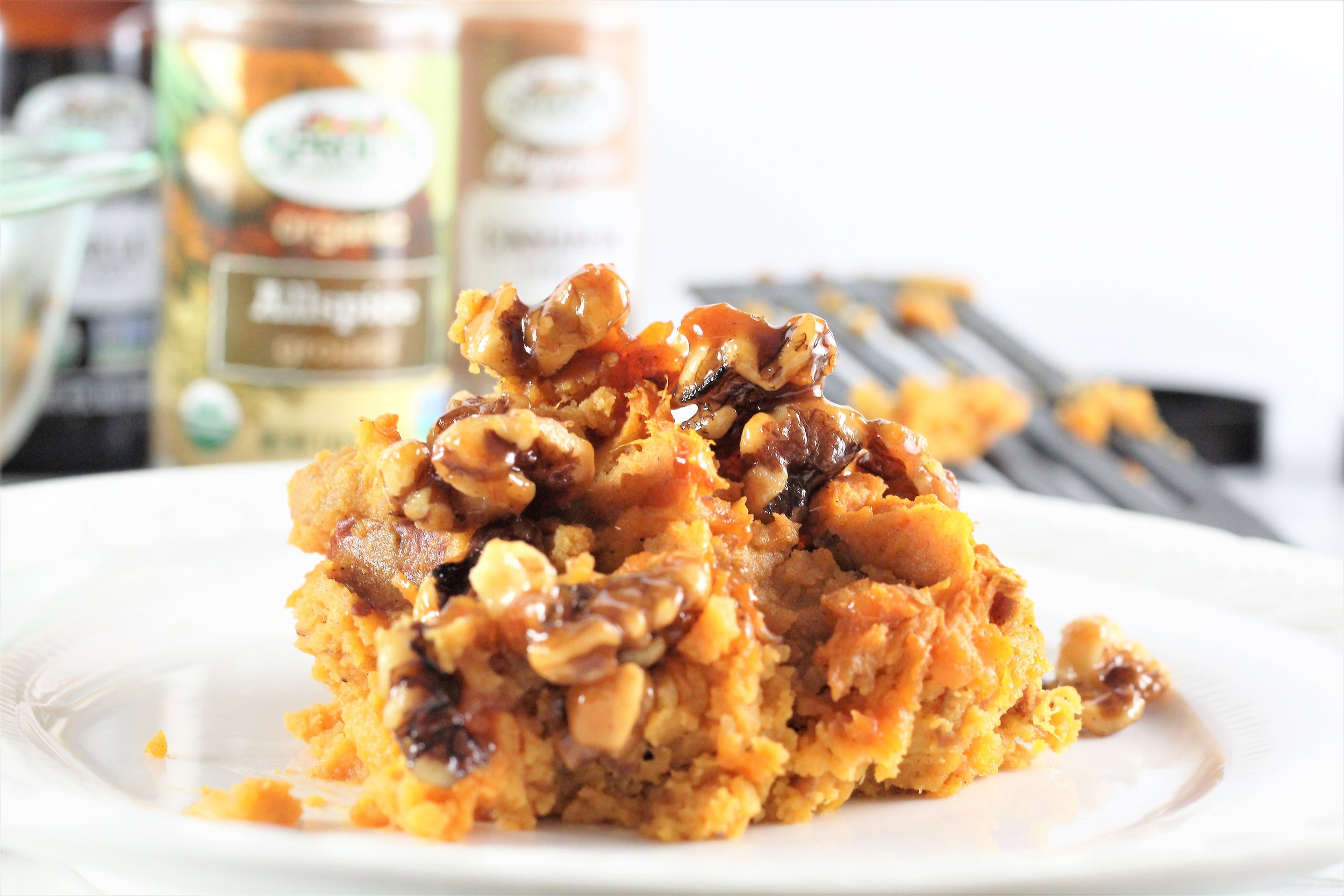 Ready or not, Thanksgiving is around the corner, and whether you're hosting the whole meal, or just responsible for a side dish, you NEED these Maple Walnut Sweet Potatoes in your life! The flavor and texture combine for the perfect holiday side dish, without all the typical junk in sweet potato holiday dishes… think: processed OJ, and marshmallows.
AND, not to mention, the spices going on in this dish are out of this world. I like to stock up whenever Sprouts Farmer's Market is having a sale on all their organic spices and baking essentials. This specific recipe uses vanilla extract, cinnamon, and allspice, but there are so many more options as well. It's hard to find quality spices at a decent price, so make sure to check out your local Sprouts!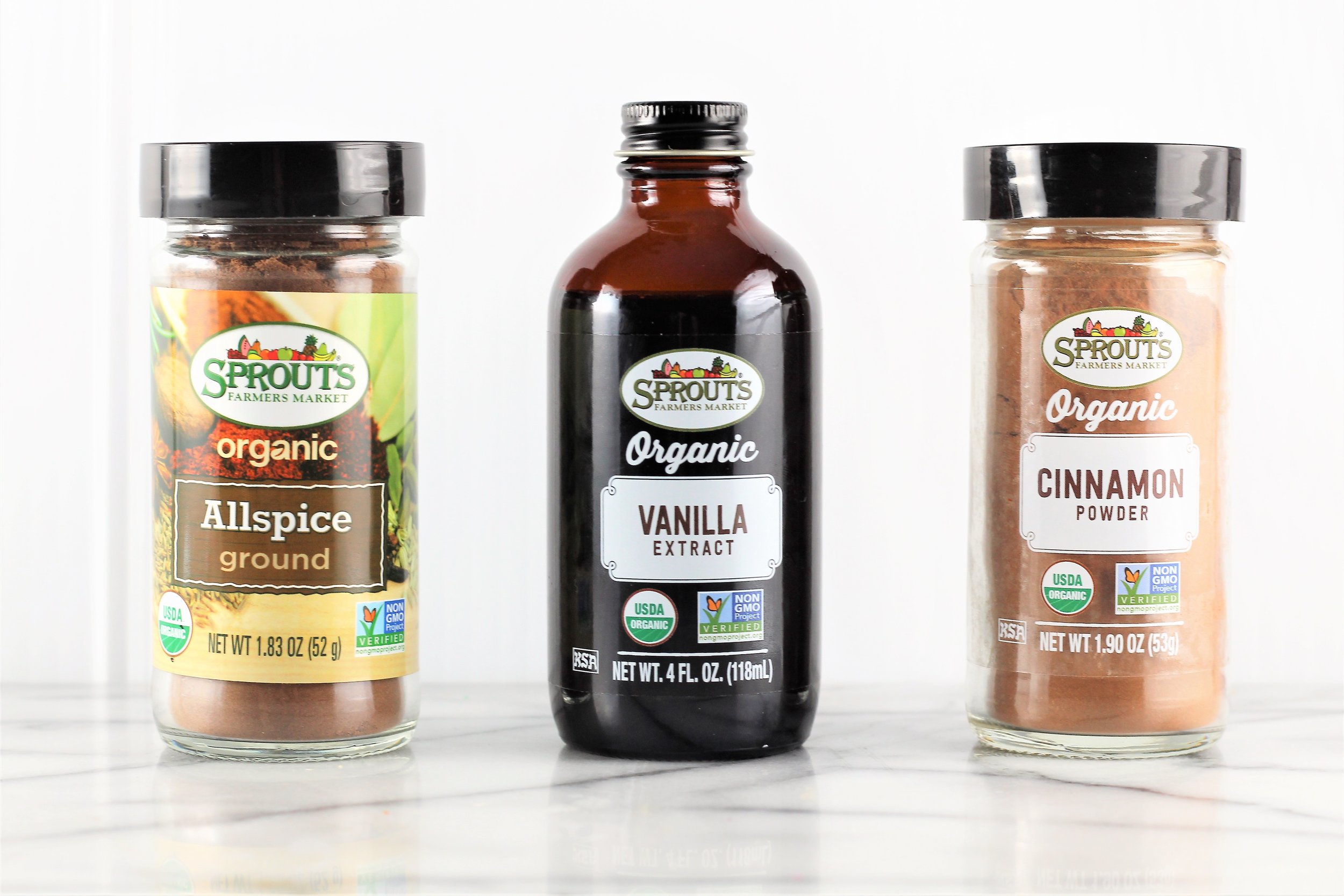 This recipe was sponsored by Sprouts Farmer's Market. All idea and thoughts are my own.
---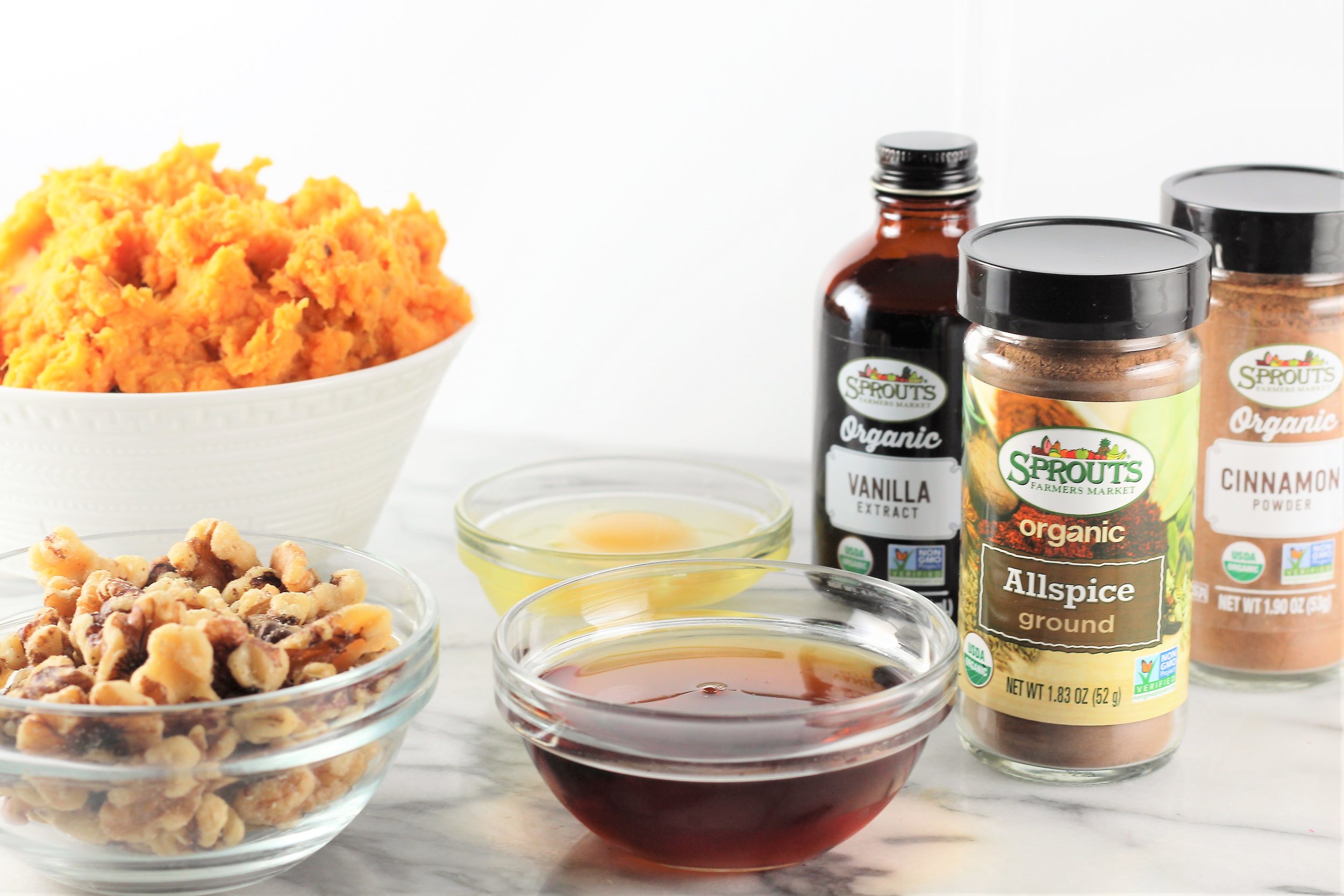 Maple Walnut Sweet Potatoes
3 pounds sweet potatoes, cubed
1/4 cup whole milk
3 Tbsp avocado oil
1/3 cup maple syrup
1 tsp sea salt
1/2 tsp Sprouts Organic Vanilla Extract
1/4 tsp Sprouts Organic Cinnamon Powder
1/8 tsp Sprouts Organic Allspice
1 egg
1 Tbsp ghee or butter
2 Tbsp maple syrup
3/4 cup chopped walnuts
Add cubed sweet potatoes to a large stock pot and cover with water. Bring them to a boil, and let cook for 15-20 minutes… until they can easily be pierced with a fork.
Pre-heat your oven to 375 degrees. Once the sweet potatoes are cooked, drain the potatoes and transfer them to the bowl of a stand mixer. On low speed, using the paddle attachment, mix the potatoes for 2-3 minutes.
Next, remove the paddle attachment, and attach the whisk. Add the next 8 ingredients to the bowl (whole milk through egg) and process with the whisk attachment for 2-3 minutes.
Transfer the sweet potato mixture to a greased 9×13 baking dish. Bake for 20 minutes.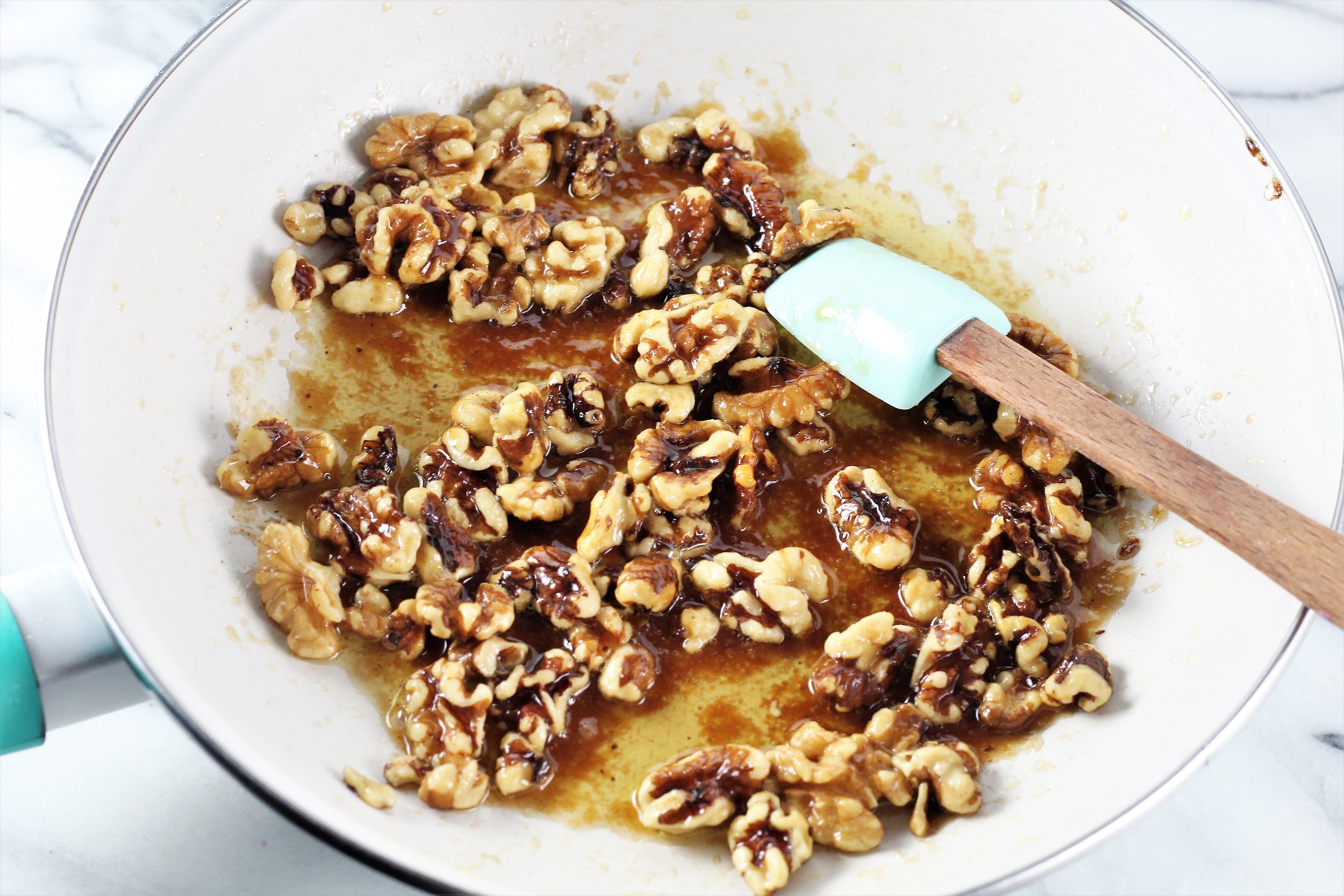 While the sweet potatoes are baking, add the ghee/butter, maple syrup, and walnuts to a skillet over medium heat on the stove. Stirring continually, cook until the maple syrup and ghee/butter have thickened up some… (about 10 minutes). Remove from the heat as soon as you see it start to thicken to avoid burning.
After 20 minutes in the oven, remove the sweet potatoes and top with maple walnuts. Return the pan to the oven for an additional 10 minutes. Serve immediately. Enjoy!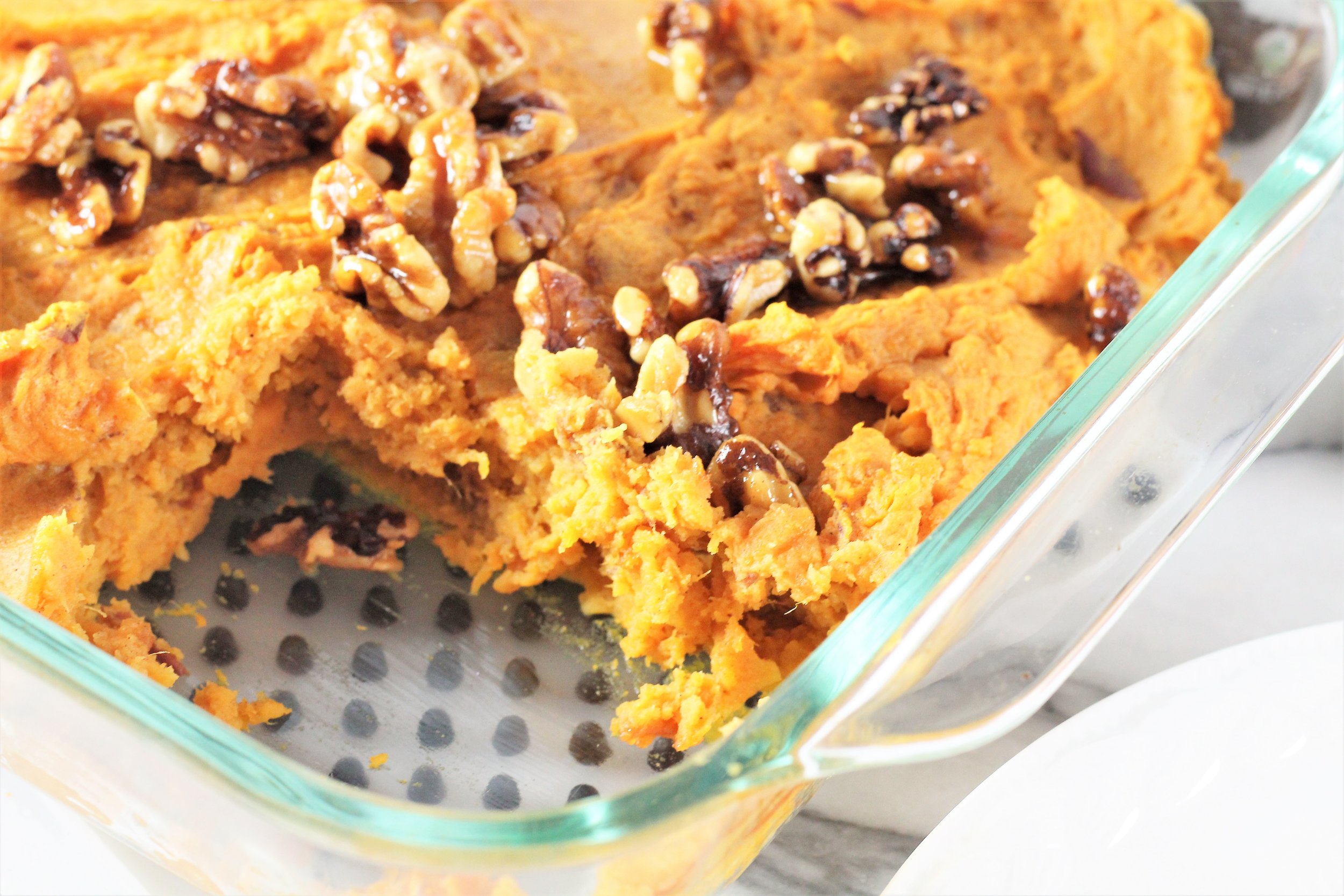 ---