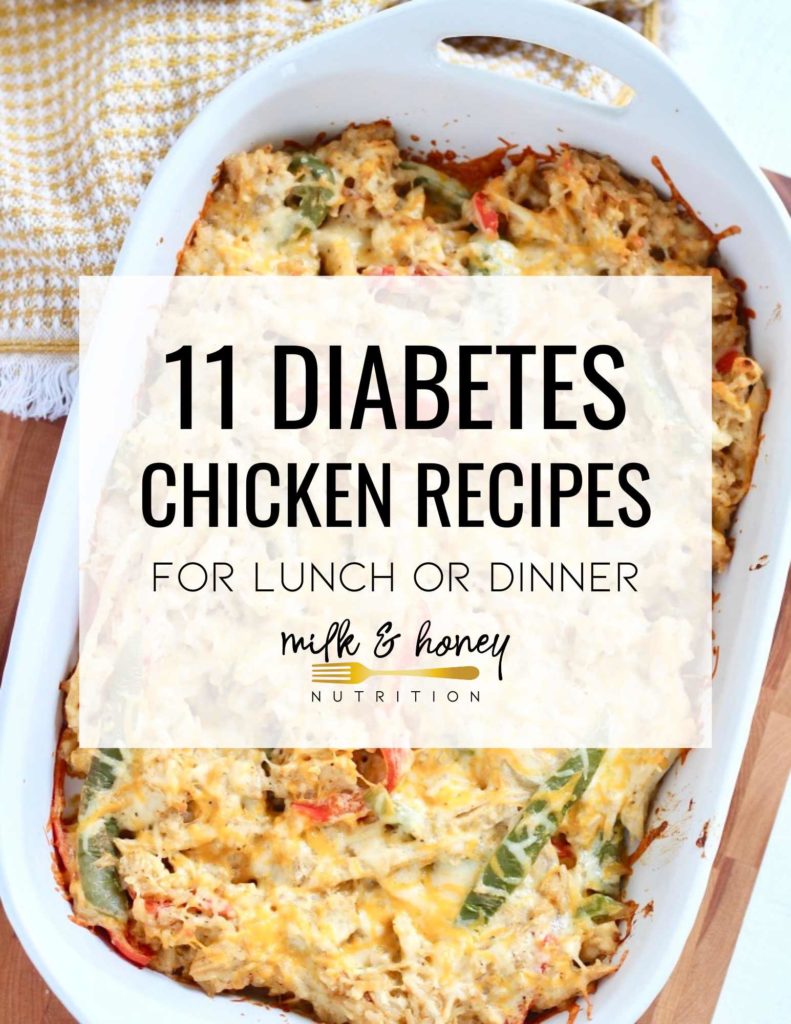 Let's look at some of my favorite delicious diabetes chicken recipes!
You don't have to force yourself to eat bland and boring chicken recipes. Let's review what types of chicken recipes are best and some of my favorite diabetes chicken recipes!
Is chicken good for diabetes?
People with diabetes can enjoy all types of chicken. Chicken, like other meats, offers a delicious protein option at meal times and beyond. As a reminder, protein at meal time and snack time can help slow down digestion which leads to delayed carbohydrate absorption… which means more stable blood sugars after a meal.
Can someone with diabetes eat cooked chicken recipes?
Absolutely! Diabetes chicken recipes come in all different types! People with diabetes can enjoy everything from baked, to fried, to sautéed chicken and more.
Is baked chicken good for diabetes?
One of the biggest stereotypes about eating for diabetes is that all of your meals will forever be boring baked chicken and vegetables. This just isn't true though.
But, the origin of this stereotype comes from the fact that baked chicken tends to be lower in fat than fried or sautéed chicken. Because of that, less experienced cooks or healthcare providers might assume that's the only form of chicken you can eat. Baked chicken can be good for diabetes along with other forms of chicken.
Can people with diabetes eat rotisserie chicken?
Yes! Rotisserie chicken can be a great convenient protein option for people with diabetes. It's ready to go and can be added to so many different types of recipes:
Chicken salad
Quesadillas
Casseroles
Tacos
And more!
I love the rotisserie chicken available at Costco! It's seasoned so well and costs less than other stores I've found.
While the skin can be eaten and adds delicious flavor, some people prefer to remove it. Removing the skin reduces fat, calories, and sodium.
Can someone with Type 2 Diabetes eat chicken thighs?
As mentioned above, people with diabetes, including type 2, can enjoy all types of chicken. Chicken thighs are higher in saturated fat than chicken breasts, so some people may assume they are off limits. But, this is not the case. While we need to be mindful of overall saturated fat intake, you can enjoy chicken thighs in moderation.
One of my favorite ways to use chicken thighs actually comes from my first cookbook, The Easy Diabetes Cookbook. The cover recipe for Grain Free Chicken Parmesan calls for chicken breasts, but I usually swap in chicken thighs!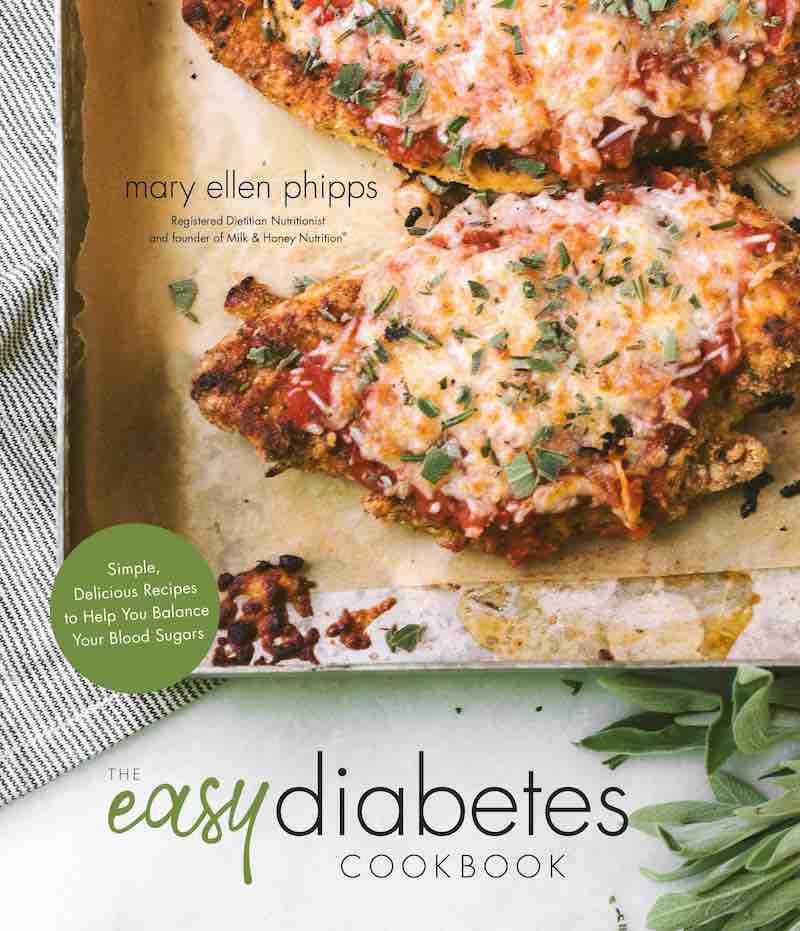 Can someone with diabetes eat fried chicken?
As with all fried foods, fried chicken should be consumed in moderation. While delicious, it is higher in saturated fat than baked or sautéed chicken recipes. It can be enjoyed from time to time though and paired with some great blood sugar friendly side options like Broccoli Salad or Low Carb Coleslaw.
Chicken recipes for diabetes
Below I've rounded up some of my favorite diabetes chicken recipes. If you've tried any of them, be sure to let me know what you think in the comments! And, if you've made any substitutes or new variations, I always love hearing that too!
Low carb diabetes chicken recipes
Some of my favorite, easy low carb chicken recipes are below.
Smoked Chicken Wings
Chicken wings seasoned with your favorite spices make an easy protein option for lunch or dinner. Pair them with your favorite vegetable and carbohydrate side items.
Everything Bagel Low Carb Chicken Pizza
This recipe uses one of my favorite low carb products, egg white wraps. They crisp up perfectly for a delicious low carb meal.
Air Fryer Drumsticks
I love using my air fryer! It's a simple way to get crispy food without deep frying. Combine these delicious drumsticks with your favorite vegetables and some potatoes and you've got a perfect blood sugar friendly meal.
Diabetes chicken breast recipes
The recipes below all make for full meals and offer a blood sugar friendly balance of fat, fiber, and protein.
Healthy Baked Chicken Fajita Casserole
This casserole is a staple in my house! It's loaded with delicious flavor and protein.
Chicken Bacon Ranch Pasta Salad
For this recipe, I use a chickpea pasta to make a delicious blood sugar friendly pasta salad! You can also use regular pasta, and when it's cooling down get the benefit of resistant starch!
30-Minute Chicken Noodle Veggie Soup
You can cook your own chicken breast or use a rotisserie chicken for this quick and easy soup recipe. Chicken noodle soup has all the components we need for a blood sugar friendly meal. Pasta gives us fiber and protein, vegetables give us fiber, and chicken provides fat and protein.
Chicken Pot Pie
I absolutely love chicken pot pie! This recipe is loaded with veggies, protein, and flavor!
Lower Carb Burrito Bowls with Guacamole
When I first created this recipe, I was going for a lower carb version of my favorite Chipotle bowl… and, it did not disappoint! Serve it with a side of my 5-minute guacamole (linked in the recipe), for even more plant based fat and fiber!
Diabetes chicken thigh recipes
As I mentioned above, one of my favorite chicken thigh recipes actually calls for chicken breasts, I just sub in chicken thighs. You can do this with any of the recipes above. Just make note that chicken thighs often need slightly longer to cook. And, because chicken thighs are higher in fat, you may not need as much to feel full and satisfied.
Diabetes chicken salad recipes
I grew up eating my mom's classic chicken salad and still love making it to this day! It's an easy make ahead, high protein meal that's perfect any time of year.
Easy Chicken Salad with Grapes and Walnuts
If you like fruit in your chicken salad, this is the recipe for you! Combining grapes with a high protein food (like chicken) is a great way to enjoy them!
Crunchy Pistachio Chicken Salad
I love a little crunch in my chicken salad! Pistachios offer all three of my favorite nutrients: fat, fiber, and protein… and a delicious crunch!
---
Looking for more diabetes resources? Don't forget to check out these posts: