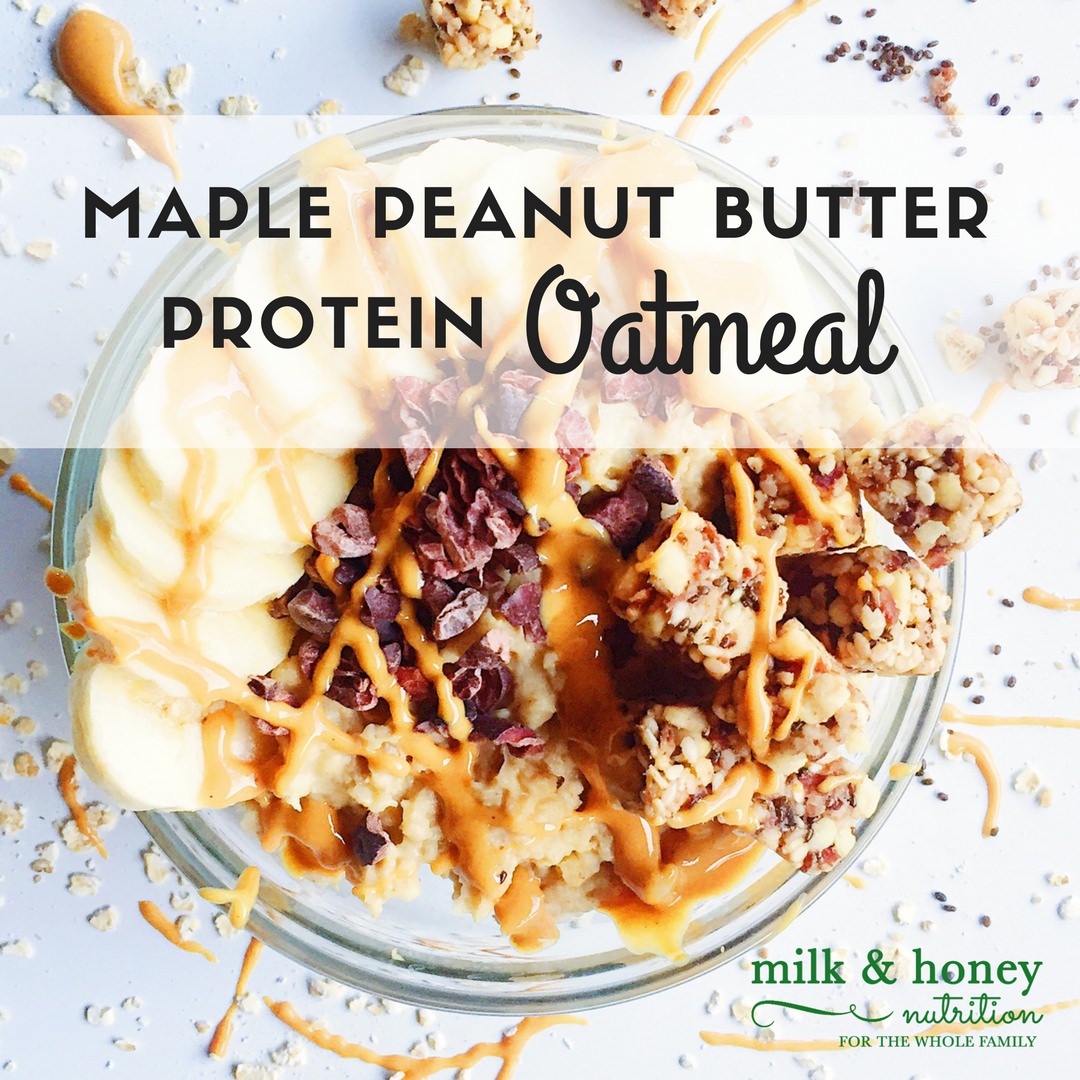 I had so much fun creating this Maple Peanut Butter Protein Oatmeal recipe! Oatmeal by itself can be kind of bland and boring, so it definitely needs to be spiced up a bit… but all too often, that means you're putting sugar and/or processed toppings on it. Not good. Adding peanut butter, and a touch of maple syrup, gives it the perfect amount of sweetness, naturally.
But you may be wondering why I would add protein powder to oatmeal? Well, there are a couple reasons…
You want your breakfast to keep you full right? Protein, fiber, and fat are the best ways to ensure your food gets you from one meal to the next, without feeling like you're starving. We've already got some great healthy fat from the peanut butter, and fiber from the oats… and while oats and peanut butter provide some protein, it's not quite enough to fuel us up all the way in the morning.

Heat stable protein powders, like The Natural Citizen Organic Protein, are easy to add to dishes like oatmeal, pancakes, and baked goods. And I especially like that The Natural Citizen only has FOUR ingredients, all of which are plant-based, making it the perfect vegan protein powder. It's safe for kids (in small amounts), and adults; and free of the common preservatives you see in other protein powders
Use code MILKANDHONEY for 15% off at The Natural Citizen. *
*The links above are affiliate links. I receive a commission from The Natural Citizen if you decide to purchase any of their products after clicking on the links above. But don't worry, I recommended their products long before I became an affiliate for them. They are quality products that I'm proud to recommend! AND I love getting to offer all of you a discount on one of my favorite products!*
Maple Peanut Butter Protein Oatmeal
1 cup quick oats (use gluten free if needed)
2 cups water
2 Tbsp maple syrup
2 Tbsp all natural peanut butter
1/4 cup The Natural Citizen Organic Protein*
Toppings of choice
Add oats and water to a small sauce pan and bring to a boil over high heat. Reduce heat and simmer for 3-4 minutes, stirring occasionally. While simmering, add maple syrup, peanut butter, and protein powder. Stir thoroughly to combine. Divide into bowls, top with some nutritious and delicious toppings and enjoy!!