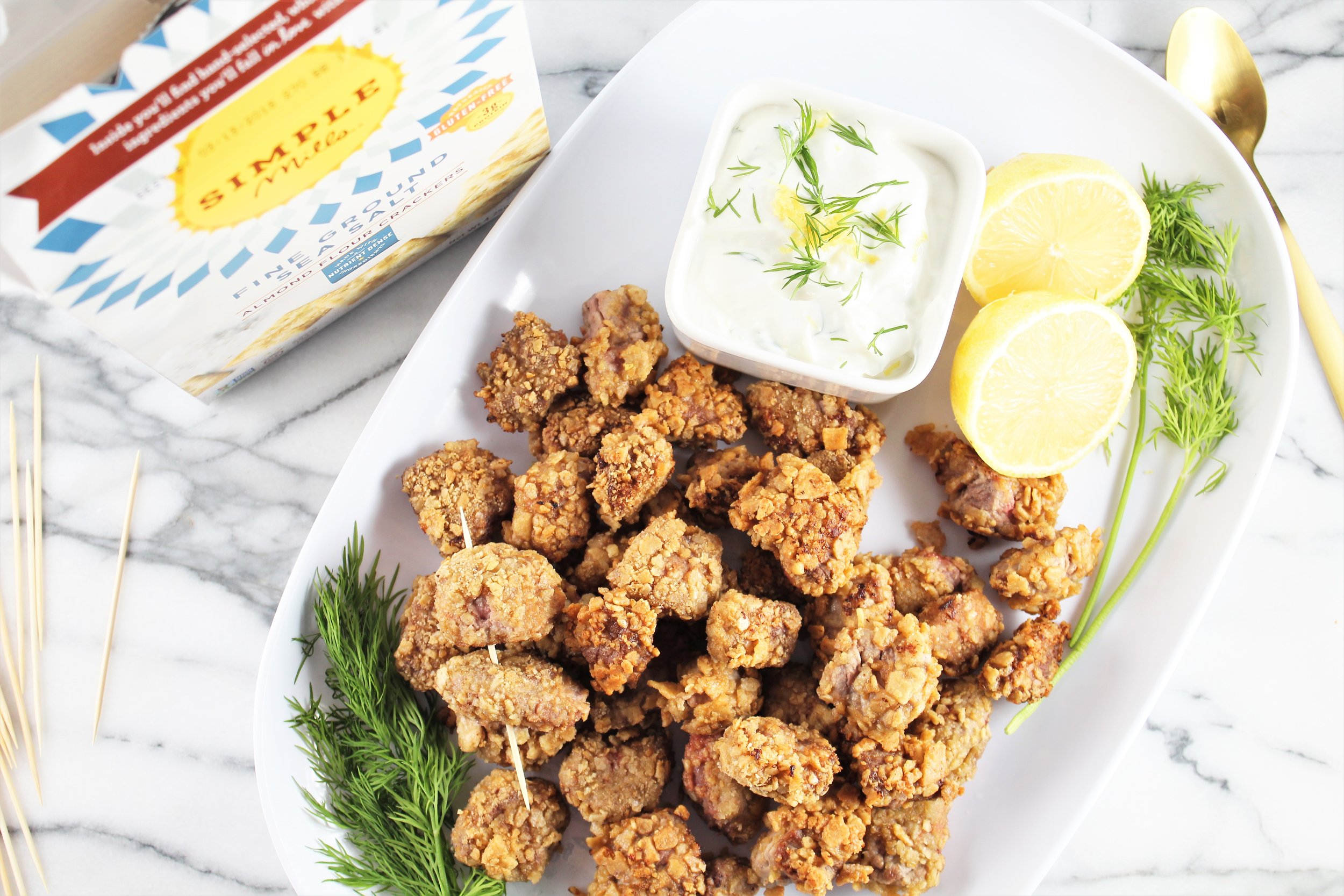 New year's eve is just around the corner, and these Grain Free Crispy Steak Bites with a Creamy Lemon Dill Dip will please friends and family alike. Whether you plan to ring in the new year at midnight, or will already be in bed by 10pm on December 31st (which will totally be me), these are perfect for any gathering.
This recipe uses high quality ingredients, like avocado oil, gress-fed beef, and Simple Mills Almond Flour Crackers. Avocado oil is the perfect oil for pan-frying (the method used to cook these steak bites). A smoke point of 500 degrees ensures the oil does not oxidize and start to go bad. Pan-frying requires some pretty high temperatures, so I suggest sticking wih avocado oil and not trying to substitute for another oil.
Using grass-fed beef ups the nutritional value of this appetizer as well. Grass fed beef has less total fat than other kinds of beef, more heart-healthy omega-3 fatty acids, more conjugated linoleic acid, a type of fat that's thought to reduce heart disease and cancer risks, and more antioxidants. Click here to read more.
Simple Mills Almond Flour Crackers are a great alternative to traditional processed crackers or bread crumbs that you'd see used in other recipes like this one. And most of the flavors are completely allergen friendly, allowing everyone to enjoy. I like to get mine from our local H-E-B Pantry or Sprouts Farmer's Market. Made from almonds, sunflower seeds, and flax seeds, these crackers are lower on the glycemic index, and have less than one gram of sugar per serving. Compare that to most crackers on the grocery store shelves!
I hope you enjoy these Grain Free Crispy Steak Bites and Creamy Lemon Dill Dip as much as we do at our house!
This recipe was sponsored by Simple Mills. All thoughts and ideas are my own.
---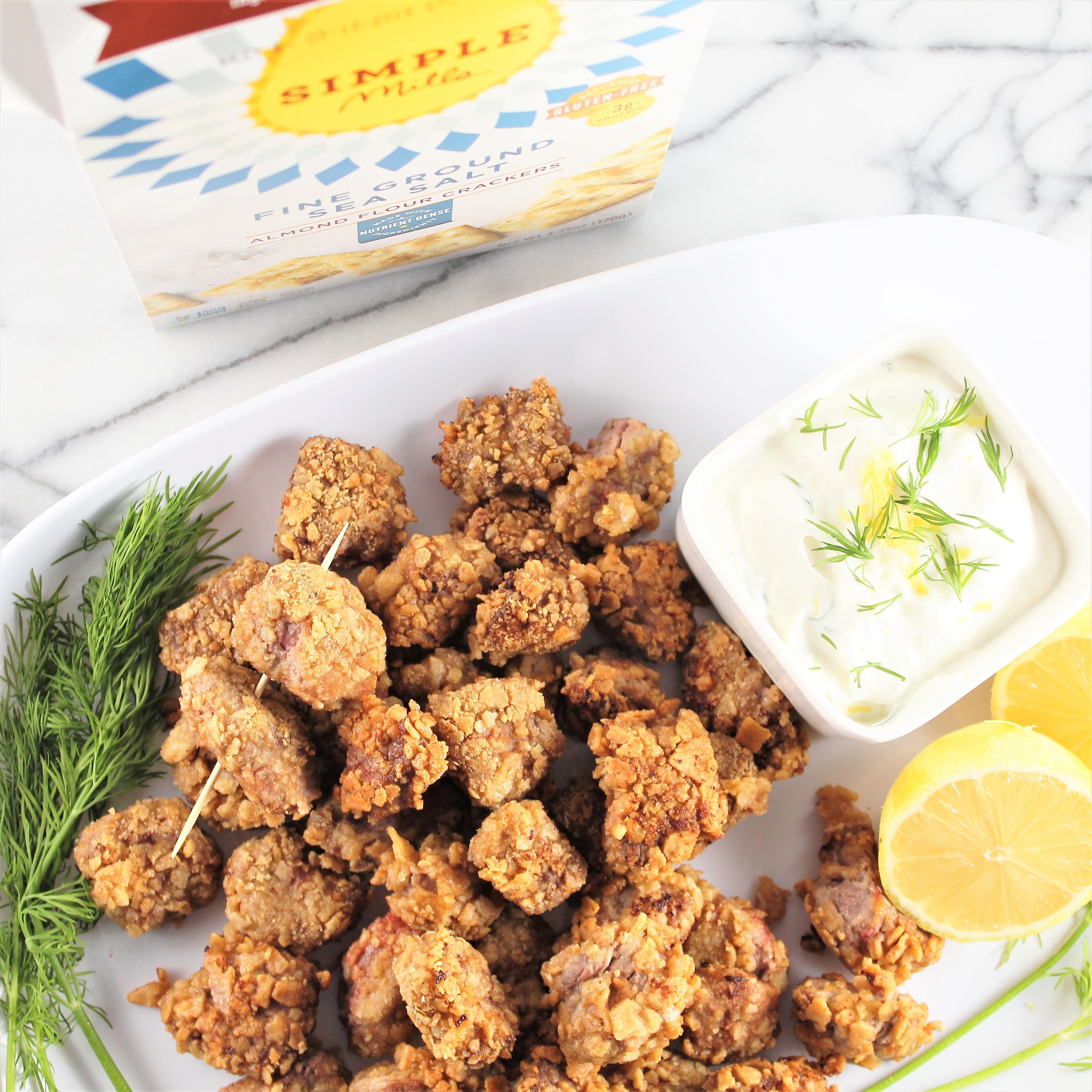 Grain Free Crispy Steak Bites with Creamy Lemon Dill Dip
1 1/2 pounds grass-fed beef stew meat
2 eggs
Avocado oil
1 box Simple Mills Almond Flour Crackers
1 cup plain Greek yogurt
Zest from one lemon
3-4 fresh sprigs of dill, chopped fine
1/4-1/2 tsp salt
1/4 tsp black pepper
Using sharp kitchen shears, cut the stew meat into bite size pieces. You'll want to trim off any sections of excess fat as well.
Combine two beaten eggs and the beef in a large gallon-sized ziploc. Shake to combine and let the beef soak for 5-10 minutes.
Grind up the almond flour crackers in a food processor until fine.
Start a large skillet heating over medium-high heat. Add a generous amount of avocado oil to cover the entire bottom of the pan.
Next, add the ground crackers to another gallon sized bag, and then add half of the pieces of beef one by one, making sure to shake off any excess egg wash before putting them in the bag with the crackers. Shake the bag to coat the beef with the ground crackers.
Once your avocado oil is good and hot, add the cracker coated beef pieces one by one to the pan, being careful not to over crowd it. You may need to do this step in two batches depending on the size of your pan. Keep in mind you do not want to overcook the meat, so they only need to cook for 1-2 minutes before you flip each piece over and then cook for an additional 1-2 minutes. I recommend having a good pair of tongs handy so you can flip quickly and without getting oil splattered on you.
Carefully remove the steak bites from the pan to a plate lined with a paper towel.
Repeat the above process with the second half of the beef using the same bag of ground crackers.
For the dip: Combine all remaining ingredients in a small bowl and mix to combine.
Serve with toothpicks, and enjoy!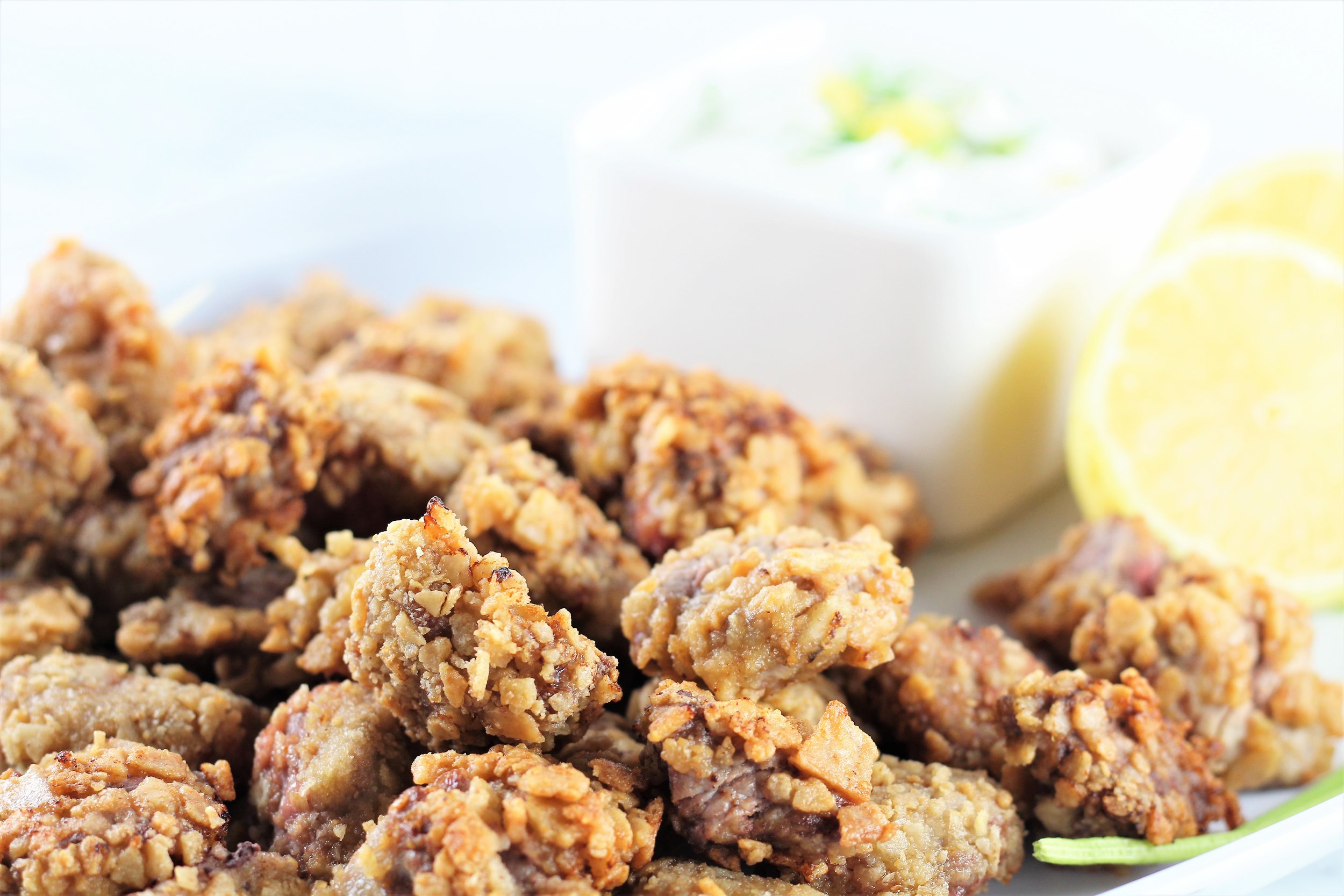 ---